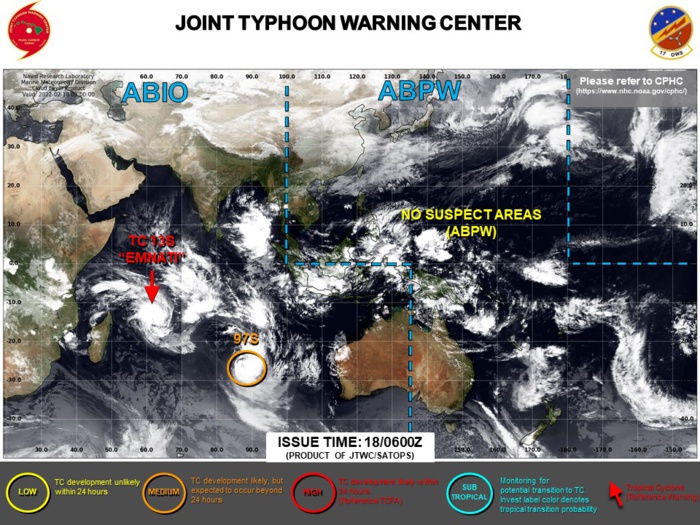 JTWC IS ISSUING 12HOURLY WARNINGS ON TC 13S(EMNATI) AND 3HOURLY SATELLITE BULLETINS ON TC 13S AND INVEST 97S(FEZILE).
SOUTHERN HEMISPHERE/SOUTH INDIAN OCEAN: TC 13S(EMNATI). WARNING 5 ISSUED AT 18/15UTC. CLICK ON THE IMAGERY BELOW TO ENLARGE IT.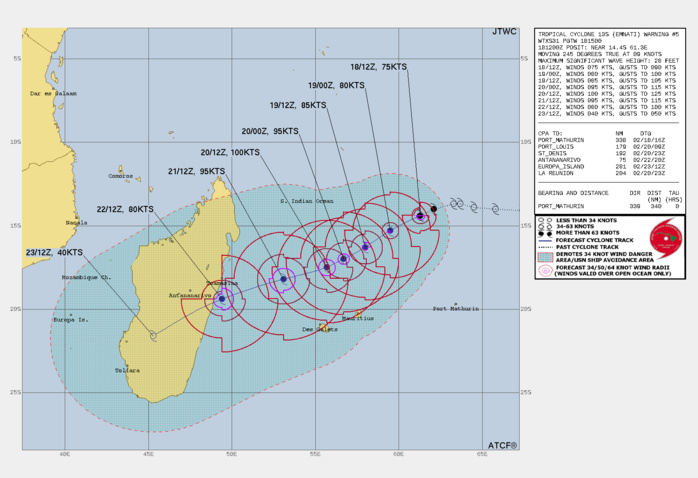 FORECAST REASONING. SIGNIFICANT FORECAST CHANGES: THERE ARE NO SIGNIFICANT CHANGES TO THE FORECAST FROM THE PREVIOUS WARNING. FORECAST DISCUSSION: TC EMNATI WILL CONTINUE ON ITS CURRENT WEST-SOUTHWESTWARD TRACK THROUGHOUT THE FORECAST EVEN AFTER A SECONDARY SUBTROPCIAL RIDGE (STR) APPROACHING FROM THE SOUTHWEST SEAMLESSLY ASSUMES STEERING AFTER 36H. SHORTLY AFTER 96H, IT WILL MAKE LANDFALL OVER THE CENTRAL MADAGASCAR COAST EAST OF ANTANANARIVO. THE HIGHLY FAVORABLE ENVIRONMENT IS EXPECTED TO CARRY THROUGH THE MID-PORTION OF THE FORECAST TRACK AND FUEL STEADY INTENSIFICATION TO A PEAK OF 100KTS/CAT 3 US BY 48H. AFTERWARD, LOW OCEAN HEAT CONTENT NEAR MADAGASCAR WILL CONTRIBUTE TO A GRADUAL WEAKENING - DOWN TO 80KTS/CAT 1 BY 96H. AFTER LANDFALL, THE RUGGED TERRAIN WILL RAPIDLY ERODE THE SYSTEM DOWN TO 40KTS BY 120H AS IT APPROACHES THE SOUTHWESTERN COAST OF THE ISLAND.
1322021712 139S 645E 55
1322021712 139S 645E 55
1322021718 137S 637E 50
1322021800 137S 633E 55
1322021806 140S 621E 65
1322021812 144S 613E 75
CLICK ON THE IMAGERY BELOW TO ENLARGE IT.
CLICK ON THE IMAGERY BELOW TO ENLARGE IT.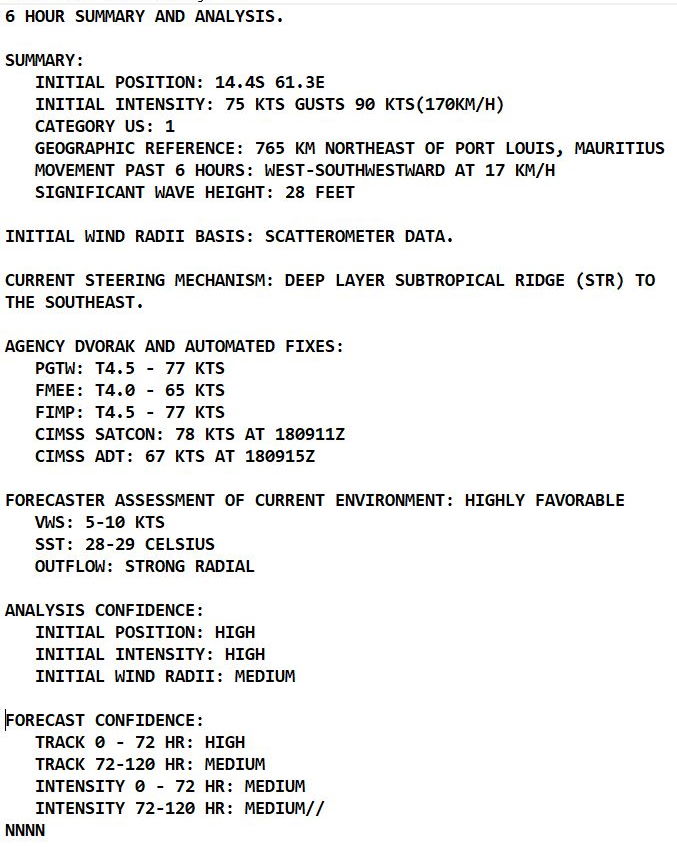 CIMSS ANALYSIS: FAVOURABLE OVER 24HOURS. CLICK ON THE IMAGERY BELOW TO ENLARGE IT.
CLICK ON THE IMAGERY BELOW TO ANIMATE ENLARGE IT.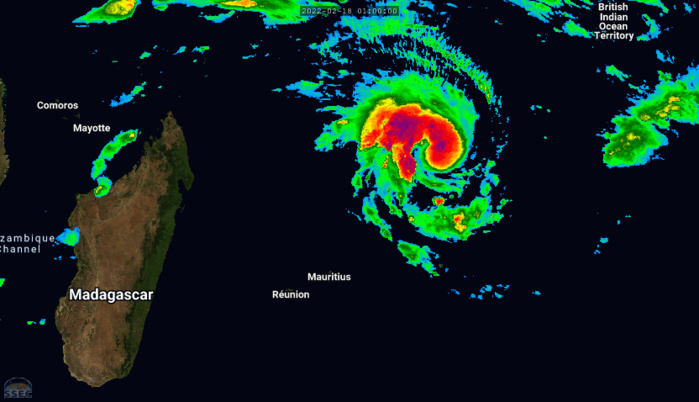 SATELLITE ANALYSIS, INITIAL POSITION AND INTENSITY DISCUSSION: ANIMATED MULTISPECTRAL SATELLITE IMAGERY SHOWS THE CENTRAL CONVECTION HAS SIGNIFICANTLY DEEPENED AND BECOME MORE SYMMETRICAL AS CONVECTIVE BANDS WRAPPED TIGHTER INTO AN OBSCURED LOW LEVEL CIRCULATION OVER THE LAST 12 HRS. THE INITIAL POSITION IS PLACED WITH HIGH CONFIDENCE BASED ON A MICROWAVE EYE IN THE 180951Z AMSR2 37GHZ IMAGE. THE INITIAL INTENSITY OF 75KTS/CAT 1 US IS BASED ON AN OVERALL ASSESSMENT OF AGENCY AND AUTOMATED DVORAK ESTIMATES (SEE BELOW) AND REFLECTS THE 12-HR CONVECTIVE IMPROVEMENT. ANALYSIS INDICATES A HIGHLY FAVORABLE ENVIRONMENT WITH WARM ALONG-TRACK SST, STRONG RADIAL OUTFLOW AND LIGHT VWS ALOFT. THE CYCLONE IS TRACKING ALONG THE NORTHWESTERN PERIPHERY OF THE DEEP LAYER STR TO THE SOUTHEAST.
RECENT MICROWAVE SIGNATURE: BANDING EYE FEATURE.
CLICK ON THE IMAGERY BELOW TO ENLARGE IT.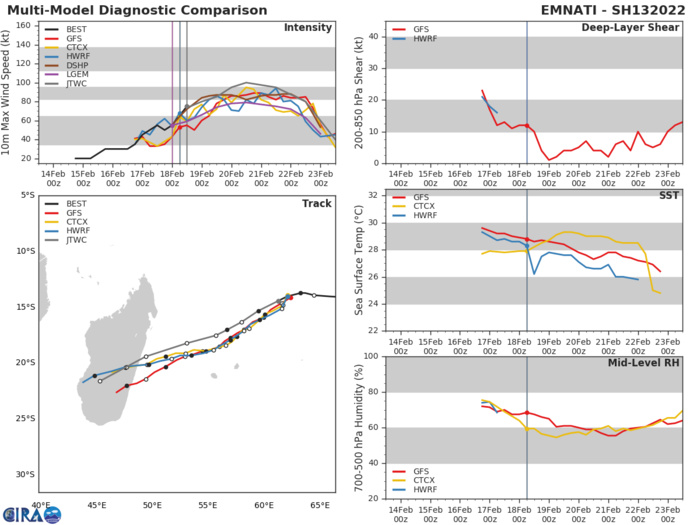 MODEL DISCUSSION: NUMERICAL MODELS ARE IN VERY GOOD AGREEMENT WITH NAVGEM THE SOLE LEFT-OF-TRACK OUTLIER, LENDING HIGH CONFIDENCE IN THE JTWC TRACK FORECAST THAT IS LAID JUST TO THE RIGHT OF THE MODEL CONSENSUS TO OFFSET NAVGEM UP TO 72H THEN MEDIUM CONFIDENCE AFTERWARD AS THE VORTEX TRACKS OVER MADAGASCAR.
HWRF AT 18/06UTC: 94KNOTS AT +78H. CLICK ON THE IMAGERY BELOW TO ENLARGE IT.
ECMWF ENSEMBLE AT 18/06UTC.
GFS ENSEMBLE AT 18/06UTC.