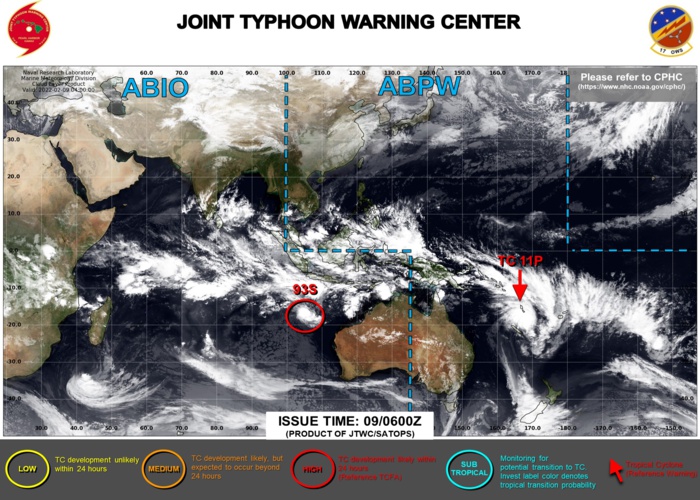 JTWC IS ISSUING 6HOURLY WARNINGS ON TC 11P(DOVI).3HOURLY SATELLITE BULLETINS ARE ISSUED ON 11P AND INVEST AND INVEST 93S.
CLICK ON THE IMAGERY BELOW TO ENLARGE IT.
SOUTHERN HEMISPHERE/SOUTH PACIFIC: TC 11P(DOVI). WARNING 3 ISSUED AT 09/15UTC. CLICK ON THE IMAGERY BELOW TO ENLARGE IT.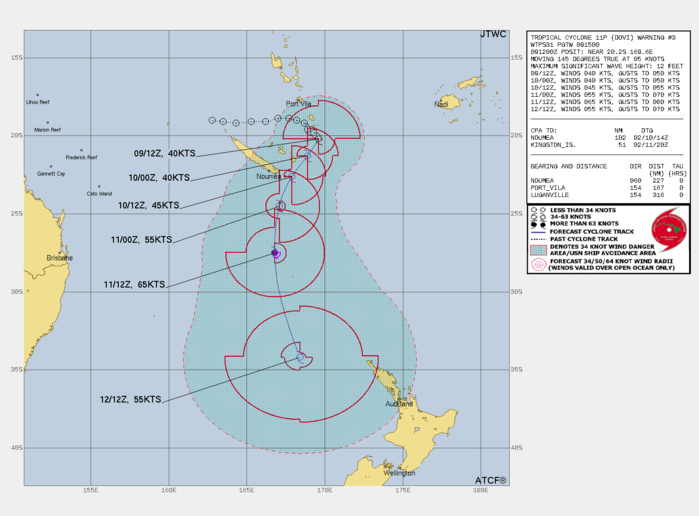 FORECAST REASONING. SIGNIFICANT FORECAST CHANGES: THERE ARE NO SIGNIFICANT CHANGES TO THE FORECAST FROM THE PREVIOUS WARNING. FORECAST DISCUSSION: THE SUBTROPICAL RIDGE (STR) TO THE SOUTHEAST WILL ASSUME STEERING AND DRIVE TC 11P SOUTH-SOUTHWESTWARD THEN SOUTHWARD AFTER 36H. THE MARGINALLY FAVORABLE ENVIRONMENT WILL FUEL STEADY INTENSIFICATION TO A PEAK OF 65KTS/CAT 1 US BY 48H. AFTERWARD, COOLING SST AND INCREASING VWS WILL WEAKEN THE SYSTEM DOWN TO 60KTS BY 72H. CONCURRENTLY BY 48H, THE CYCLONE WILL BEGIN SUBTROPICAL TRANSITION AND BY 72H, WILL BECOME A STRONG STORM-FORCE SUBTROPICAL CYCLONE WITH AN EXPANDING WIND FIELD.
1122020812 190S1682E 30
1122020818 192S1687E 30
1122020900 196S1689E 35
1122020906 198S1693E 35
1122020912 202S1696E 40
CLICK ON THE IMAGERY BELOW TO ENLARGE IT.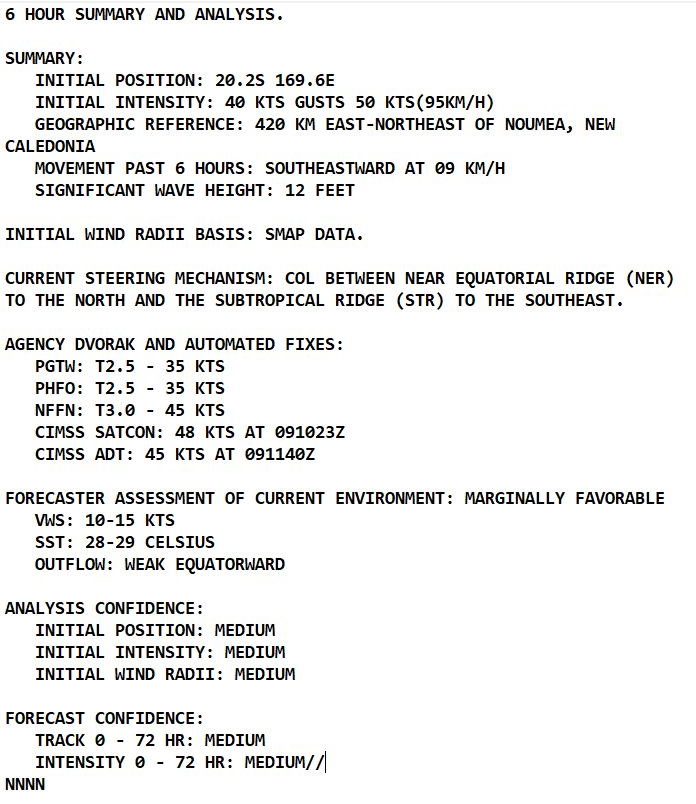 CIMSS ANALYSIS: NEUTRAL OVER 24HOURS.
CLICK ON THE IMAGERY BELOW TO ENLARGE IT.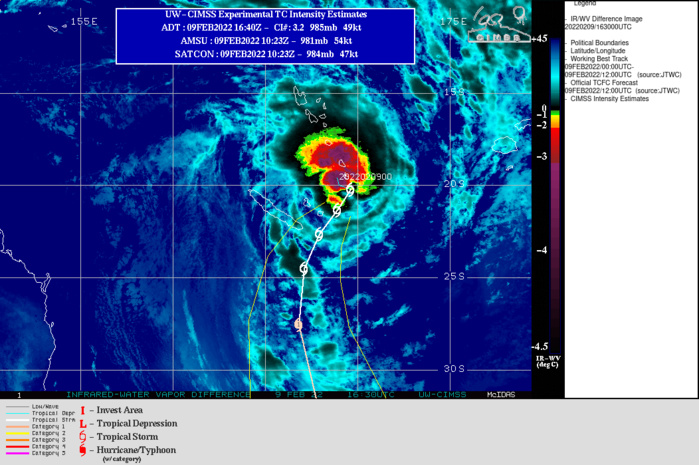 SATELLITE ANALYSIS, INITIAL POSITION AND INTENSITY DISCUSSION: ANIMATED ENHANCED INFRARED (EIR) SATELLITE IMAGERY INDICATES THE SYSTEM HAS SLIGHTLY EXPANDED AND THE CENTRAL CONVECTION HAS DEEPENED. THE INITIAL POSITION IS PLACED WITH MEDIUM CONFIDENCE BASED ON A LARGE, PARTIALLY EXPOSED LOW LEVEL CIRCULATION FEATURE IN THE 090945Z GPM 89GHZ IMAGE. THE INITIAL INTENSITY IS BASED ON AN OVERALL ASSESSMENT OF AGENCY AND AUTOMATED DVORAK ESTIMATES AND REFLECTS THE 6-HOUR IMPROVEMENT OF THE SYSTEM. ANALYSIS INDICATES A MARGINALLY FAVORABLE ENVIRONMENT WITH LOW VWS AND WARM (28-29C) SST OFFSET BY WEAK EQUATORWARD OUTFLOW. THE CYCLONE IS IN A COL BETWEEN THE NER TO THE NORTH AND THE STR TO THE SOUTHEAST.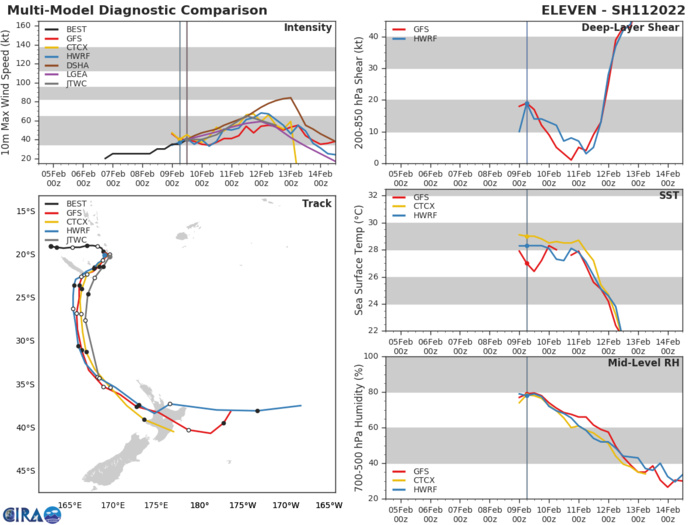 MODEL DISCUSSION: NUMERICAL MODELS REMAIN IN TIGHT AGREEMENT WITH GRADUAL AND EVEN SPREADING TO A MERE 325KM AT 72H. HOWEVER GIVEN THE UNCERTAINTY IN THE INITIAL STORM MOTION, THERE IS ONLY MEDIUM CONFIDENCE IN THE JTWC TRACK FORECAST THAT IS LAID CLOSE TO THE MODEL CONSENSUS.
HWRF AT 09/06UTC: 68KNOTS AT +66H.
09/06UTC. ECMWF ENSEMBLE.