CLICK TO ANIMATE. TC 06S AND INVEST 92S(MEDIUM) TO THE EAST.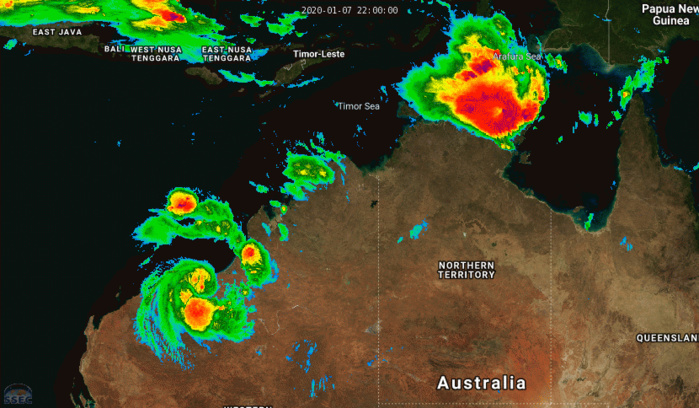 TC 06S SOUTH INDIAN
As of 00:00 UTC Jan 08, 2020:
Location: 20.7°S 119.7°E
Maximum Winds: 35 kt ( 65km/h)
Gusts: 45 kt ( 85km/h)
Minimum Central Pressure: 994 mb
REMARKS:
080300Z POSITION NEAR 21.0S 119.6E.
08JAN20. TROPICAL CYCLONE (TC) 06S (BLAKE), LOCATED APPROXIMATELY
66 NM EAST-SOUTHEAST OF PORT HEDLAND, AUSTRALIA, HAS TRACKED
SOUTHWESTWARD AT 12 KNOTS OVER THE PAST SIX HOURS. ANIMATED
MULTISPECTRAL SATELLITE IMAGERY SHOWS LOW LEVEL BANDING
WRAPPING UNDER A REGION OF WEAKENING CONVECTION OBSCURING THE LOW
LEVEL CIRCULATION CENTER (LLCC). THE INITIAL POSITION IS SET BASED
ON BANDING SEEN IN A 072052Z SSMIS 91GHZ MICROWAVE IMAGE WITH FAIR
CONFIDENCE. THE INITIAL INTENSITY OF 35 KNOTS IS SUPPORTED BY A
071800Z OBSERVATION WEST OF THE CURRENT POSITION IN PORT HEDLAND,
AUSTRALIA WITH A PRESSURE OF 996 MB. TC 06S REMAINS IN A REGION OF
LOW (10-15 KTS) VERTICAL WIND SHEAR AND GOOD DIVERGENCE ALOFT. A
SUBTROPICAL RIDGE (STR) TO THE SOUTHEAST IS FUNCTIONING AS THE
PRIMARY STEERING MECHANISM FOR TC 06S. THE SYSTEM IS EXPECTED TO
CONTINUE ALONG A SOUTH-SOUTHWESTWARD TRACK, WEAKENING DUE TO LAND
INTERACTION UNTIL DISSIPATION BY TAU 12. THE REMANTS OF TC 06S ARE
NOT EXPECTED TO RE-EMERGE OFF OF THE WEST COAST OF AUSTRALIA.
NUMERICAL MODELS ARE IN GOOD OVERALL AGREEMENT THROUGH THE
REMAINDER OF THE FORECAST PERIOD. THE JTWC TRACK FORECAST LIES
ALONG THE MULTI-MODEL CONSENSUS, LENDING HIGH CONFIDENCE IN THE
JTWC TRACK FORECAST.
THIS IS THE FINAL WARNING ON THIS SYSTEM BY THE JOINT TYPHOON
WRNCEN PEARL HARBOR HI. THE SYSTEM WILL BE CLOSELY MONITORED FOR
SIGNS OF REGENERATION.//
NNNN
JMV FILE
0620010318 128S1181E 20
0620010400 131S1189E 20
0620010406 134S1197E 25
0620010412 138S1205E 25
0620010418 144S1210E 25
0620010500 149S1211E 30
0620010506 151S1211E 30
0620010512 153S1212E 30
0620010518 156S1216E 35
0620010600 161S1221E 45
0620010606 167S1222E 50
0620010612 174S1220E 50
0620010618 179S1218E 50
0620010700 183S1217E 40
0620010706 187S1212E 35
0620010712 195S1210E 35
0620010718 198S1206E 35
0620010800 207S1197E 35
NNNN

WARNING 10. MADE LANDFALL NEAR WALLAL DOWNS.
MICROWAVE AT 07/2053UTC SHOWING THE CLEAT-CUT CENTER CROSSING THE COASTLINE.
TRACK AND INTENSITY GUIDANCE