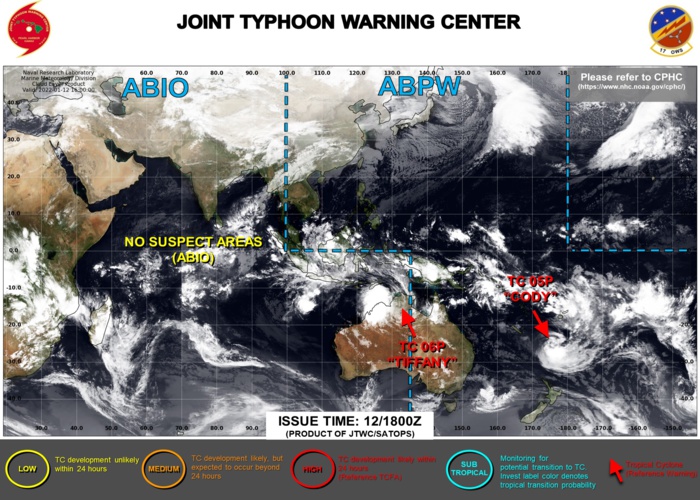 JTWC IS ISSUING 6HOURLY WARNINGS ON TC 05P(CODY). WARNING 12/FINAL ON TC 06P(TIFFANY) WAS ISSUED AT 12/03UTC.THE OVER-LAND SYSTEM IS STILL CLOSELY MONITORED. 3HOURLY SATELLITE BULLETINS ARE ISSUED ON 05P AND ARE DISCONTINUED FOR 06P AT 13/0230UTC.
SOUTHERN HEMISPHERE/SOUTH PACIFIC: TC 05P(CODY). WARNING 18 ISSUED AT 13/03UTC.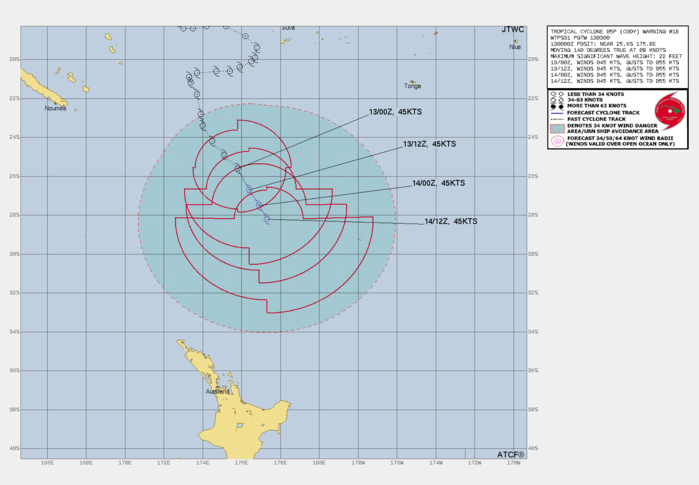 FORECAST REASONING. SIGNIFICANT FORECAST CHANGES: TC 05P IS NOW EXPECTED TO TRANSITION INTO A SUBTROPICAL CYCLONE. FORECAST DISCUSSION: TC 05P IS EXPECTED TO TRACK SOUTH-SOUTHEASTWARD THROUGH THE FORECAST PERIOD ALONG THE SOUTHWESTERN PERIPHERY OF THE DEEP-LAYERED STR. HOWEVER, THE SYSTEM IS EXPECTED TO SLOW SLIGHTLY AS A STRONG HIGH BUILDS TO THE SOUTH AND SLOWS ITS POLEWARD PROGRESS. THE SYSTEM WILL MAINTAIN AN INTENSITY OF 45 KNOTS THROUGH THE FORECAST PERIOD. TC CODY WILL TRACK OVER COOLER SST (24-25C) AND INTERACT WITH A STRONG BAROCLINIC ZONE ASSOCIATED WITH A SUBTROPICAL JET TO THE SOUTH. THE SYSTEM IS FORECASTED TO TRANSITION INTO A GALE- FORCE SUBTROPICAL CYCLONE BY 24H WITH WEAK FRONTAL CHARACTERISTICS. AFTER 36H, THE SYSTEM WILL REMAIN A STRONG GALE- FORCE COLD-CORE LOW AS IT TRACKS TOWARD AND OVER NORTH ISLAND, NEW ZEALAND AND SHOULD MAINTAIN DEEP CONVECTION OVER THE SOUTHERN SEMICIRCLE WITH SUPPORT FROM AN APPROACHING MAJOR SHORTWAVE TROUGH.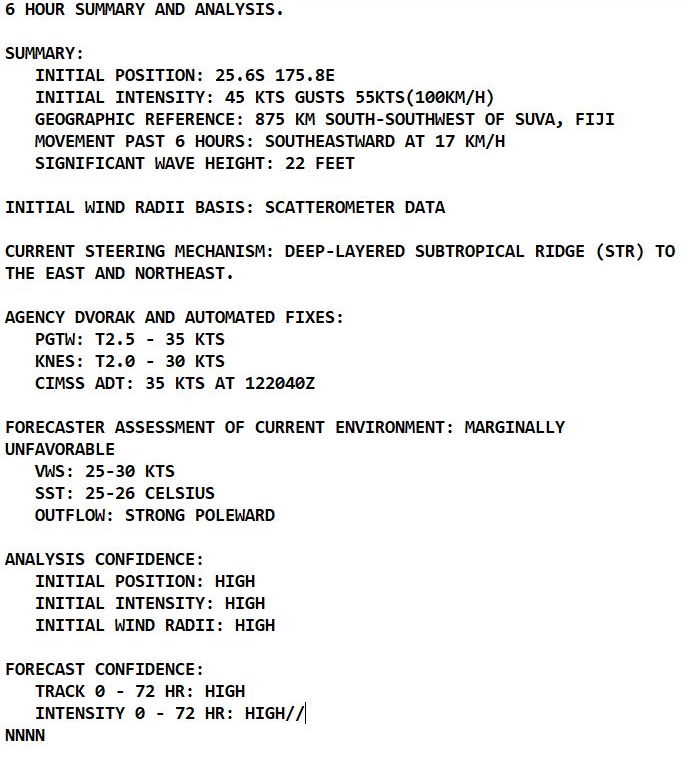 CLICK ON THE IMAGERY BELOW TO ANIMATE AND ENLARGE IT.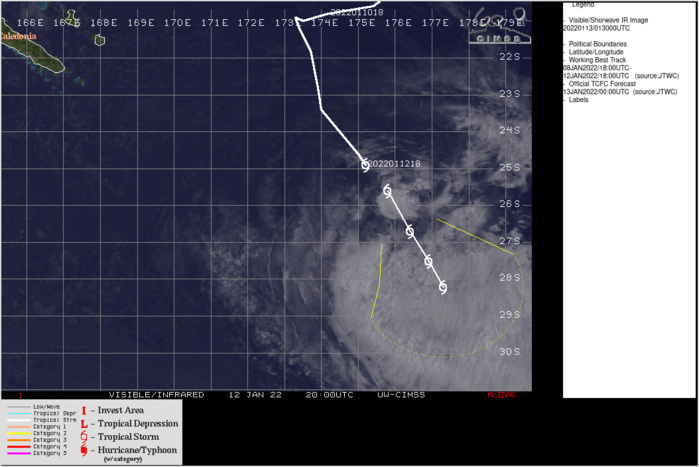 SATELLITE ANALYSIS, INITIAL POSITION AND INTENSITY DISCUSSION: ANIMATED MULTISPECTRAL SATELLITE IMAGERY (MSI) DEPICTS A BROAD, FULLY-EXPOSED LOW-LEVEL CIRCULATION CENTER (LLCC) WITH ISOLATED DEEP CONVECTION SHEARED TO THE SOUTHEAST. THE INITIAL POSITION IS PLACED WITH HIGH CONFIDENCE BASED ON THE MSI. A 122117Z ASCAT-B IMAGE SUPPORTS THE INITIAL POSITION AND INITIAL INTENSITY ASSESSMENT, AND WAS ALSO USED TO ADJUST THE 34-KNOT WIND RADII. TC 05P IS LOCATED UNDER STRONG WESTERLY FLOW ALOFT WITH STRONG VERTICAL WIND SHEAR AND ROBUST POLEWARD OUTFLOW.
ASCAT-B 12/2117UTC.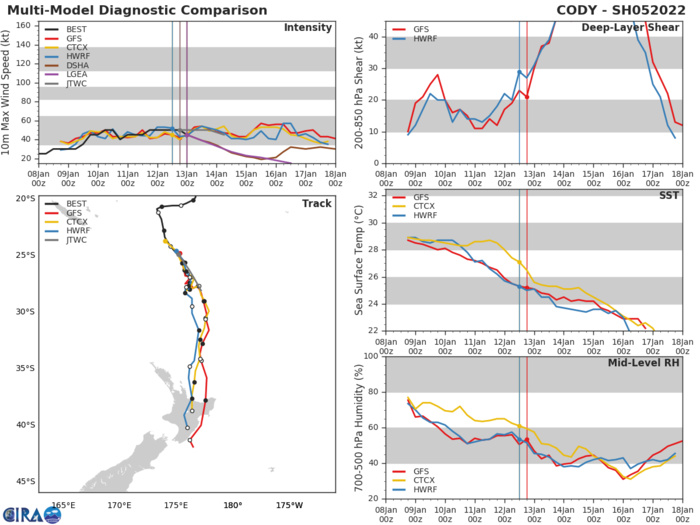 MODEL DISCUSSION: WITH THE EXCEPTION OF NAVGEM, NUMERICAL MODEL GUIDANCE REMAINS TIGHTLY CLUSTERED WITH A 65KM SPREAD IN SOLUTIONS AT 36H LENDING HIGH CONFIDENCE TO THE JTWC FORECAST TRACK. ADDITIONALLY, ENSEMBLE GUIDANCE (EPS AND GEFS) REMAINS IN TIGHT AGREEMENT ALTHOUGH THERE IS INCREASING UNCERTAINTY IN THE TRACK NEAR NEW ZEALAND.
SOUTHERN HEMISPHERE/NORTHERN AUSTRALIA. OVER-LAND TC 06P(TIFFANY).
12/18UTC. ECMWF AT +240H.
12/18UTC. ECMWF AT +240H.