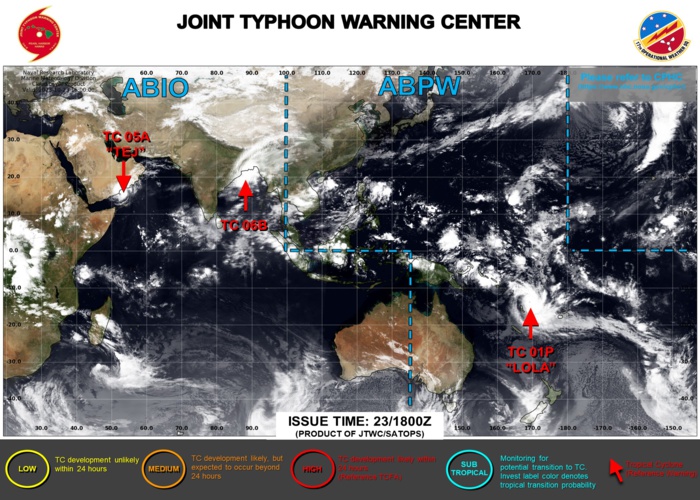 JTWC IS ISSUING 6HOURLY WARNINGS AND 3HOURLY SATELLITE BULLETINS ON 05A , 06B AND 01P.
SOUTH PACIFIC OCEAN: TC 01P(LOLA). CURRENT ESTIMATED INTENSITY IS 120 KNOTS/ CAT 4 US: +45 KNOTS/24H.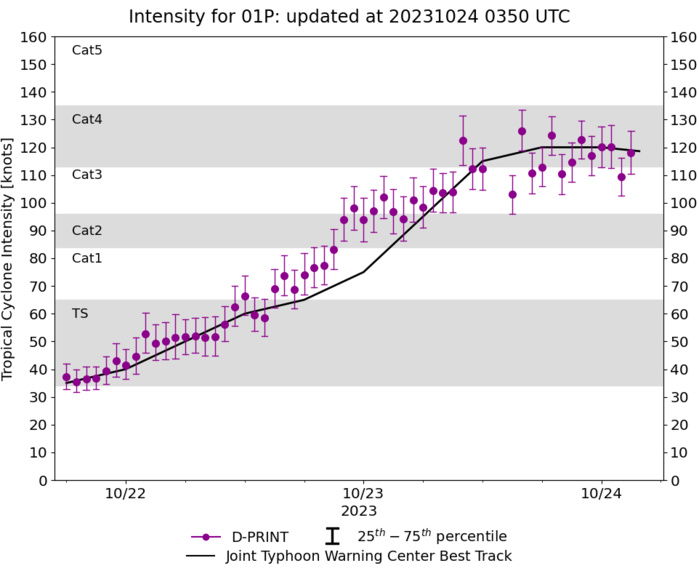 0123102006 55S1693E 20
0123102012 62S1691E 20
0123102018 68S1688E 25
0123102100 73S1684E 25
0123102106 80S1680E 25
0123102112 87S1678E 30
0123102118 94S1676E 35
0123102200 101S1679E 40
0123102206 107S1685E 50
0123102206 107S1685E 50
0123102212 114S1688E 60
0123102218 120S1691E 65
0123102300 125S1693E 75
0123102306 130S1695E 95
0123102312 135S1696E 115
0123102318 140S1693E 115
0123102400 145S1690E 120
WARNING 10 ISSUED AT 24/03UTC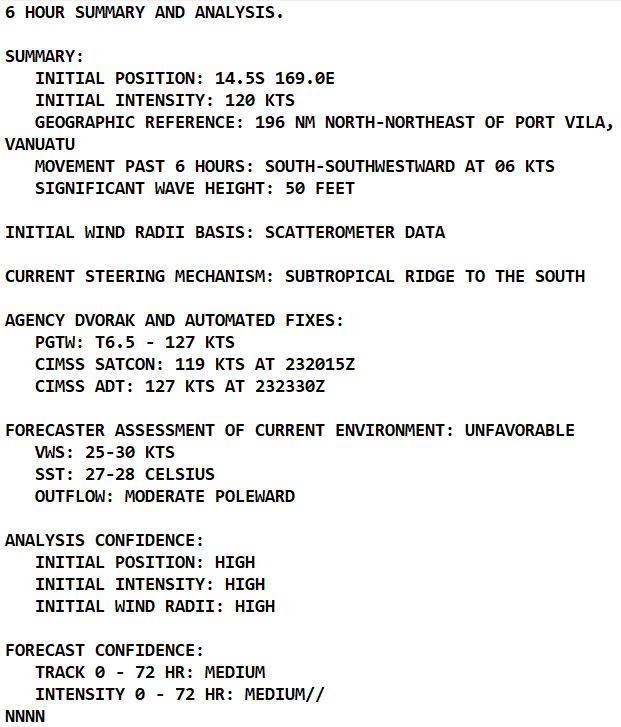 CLICK ON THE IMAGERY BELOW TO GET IT ANIMATED AND ENLARGED.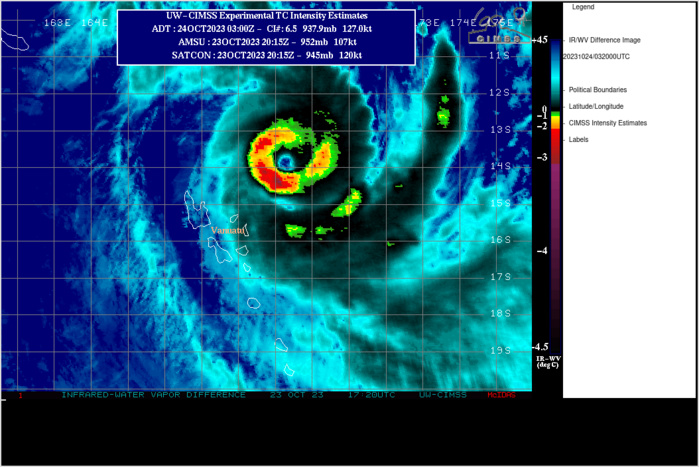 SATELLITE ANALYSIS, INITIAL POSITION AND INTENSITY DISCUSSION: ANIMATED MULTISPECTRAL SATELLITE IMAGERY (MSI) SHOWS THAT CYCLONE 01P (LOLA) HAS GENERALLY MAINTAINED INTENSITY OVER THE PAST SIX HOURS, AND SATELLITE-BASED INTENSITY ESTIMATES EVEN ROSE SLIGHTLY TO AN AVERAGE OF AROUND 120 KT, WHICH IS THE ASSESSED INITIAL INTENSITY. DURING THE MOST RECENT COUPLE OF HOURS, THERE ARE SIGNS THAT COOLER WATERS MAY BE STARTING TO AFFECT THE STORM, WITH THE EYE BECOMING A BIT RAGGED AND THE COLD RING WARMING SLIGHTLY. MID-LEVEL VERTICAL SHEAR IS ASSESSED AT OVER 30 KT BY MODEL ANALYSES DUE TO A SHIFT IN ENVIRONMENTAL FLOW FROM LOW-LEVEL NORTHEASTERLIES TO MID- LEVEL SOUTHWESTERLIES WITH HEIGHT, BUT THIS DOESN'T APPEAR TO BE SIGNIFICANTLY DISRUPTING THE INNER CORE JUST YET.
TC Warning Graphic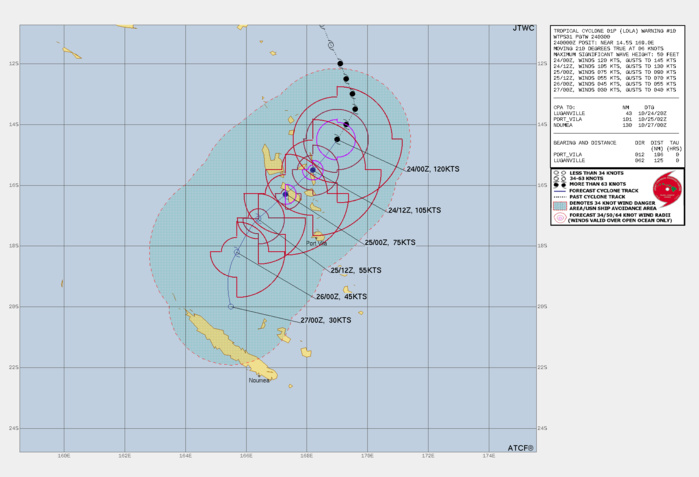 FORECAST REASONING. SIGNIFICANT FORECAST CHANGES: THERE ARE NO SIGNIFICANT CHANGES TO THE FORECAST FROM THE PREVIOUS WARNING. FORECAST DISCUSSION: CYCLONE 01P (LOLA) IS CONTINUING TO MOVE SOUTH-SOUTHWESTWARD ALONG THE PERIPHERY OF THE SUBTROPICAL RIDGE TO THE SOUTH. LOLA HAS IN ALL LIKELIHOOD PEAKED IN INTENSITY, AND SHOULD SOON BEGIN WEAKENING RAPIDLY DUE TO THE COMBINED EFFECTS OF COOLER UNDERLYING WATER AND STRONG MID-LEVEL WESTERLY SHEAR. A BELT OF 30-40 KT ENVIRONMENTAL WEST-SOUTHWESTERLY FLOW IN THE 250-400MB LAYER ON THE POLEWARD SIDE OF AN ANTICYCLONE IN THE CORAL SEA IS EXPECTED BY ALL NUMERICAL MODELS TO CAUSE FULL DECOUPLING OF THE VORTEX IN 24-36 HOURS. THE JTWC FORECAST THUS SHOWS DRAMATIC WEAKENING TO UNDER WARNING THRESHOLD BY 72 HOURS AS LOLA TRACKS THROUGH THE ISLANDS OF VANUATU AND TURNS SOUTHWARD TOWARD NEW CALEDONIA. DYNAMIC MODEL GUIDANCE IS WELL CLUSTERED ALONG THIS FORECAST TRACK WITH THE EXCEPTION OF COAMPS-TC AND NAVGEM. THE JTWC TRACK IS SIMILAR TO THE PREVIOUS FORECAST.
Model Diagnostic Plot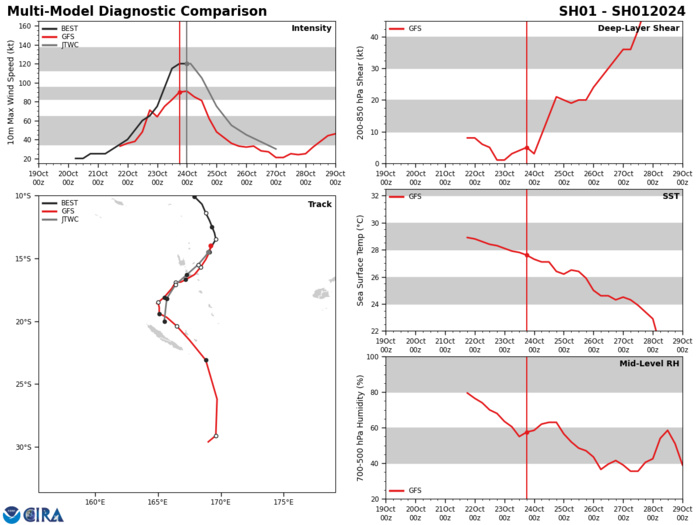 MODEL DISCUSSION: THE JTWC TRACK FORECAST IS CLOSE TO THE MULTI-MODEL CONSENSUS, AS IS THE INTENSITY FORECAST. SOME CROSS-TRACK SPREAD EXISTS AROUND 48-72 HOURS DUE TO VARIABILITY IN HOW QUICKLY THE VORTEX DECOUPLES AND SURRENDERS TO THE LOW-LEVEL STEERING FLOW.

2024sh01_ctcxdiag_202310240000.png
(221.03 KB)
RIPA Forecast AND RIPA STORM TABLE ATTACHED BELOW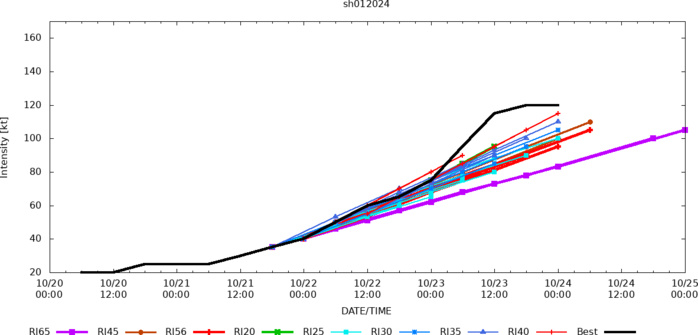 2024sh01_ripastbl_202310240000.txt
(2.17 KB)
Multiplatform Satellite Surface Wind Analysis (Experimental)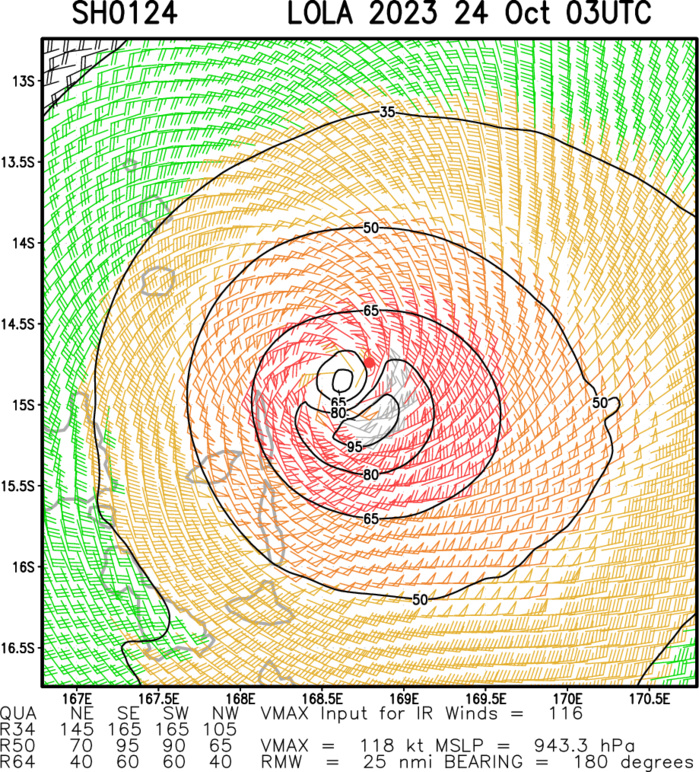 2024sh01_mpsatwnd_202310240300_swnd.gif
(149.78 KB)