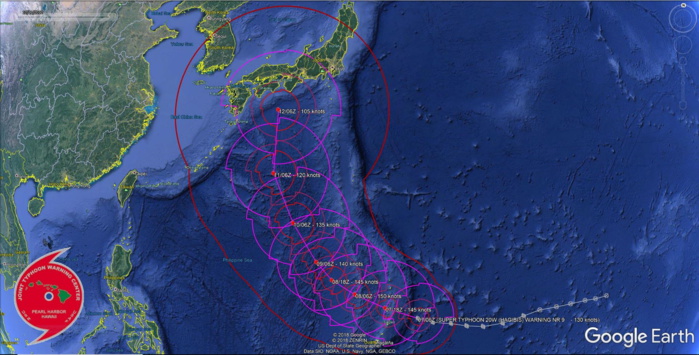 Météo974
WESTERN NORTH PACIFIC
Location: 15.5°N 148.2°E
Maximum Winds: 130 kt ( 240km/h)
Gusts: 160 kt ( 300km/h)
Minimum Central Pressure: 930 mb
CATEGORY 4 US
WDPN31 PGTW 070900
MSGID/GENADMIN/JOINT TYPHOON WRNCEN PEARL HARBOR HI//
SUBJ/PROGNOSTIC REASONING FOR SUPER TYPHOON 20W (HAGIBIS)
WARNING NR 009//
RMKS/
1. FOR METEOROLOGISTS.
2. 6 HOUR SUMMARY AND ANALYSIS.
SUPER TYPHOON (STY) 20W (HAGIBIS), LOCATED APPROXIMATELY 220 NM
EAST-NORTHEAST OF ANDERSEN AFB, GUAM, HAS TRACKED WEST-NORTHWESTWARD
AT 13 KNOTS OVER THE PAST SIX HOURS. TY 20W IS UNDERGOING EXTREME
RAPID INTENSIFICATION (ERI: 55KTS IN 24HRS) FROM 50KTS AT 060600Z TO
THE CURRENT INTENSITY OF 130 KNOTS. ANIMATED MULTISPECTRAL SATELLITE
IMAGERY (MSI) SHOWS A COMPACT AND SHARPLY-OUTLINED EYEWALL WITH A
PINHOLE 5NM EYE. THE MSI LOOP ALSO SHOWS THE SPIRAL RAIN BANDS ARE
WRAPPING VERY TIGHTLY TOWARD THE EYEWALL RESULTING IN A
SUPER-CONDENSE AND SYMMETRIC SYSTEM. UPPER-LEVEL ANALYSIS INDICATES
RADIAL OUTFLOW (PLUS VERY STRONG EQUATORWARD AND EASTWARD BIASES)
WITH LOW VERTICAL WIND SHEAR (VWS). SST VALUES OF 29-30C AND HIGH
OCEAN HEAT CONTENT VALUES ALSO SUPPORT THE ERI. THE CURRENT INTENSITY
IS HELD ON THE HIGH END OF AGENCY DVORAK ESTIMATES RANGING FROM
T5.5/102KTS TO T7.0/140KTS. THE SYSTEM IS CURRENTLY TRACKING ALONG
THE SOUTHERN PERIPHERY OF A DEEP-LAYERED SUBTROPICAL RIDGE (STR) TO
THE NORTH.
3. FORECAST REASONING.
A. STY 20W CONTINUES TO UNDERGO ERI, THEREFORE, THE FORECAST
INTENSITIES HAVE AGAIN BEEN ADJUSTED SIGNIFICANTLY HIGHER THAN THE
PREVIOUS FORECAST. THE TRACK FORECAST, HOWEVER, REMAINS CONSISTENT.
B. STY 20W IS FORECAST TO TRACK NORTHWESTWARD THROUGH TAU 72 UNDER
THE STEERING INFLUENCE OF THE STR. THE HIGHLY FAVORABLE ENVIRONMENTAL
CONDITIONS ARE EXPECTED TO PERSIST AND PROMOTE FURTHER RI TO A PEAK
OF 150KTS (POSSIBLY HIGHER) AROUND TAU 24 WHEN THE POLEWARD OUTFLOW
IS FURTHER ENHANCED BY INITIAL EXPOSURE TO THE PREVAILING WESTERLIES
AHEAD OF A SHORTWAVE TROUGH DIGGING INTO JAPAN. AFTERWARD, INCREASING
VWS WILL TEMPER THE INTENSITY DOWN TO 135KTS BY TAU 72, ALBEIT STILL
A STY. NUMERICAL MODELS ARE IN TIGHT AGREEMENT WITH A GRADUAL SPREAD
TO 230NM BY TAU 72, LENDING HIGH CONFIDENCE IN THIS PORTION OF THE
JTWC TRACK FORECAST.
C. IN THE EXTENDED PERIOD, STY HAGIBIS WILL TURN MORE NORTHWARD AS
IT CRESTS THE STR AXIS TOWARD A BREAK IN THE STR ASSOCIATED WITH THE
SHORTWAVE TROUGH FORECAST TO DEEPEN OVER JAPAN. INCREASING VWS WILL
OFFSET THE OTHERWISE FAVORABLE ENVIRONMENT AND GRADUALLY ERODE THE
SYSTEM DOWN TO 105KTS BY TAU 120 - STILL A VERY STRONG TYPHOON - AS
IT APPROACHES SOUTHERN JAPAN. NUMERICAL MODELS DIVERGE SIGNIFICANTLY
TO OVER 600NM AT TAU 120, LENDING LOW CONFIDENCE IN THE EXTENDED
PORTION OF THE JTWC TRACK FORECAST.//
NNNN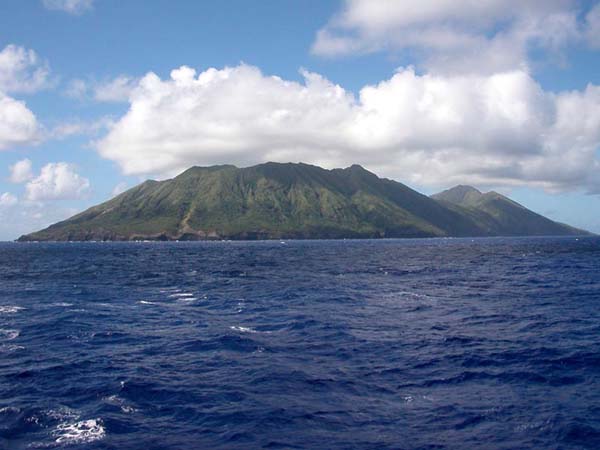 ANATAHAN. WIKIPEDIA