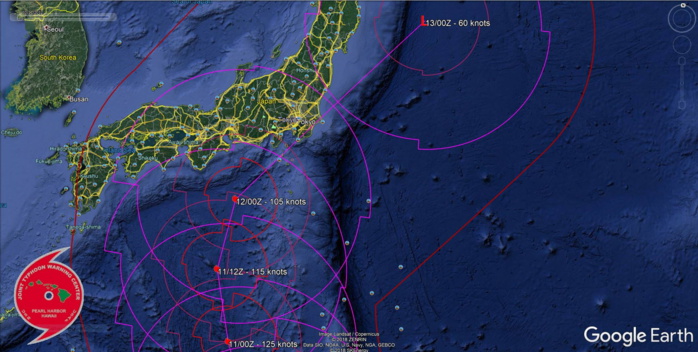 Météo974
WESTERN NORTH PACIFIC
Location: 23.2°N 139.8°E
Maximum Winds: 140 kt ( 260km/h)
Gusts: 170 kt ( 315km/h)
Minimum Central Pressure: 904 mb
CATEGORY 5 US
WDPN31 PGTW 100300
MSGID/GENADMIN/JOINT TYPHOON WRNCEN PEARL HARBOR HI//
SUBJ/PROGNOSTIC REASONING FOR SUPER TYPHOON 20W (HAGIBIS) WARNING NR
020//
RMKS/
1. FOR METEOROLOGISTS.
2. 6 HOUR SUMMARY AND ANALYSIS.
SUPER TYPHOON (STY) 20W (HAGIBIS), LOCATED APPROXIMATELY 726 NM
SOUTH OF YOKOSUKA, JAPAN, HAS TRACKED NORTHWARD AT 12 KNOTS OVER THE
PAST SIX HOURS. ANIMATED ENHANCED INFRARED (EIR) SATELLITE IMAGERY
REVEALS A 23 NM ROUND EYE, WHICH SUPPORTS THE INITIAL POSITION WITH
GOOD CONFIDENCE. ADDITIONALLY, EIR IMAGERY INDICATES TROCHOIDAL
MOTION OVER THE PAST 12 HRS. A 092124Z SSMIS 91GHZ IMAGE DEPICTS A
WELL-DEFINED MICROWAVE EYE AND ALSO INDICATES THAT THE OUTER EYEWALL
HAS ERODED EXCEPT OVER THE EASTERN SEMICIRCLE. THE INITIAL INTENSITY
IS BASED ON DVORAK CURRENT INTENSITY ESTIMATES OF 7.0 (140 KTS) FROM
PGTW AND RJTD. FURTHERMORE, THERE IS A 092042Z SMAP IMAGE (40 KM
RESOLUTION) WITH MAX WIND SPEEDS OF 129 KTS (1-MINUTE AVERAGE) THAT
SUPPORTS THE CURRENT INTENSITY ESTIMATE. STY 20W HAS STRONG RADIAL
OUTFLOW; THE POLEWARD OUTFLOW IS BEING FURTHER ENHANCED BY A TROUGH
TO THE NORTHWEST OF THE SYSTEM. FURTHERMORE, THE SYSTEM IS SITTING
IN FAVORABLE ENVIRONMENTAL CONDITIONS WITH WARM SST VALUES (28-29C)
AND LOW VERTICAL WIND SHEAR (VWS). STY 20W IS TRACKING NORTHWARD
ALONG THE WESTERN PERIPHERY OF A DEEP-LAYERED SUBTROPICAL RIDGE
POSITIONED TO THE EAST.
3. FORECAST REASONING.
A. THERE IS NO SIGNIFICANT CHANGE TO THE FORECAST PHILOSOPHY FROM
THE PREVIOUS PROGNOSTIC REASONING MESSAGE. WIND RADII HAVE BEEN
ADJUSTED SLIGHTLY BASED ON THE SMAP DATA--THIS DATA CONTINUES TO
INDICATE AN EXPANSIVE GALE WIND FIELD.
B. STY 20W WILL TRACK NORTH-NORTHWESTWARD ALONG THE WESTERN
PERIPHERY OF THE DEEP-LAYERED STR THROUGH TAU 36. STY 20W IS
EXPECTED TO BEGIN A GRADUAL WEAKENING TREND BY TAU 24 DUE TO
INCREASING VWS AND CONVERGENCE ASSOCIATED WITH THE MIDLATITUDE
TROUGH. AFTER TAU 36, STY 20W WILL BEGIN RECURVING NORTHWARD TO
NORTH-NORTHEASTWARD AS IT ROUNDS THE STR AND BEGINS EXTRA-
TROPICAL TRANSITION (ETT). AFTER TAU 60, THE SYSTEM WILL ACCELERATE
NORTHEASTWARD EAST OF HONSHU AND IS EXPECTED TO COMPLETE ETT BY TAU
72 AS THE SYSTEM BECOMES EMBEDDED IN THE MIDLATITUDE WESTERLIES
AND GAINS STRONG FRONTAL CHARACTERISTICS. THE JTWC FORECAST TRACK IS
PLACED NEAR BUT SLIGHTLY FASTER THAN THE MULTI-MODEL CONSENSUS AFTER
TAU 48. THE NUMERICAL MODELS ARE IN FAIR AGREEMENT, THEREFORE, THERE
IS NOW MODERATE CONFIDENCE IN THE JTWC TRACK FORECAST.//
NNNN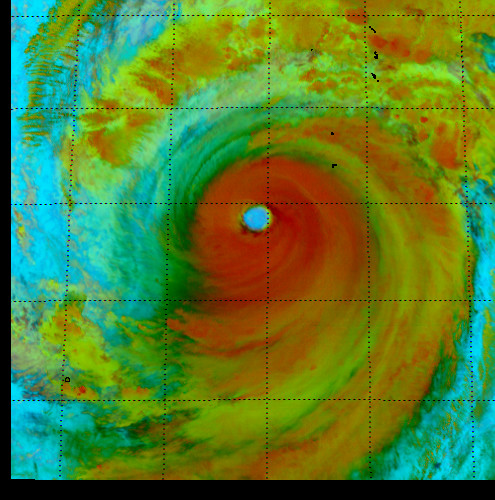 10/0137UTC