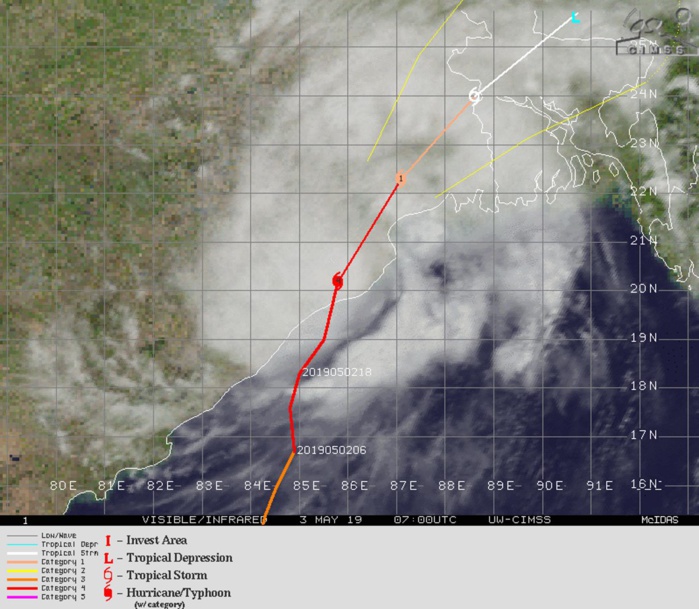 CYCLONE FANI(01B) WAS A STRONG CATEGORY 4 US AT LANDFALL NEAR PURI. FORECAST TO TRACK TO THE WEST OF KOLKATA AS A CATEGORY 1
https://www.meteo974.re/M974World_r7.html
https://www.meteo974.re/
SHORT VIDEO WITH ZOOM ON THE FORECAST TRACK AND SATELLITE ANIMATIONS JUST BELOW
Location: 20.2°N 85.8°E
Maximum Winds: 115 kt ( 210km/h)
Gusts: 140 kt ( 260km/h)
Minimum Central Pressure: 942 mb
CATEGORY 4 US WEAKENING
REMARKS:
030900Z POSITION NEAR 20.7N 86.1E.
TROPICAL CYCLONE (TC) 01B (FANI), LOCATED APPROXIMATELY 205 NM
SOUTHWEST OF KOLKATA, INDIA, HAS TRACKED NORTH-NORTHEASTWARD AT 12
KNOTS (KTS) OVER THE PAST SIX HOURS. ANIMATED MULTISPECTRAL SATELLITE
IMAGERY (MSI) AND ENHANCED INFRARED SATELLITE IMAGERY REVEAL
SIGNIFICANT DECAY IN THE CLOUD SIGNATURE SINCE MAKING LANDFALL. THE
INITIAL POSITION IS BASED ON A DIMPLE THAT APPEARS TO BE THE PARTIALLY
CLOUD-FILLED, REMNANT EYE IN THE MSI AND IS SUPPORTED BY EXTRAPOLATION
FROM AN EYE FEATURE IN A 030347Z MHS 89 GHZ MICROWAVE IMAGE. THE
INITIAL INTENSITY OF 115 KTS IS ESTIMATED BASED ON THE WEAKENED CLOUD
SIGNATURE. ASIDE FROM BEING LOCATED OVER LAND, THE ENVIRONMENT IS
FAVORABLE WITH LOW (5-10 KT) VERTICAL WIND SHEAR AND GOOD RADIAL
OUTFLOW. WHILE TRACKING ALONG THE NORTHWEST PERIPHERY OF A
SUBTROPICAL RIDGE, THE CYCLONE WILL CONTINUE TO WEAKEN RAPIDLY UNTIL
FULLY DISSIPATING BY TAU 36. THE TRACK WILL REMAIN FAIRLY CLOSE TO
SHORE FOR THE NEXT 6 HOURS. BECAUSE IT MAY BRIEFLY PASS BACK OVER
WATER, THIS IS NOT THE FINAL WARNING ON THE SYSTEM. DYNAMIC MODEL
GUIDANCE IS IN TIGHT AGREEMENT UNTIL THE SYSTEM WEAKENS SUFFICIENTLY
FOR THE MODEL TRACKERS TO HAVE DIFFICULTY FOLLOWING THE CIRCULATION.
BASED ON THE SHORT DURATION AND GOOD AGREEMENT IN THE MODELS, THERE
IS HIGH CONFIDENCE IN THE JTWC TRACK FORECAST. NEXT WARNINGS AT
031500Z, 032100Z, 040300Z AND 040900Z.//
NNNN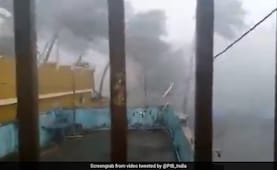 CAPTURED IMAGE OF A VIDEO BROADCAST ON NDTV AND SHARED HERE: https://www.meteo974.re/Le-Super-Cyclone-FANI-01B-vents-tres-violents-filmes-a-PURI-VIDEO-SUR-PLACE_a788.html