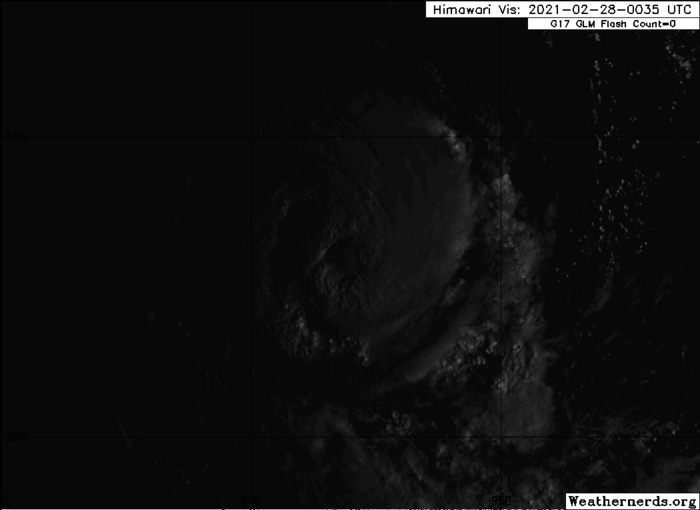 22S(MARIAN). 28/0305UTC. HIGH RESOLUTION VISIBLE ANIMATION.ANIMATED ENHANCED INFRARED SATELLITE IMAGERY DEPICTS A CONSOLIDATING SYSTEM WITH A 35KM RAGGED EYE, WHICH SUPPORTS THE INITIAL POSITION WITH GOOD CONFIDENCE. IF NEEDED CLICK TO ANIMATE.
2021 FEB 28 03UTC
#SOUTHERNHEMISPHERE
TC #22S
#
SOUTHINDIANOCEAN #WESTERNAUSTRALIA
WARNING 5
As of 00:00 UTC Feb 28, 2021:
Location: 16.9°S 92.0°E
Maximum Winds: 80 kt (150km/h)
Gusts: 100 kt ( 185km/h)
Minimum Central Pressure: 969 mb
CATEGORY US : 1
INTENSIFYING
LOCATED AT 28/00UTC APPROXIMATELY 750KM SOUTHWEST OF THE COCOS ISLANDS, AUSTRALIA, HAS TRACKED
SOUTHWESTWARD AT 17 KM/H OVER THE PAST SIX HOURS.
Satellite bulletins are to be found in the comments of this post on
JTWC BIS
---------------------------------------------------------------------------------------------------
INVEST #99P
#
SOUTHPACIFICOCEAN #CORALSEA
UPDATE
As of 00:00 UTC Feb 28, 2021:
Location: 16.8°S 148.8°E
Maximum Winds: 25 kt
Gusts: 35 kt
Minimum Central Pressure: 1000 mb
LOCATED AT 28/00UTC APPROXIMATELY 320 KM EAST OF CAIRNS, AUSTRALIA.
CURRENT POTENTIAL FOR THE NEXT 24HOURS: UP-GRADED TO MEDIUM.
Cheers,
Patrick Hoareau
Météo974
M974World
Cyclone Class 4
Cheers,PH.
Joint Typhoon Warning Center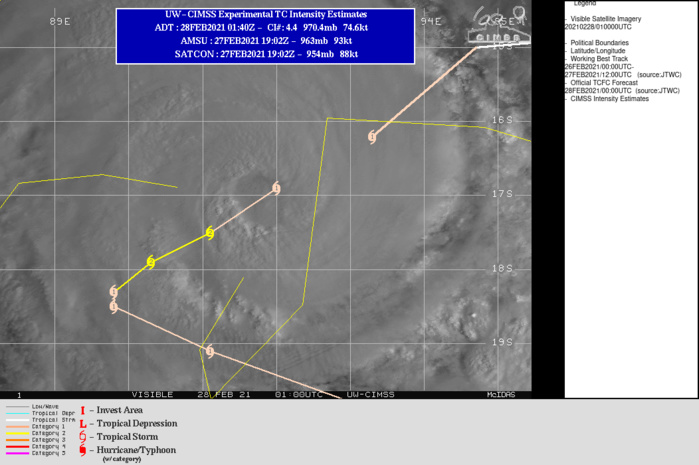 22S(MARIAN). WARNING 5 ISSUED AT 28/03UTC. OVERALL, THE SYSTEM HAS INTENSIFIED WITH DVORAK ESTIMATES RANGING FROM T4.5 (77 KNOTS) TO T5.0 (90 KNOTS). DUE TO THE RAGGED NATURE OF THE EYE, THE INITIAL INTENSITY IS BASED ON THE LOWER DVORAK ESTIMATE OF T4.5 AND A 280010Z ADT ESTIMATE OF 4.4 (75 KNOTS). TC 22S IS FORECAST TO CONTINUE TRACKING SOUTHWESTWARD ALONG THE NORTHWEST PERIPHERY OF A DEEP-LAYERED SUBTROPICAL RIDGE (STR) POSITIONED TO THE SOUTHEAST AND SOUTH THROUGH 36H. AFTER 36H, A DEEP MIDLATITUDE TROUGH WILL APPROACH AND WEAKEN THE STR, WHICH WILL RESULT IN A SLOW OR QUASI- STATIONARY TRACK MOTION THROUGH 48H. AFTER 48H, THE MIDLATITUDE TROUGH WILL COMPLETELY ERODE THE STR AND THE SYSTEM WILL BEGIN TO ACCELERATE EAST-SOUTHEASTWARD WITHIN THE STEERING FLOW BETWEEN THE AFOREMENTIONED TROUGH AND THE NEAR EQUATORIAL RIDGE TO THE NORTH. TC MARIAN SHOULD INTENSIFY SLIGHTLY UNDER FAVORABLE CONDITIONS OVER THE NEXT 12-24 HOURS TO A PEAK INTENSITY OF 85 KNOTS/US CATEGORY 2 THEN WEAKEN STEADILY THROUGH THE REMAINDER OF THE FORECAST DUE TO COOLER SST (26-25C) VALUES, INCREASING VERTICAL WIND SHEAR AND CONVERGENCE ALOFT.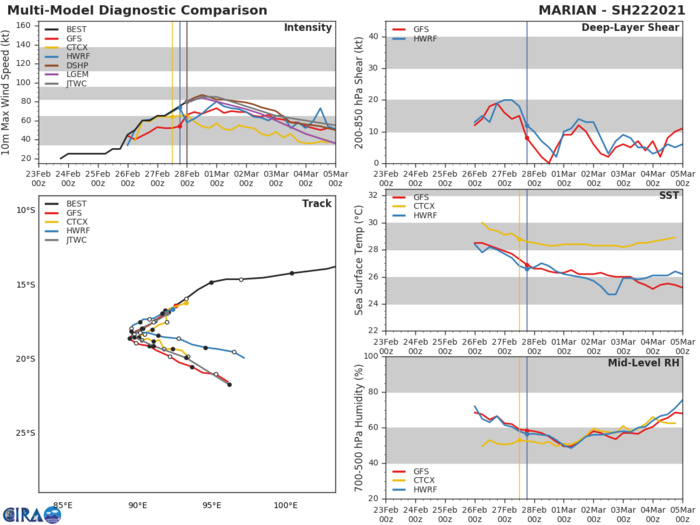 22S(MARIAN). OVERALL, THERE IS MODERATE UNCERTAINTY IN THE JTWC FORECAST TRACK DUE TO THE WEAK STEERING ENVIRONMENT AROUND 48H AND DIVERGING NUMERICAL MODEL GUIDANCE AFTER 72H WITH A 350KM SPREAD IN SOLUTIONS AT 120H.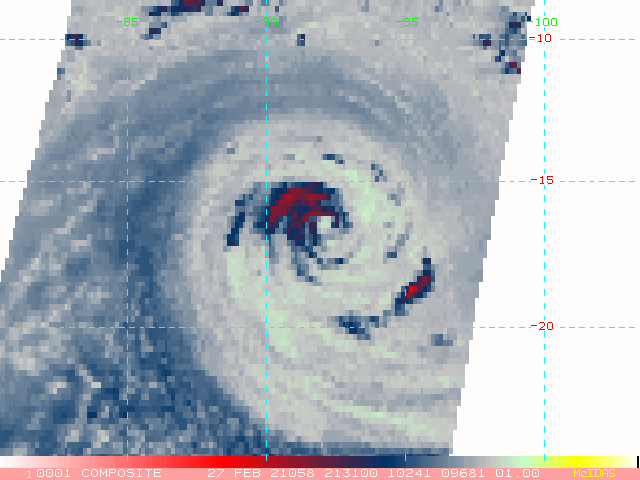 22S(MARIAN). 27/2131UTC. MICROWAVE IMAGE REVEALS SPIRAL BANDING WRAPPING AROUND THE WESTERN AND NORTHERN SEMICIRCLES WITH A BREAK IN THE EYEWALL AND WEAKER BANDING OVER THE SOUTHEAST QUADRANT DUE TO PERSISTENT EAST-NORTHEASTERLY VERTICAL WIND SHEAR.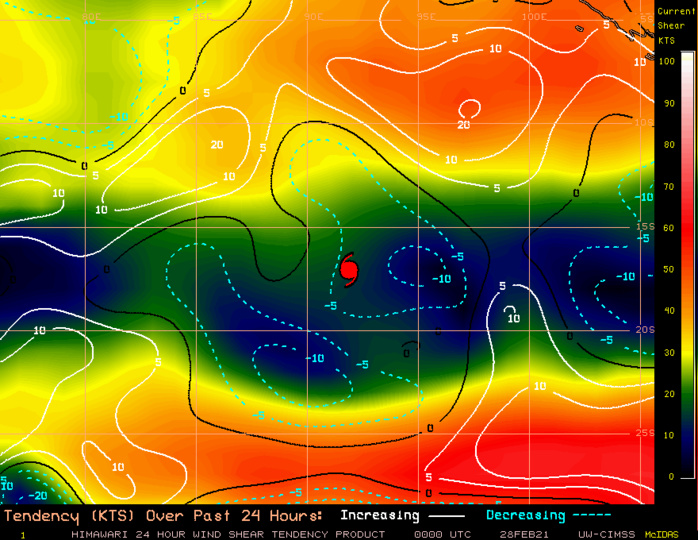 22S(MARIAN). 24H SHEAR TENDENCY HAS BEEN SLIGHTLY IMPROVING. "UW-CIMSS Experimental Vertical Shear and TC Intensity Trend Estimates" ARE NEUTRAL OVER 24HOURS. Vertical Shear Magnitude : 7.6 m/s (14.7 kts) Direction : 78.6 deg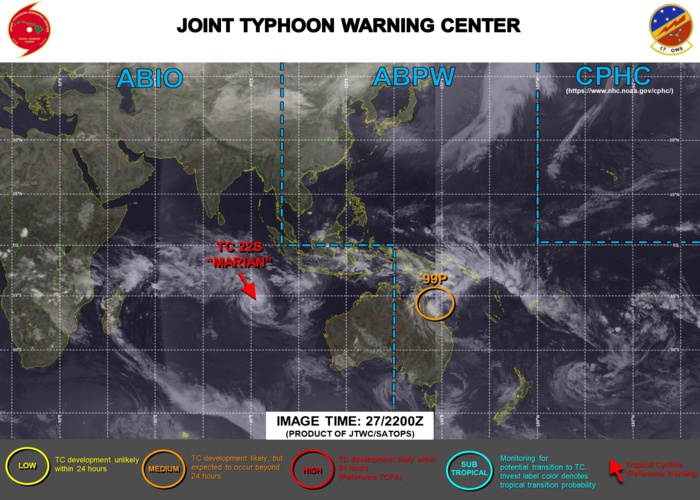 28/03UTC. JTWC HAS BEEN ISSUING 12HOURLY WARNINGS AND 3 HOURLY SATELLITE BULLETINS ON TC 22S(MARIAN). INVEST 99P IS UP-GRADED TO MEDIUM FOR THE NEXT 24HOURS.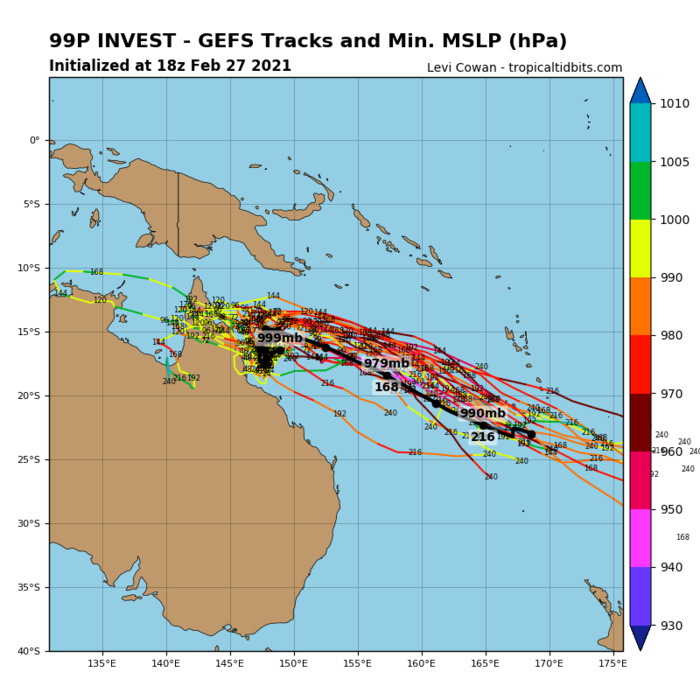 INVEST 99P. ENVIRONMENTAL ANALYSIS DEPICTS A FAVORABLE ENVIRONMENT WITH LOW TO MODERATE (15-20KTS) VERTICAL WIND SHEAR, GOOD UPPER LEVEL OUTFLOW, AND WARM (29-30C) SEA SURFACE TEMPERATURES. GLOBAL MODELS INDICATE A SOUTHWESTWARD TRACK TOWARD THE COAST OF AUSTRALIA OVER THE NEXT 36-48 HOURS WITH STEADY INTENSIFICATION.