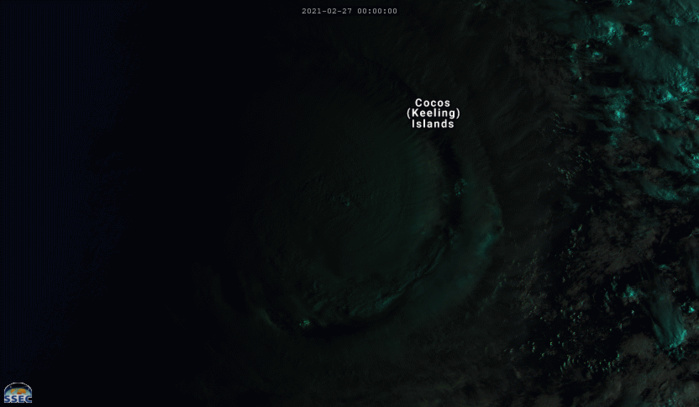 22S(MARIAN). 27/02UTC.ANIMATED ENHANCED INFRARED SATELLITE IMAGERY SHOWS A CONSOLIDATING SYSTEM WITH A CENTRAL DENSE OVERCAST FEATURE OBSCURING THE LOW-LEVEL CIRCULATION. IF NEEDED CLICJK TO ANIMATE.
2021 FEB 27 03UTC
#SOUTHERNHEMISPHERE
TC #22S
#
SOUTHINDIANOCEAN #WESTERNAUSTRALIA
WARNING 3
As of 00:00 UTC Feb 27, 2021:
Location: 15.0°S 94.7°E
Maximum Winds: 65 kt (120km/h)
Gusts: 80 kt ( 150km/h)
Minimum Central Pressure: 982 mb
CATEGORY US : 1
INTENSIFYING
LOCATED AT 27/00UTC APPROXIMATELY 390 KM SOUTHWEST OF THE COCOS ISLANDS, AUSTRALIA, HAS TRACKED WEST-
SOUTHWESTWARD AT 19 KM/H OVER THE PAST SIX HOURS.
Satellite bulletins are to be found in the comments of this post on
JTWC BIS
---------------------------------------------------------------------------------------------------
INVEST #99P
#
SOUTHPACIFICOCEAN #CORALSEA
UPDATE
As of 18:00 UTC Feb 26, 2021:
Location: 15.8°S 148.1°E
Maximum Winds: 20 kt
Minimum Central Pressure: 1000 mb
LOCATED AT 26/18UTC APPROXIMATELY 280 KM EAST-NORTHEAST OF CAIRNS, AUSTRALIA.
CURRENT POTENTIAL FOR THE NEXT 24HOURS: LOW.
Cheers,
Patrick Hoareau
Météo974
M974World
Cyclone Class 4
Cheers,PH.
Joint Typhoon Warning Center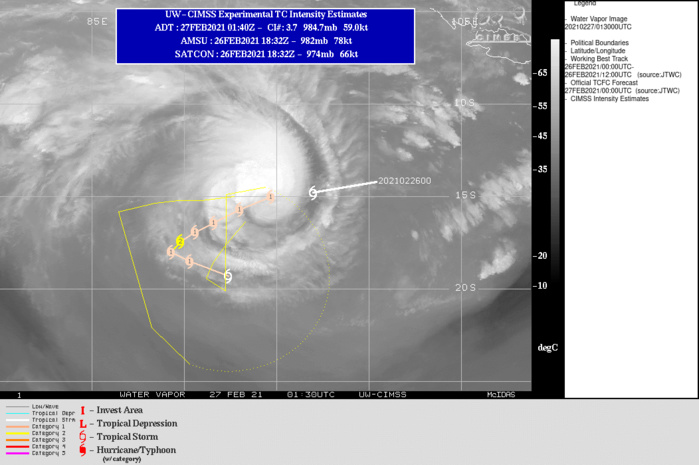 22S(MARIAN). WARNING 3 ISSUED AT 27/03UTC. UPPER LEVEL ANALYSIS INDICATES A FAVORABLE ENVIRONMENT WITH LOW VERTICAL WIND SHEAR AND GOOD EQUATORWARD OUTFLOW. TC 22S WILL CONTINUE TO TRACK WEST-SOUTHWESTWARD ALONG THE NORTHERN PERIPHERY OF THE SUBTROPICAL RIDGE (STR) TO THE SOUTH. ALONG TRACK SPEEDS SLOW AS A COMPETING STEERING ENVIRONMENT DEVELOPS WITH A NEAR EQUATORIAL RIDGE (NER) STRENGTHENING TO THE NORTHEAST. TC 22S REACHES A PEAK INTENSITY OF 85 KNOTS/US CATEGORY 2 AT 48H UNDER FAVORABLE CONDITIONS. AFTER 72H, THE SYSTEM WILL BEGIN TO MOVE EAST-SOUTHEASTWARD AS THE STR WEAKENS AND THE NER TAKES OVER STEERING. AFTER 72H, AN APPROACHING MIDLATITUDE TROUGH AND INCREASING VWS FROM PREVAILING WESTERLIES BEGIN A WEAKENING TREND FOR TC 22S THROUGHOUT THE REMAINDER OF THE FORECAST.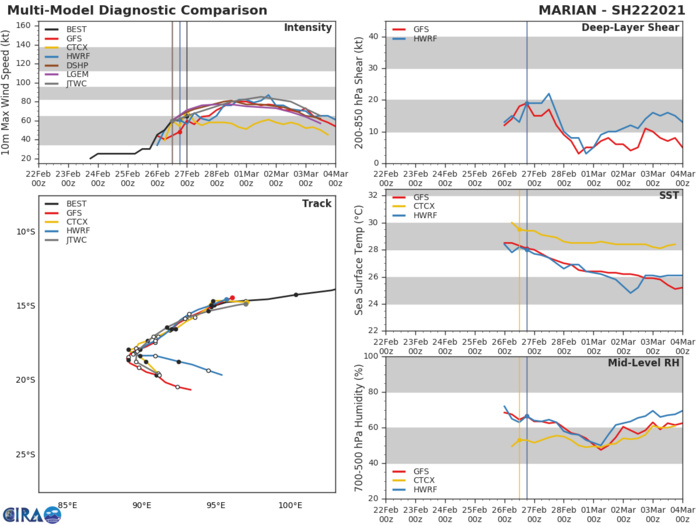 22S(MARIAN). NUMERICAL MODELS ARE IN GOOD AGREEMENT, LENDING TO HIGH CONFIDENCE IN THE JTWC FORECAST TRACK.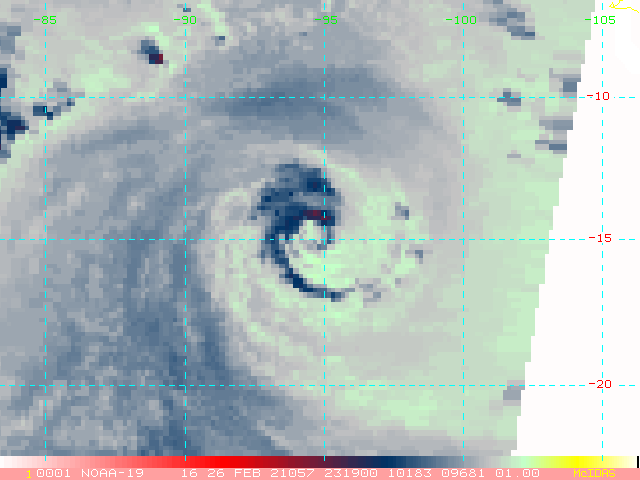 22S(MARIAN). 26/2319UTC. MICROWAVE EYE FEATURE.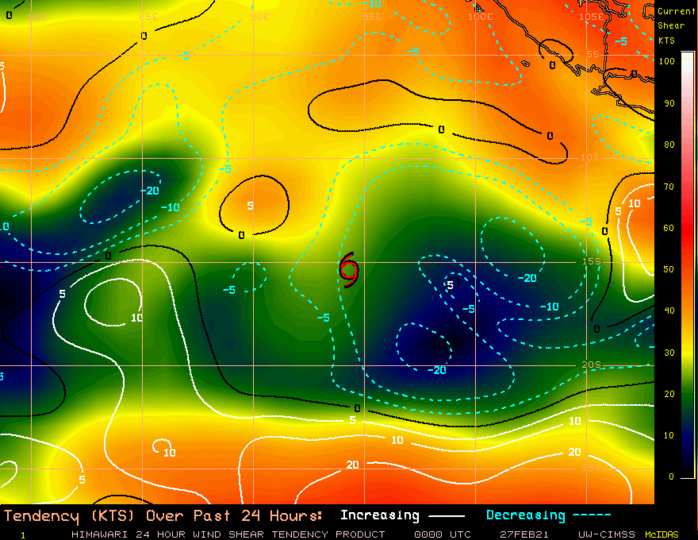 22S(MARIAN). LOW TO MODERATE VERTICAL WIND SHEAR STILL IMPACTING ON THE SYSTEM. UW-CIMSS Experimental Vertical Shear and TC Intensity Trend Estimates IS NEUTRAL OVER 12H THEN FAVOURABLE UP TO 24H.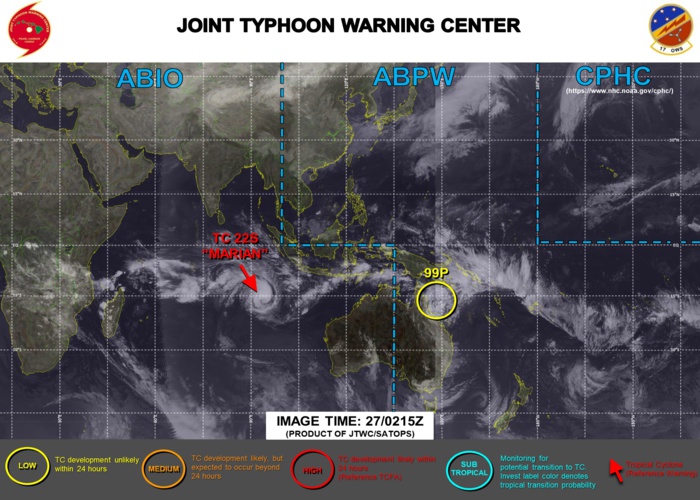 27/03UTC. JTWC IS ISSUING 12HOURLY WARNINGS AND 3 HOURLY SATELLITE BULLETINS ON TC 22S(MARIAN). INVEST 99P IS NOW ON THE MAP AND IS LOW FOR THE NEXT 24HOURS.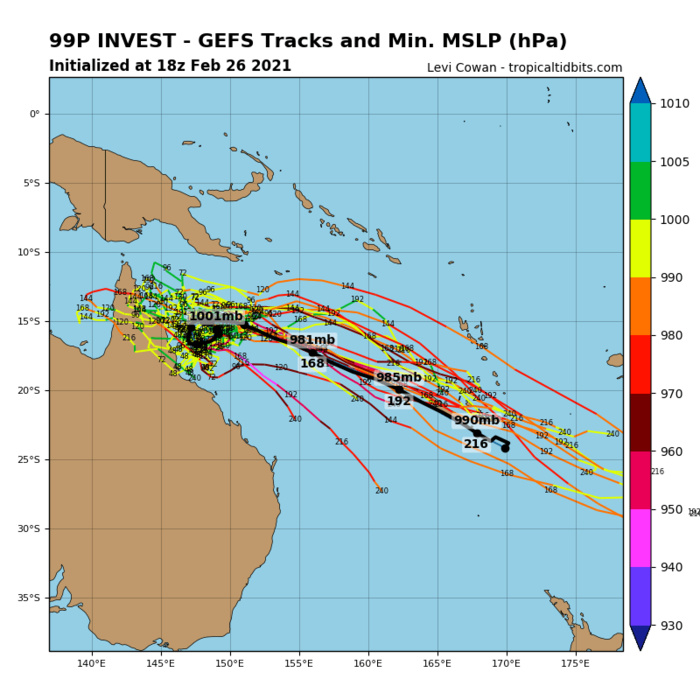 INVEST 99P. ANIMATED RADAR IMAGERY FROM THE WILLIS ISLAND RADAR SHOW BROAD CYCLONIC TURNING WITH A WEAK LLCC. ENVIRONMENTAL ANALYSIS DEPICTS A MARGINAL ENVIRONMENT WITH STRONG EASTERLY VERTICAL WIND SHEAR OFFSET BY ENHANCED POLEWARD OUTFLOW. SST VALUES ARE CONDUCIVE AT 29-30C. GLOBAL MODELS INDICATE A SLOW, MEANDERING SOUTHWESTWARD TRACK OVER THE NEXT TWO DAYS WITH SLOW DEVELOPMENT.