INVEST 91P: TCFA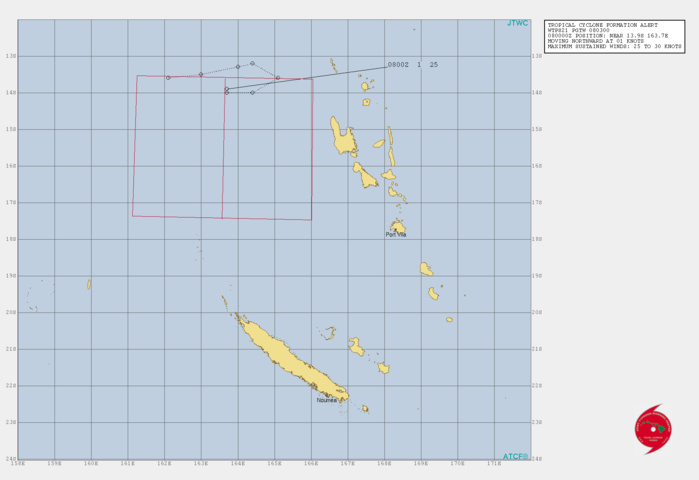 Location: 13.9°S 163.7°E
Maximum Winds: 25/30kt
Minimum Central Pressure: 1000 mb
TPPS10 PGTW 080328
A. TROPICAL DISTURBANCE 91P (NW OF NEW CALEDONIA)
B. 08/0300Z
C. 14.26S
D. 163.97E
E. FIVE/HMWRI8
F. T1.5/1.5 STT: S0.0/03HRS
G. IR/EIR/VIS/MSI
H. REMARKS: 40A/PBO SBC/ANMTN. CNVCTN WRAPS .30 ON LOG10 SPIRAL
YIELDING A DT OF 1.5. MET/PT AGREE. DBO DT.
I. ADDITIONAL POSITIONS: NONE
MARTIN
WTPS21 PGTW 080300
MSGID/GENADMIN/JOINT TYPHOON WRNCEN PEARL HARBOR HI//
SUBJ/TROPICAL CYCLONE FORMATION ALERT (INVEST 91P)//
RMKS/
1. FORMATION OF A SIGNIFICANT TROPICAL CYCLONE IS POSSIBLE WITHIN
140 NM EITHER SIDE OF A LINE FROM 13.6S 163.7E TO 17.5S 163.6E
WITHIN THE NEXT 12 TO 24 HOURS. AVAILABLE DATA DOES NOT JUSTIFY
ISSUANCE OF NUMBERED TROPICAL CYCLONE WARNINGS AT THIS TIME.
WINDS IN THE AREA ARE ESTIMATED TO BE 25 TO 30 KNOTS. METSAT
IMAGERY AT 080000Z INDICATES THAT A CIRCULATION CENTER IS LOCATED
NEAR 13.9S 163.7E. THE SYSTEM IS MOVING NORTHWARD AT 01 KNOTS.
2. REMARKS: THE AREA OF CONVECTION (INVEST 91P) PREVIOUSLY LOCATED
NEAR 14.0S 163.7E IS NOW LOCATED NEAR 13.9S 163.7E, APPROXIMATELY
353 NM NORTHWEST OF PORT VILA. ANIMATED MULTISPECTRAL SATELLITE
IMAGERY AND A 071952Z SSMIS F-17 91GHZ MICROWAVE IMAGE DEPICT LOW
LEVEL CONVECTION WRAPPING AROUND A PARTIALLY EXPOSED LOW LEVEL
CIRCULATION (LLC). A 072240Z METOP-B ASCAT PASS SHOWS 25-30 KNOTS
WINDS WRAPPING INTO THE CENTER OF THE LLC. ENVIRONMENTAL ANALYSIS
REVEALS FAVORABLE DEVELOPMENT CONDITIONS WITH EASTWARD AND
EQUATORWARD OUTFLOW, LOW TO MODERATE (10-20 KNOT) VERTICAL WIND
SHEAR, AND WARM (29-30C) SEA SURFACE TEMPERATURES. GLOBAL MODELS
INDICATE 91P WILL STRENGTHEN AS IT TRACKS SOUTHWARD THEN SOUTH-
SOUTHWESTWARD. MAXIMUM SUSTAINED SURFACE WINDS ARE ESTIMATED AT 25
TO 30 KNOTS. MINIMUM SEA LEVEL PRESSURE IS ESTIMATED TO BE NEAR
1000 MB. THE POTENTIAL FOR THE DEVELOPMENT OF A SIGNIFICANT
TROPICAL CYCLONE WITHIN THE NEXT 24 HOURS IS HIGH.
3. THIS ALERT WILL BE REISSUED, UPGRADED TO WARNING OR CANCELLED BY
090300Z.
//
NNNN
02/08 0245UTC
TRACK AND INTENSITY GUIDANCE: CTCX AND HWRF ARE AGGRESSIVE.
02/08 03UTC