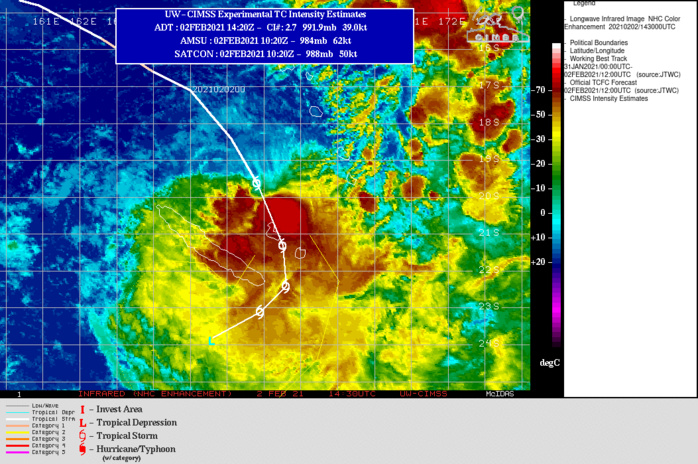 WARNING 11.17P(LUCAS) IS TRACKING ALONG THE SOUTHWESTERN PERIPHERY OF A NEAR EQUATORIAL RIDGE (NER) AND THROUGH A MARGINALLY UNFAVORABLE ENVIRONMENT WITH WARM (27-28 CELSIUS) SEA SURFACE TEMPERATURES (SST) AND ROBUST POLEWARD OUTFLOW ALOFT OFFSET BY HIGH (30+ KTS) VERTICAL WIND SHEAR (VWS) AND CONVERGENT UPPER LEVEL FLOW ALONG THE NORTHEASTERN PERIPHERY OF THE SYSTEM. IN THE NEAR TERM, TC LUCAS WILL MAINTAIN A 50 KNOTS INTENSITY THROUGH 12H AND THEN BEGIN A GRADUAL WEAKENING TREND DUE TO CONTINUED HIGH VWS. A BUILDING SUBTROPICAL RIDGE (STR) POSITIONED TO THE SOUTHEAST WILL TAKEOVER STEERING FROM THE NER AFTER 12H AND BEGIN TO DRIVE THE SYSTEM ON A GENERALLY SOUTHWESTWARD TRACK AFTER 24H. CONTINUED HIGH VWS AND COOLING SST THEREAFTER WILL LEAD TO FURTHER WEAKENING AND ULTIMATELY LEAD TO DISSIPATION OVER WATER BY 48H.
2021 FEB 02 1525UTC
#SOUTHERNHEMISPHERE
TC #17P #LUCAS
#
SOUTHPACIFICOCEAN
WARNING 11
As of 12:00 UTC Feb 02, 2021:
Location: 19.6°S 168.8°E
Maximum Winds: 50 kt (95km/h)
Gusts: 65kt (120km/h)
Minimum Central Pressure: 988 mb
17P(LUCAS), LOCATED APPROXIMATELY 300 KM NORTHEAST OF NOUMEA, NEW CALEDONIA, HAS TRACKED SOUTH-
SOUTHEASTWARD AT 26 KM/H OVER THE PAST SIX HOURS.
Satellite bulletins are to be found in the comments of this post on
JTWC BIS
Cheers,
Patrick Hoareau
Météo974
M974World
Cyclone Class 4
Cheers,PH.
Joint Typhoon Warning Center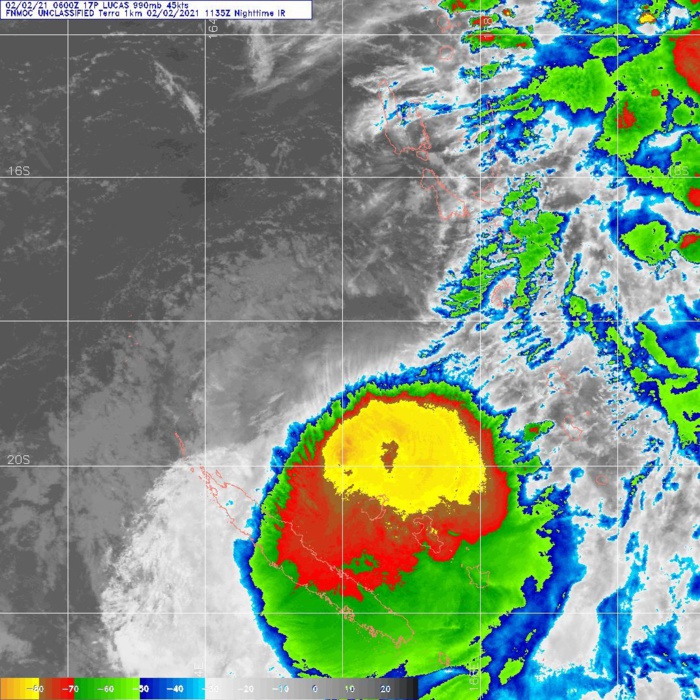 02/1135UTC. DMSP. ENHANCED INFRARED (EIR) SATELLITE IMAGERY DEPICTS FLARING CENTRAL CONVECTION OBSCURING A LOW LEVEL CIRCULATION CENTER (LLCC).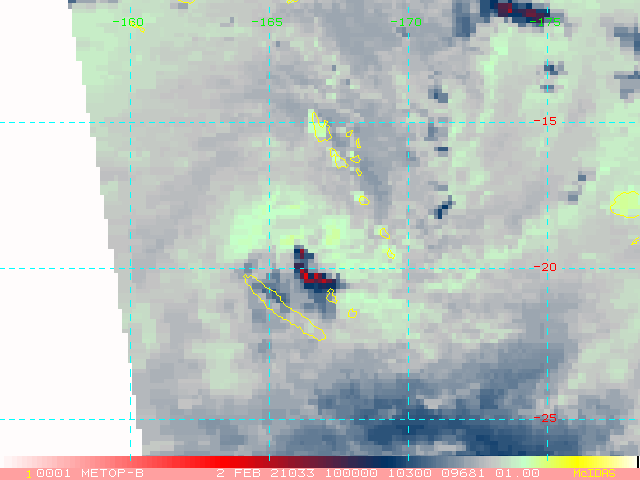 02/10UTC. MICROWAVE DATA.THE LOW LEVEL CIRCULATION CENTER WAS WELL DEPICTED TO THE NORTHEAST OF NEW CALEDONIA.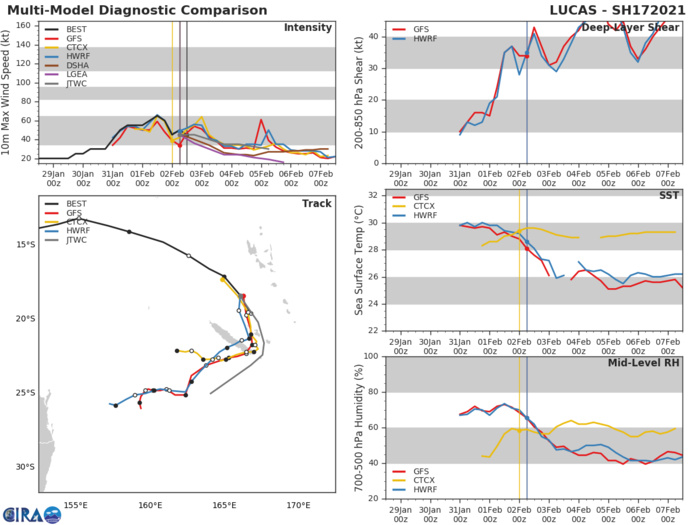 NUMERICAL MODEL GUIDANCE IS IN OVERALL FAIR AGREEMENT WITH A MAXIMUM SPREAD IN MODEL SOLUTIONS OF 315 KM AT 36H THAT INCREASES SLIGHTLY THEREAFTER FOR THE REMAINDER OF THE FORECAST PERIOD. THIS SPREAD IN NUMERICAL MODEL SOLUTIONS LENDS OVERALL FAIR CONFIDENCE IN THE JTWC FORECAST TRACK WHICH IS PLACED ON THE MULTI-MODEL CONSENSUS.