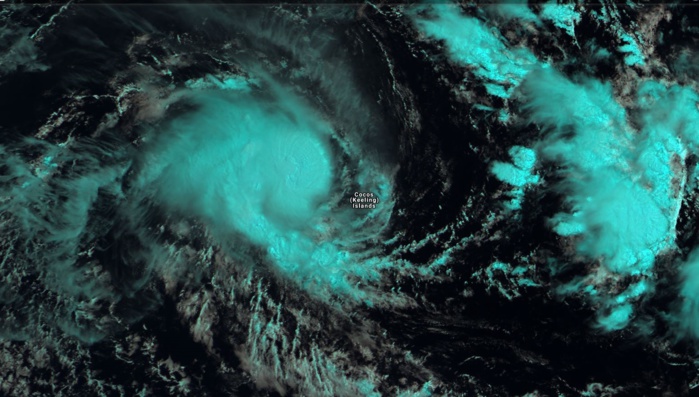 https://www.facebook.com/groups/1817419381676514/
Location: 11.7°S 95.9°E
Maximum Winds: 35 kt ( 65km/h)
Gusts: 45 kt ( 85km/h)
Minimum Central Pressure: 996 mb
REMARKS:
140300Z POSITION NEAR 12.0S 95.8E.
TROPICAL CYCLONE 19S (SAVANNAH), LOCATED APPROXIMATELY 1412 NM
EAST-SOUTHEAST OF DIEGO GARCIA, HAS TRACKED SOUTHWESTWARD AT 08
KNOTS OVER THE PAST SIX HOURS. ANIMATED MULTISPECTRAL SATELLITE
IMAGERY (MSI) SHOWS A CONSOLIDATING SYSTEM WITH WELL-DEVELOPED
BANDING WRAPPING INTO A LOW LEVEL CIRCULATION CENTER (LLCC) OBSCURED
BY BUILDING CENTRAL CONVECTION. THE INITIAL POSITION IS BASED WITH
MODERATE CONFIDENCE ON THE COVERED LLCC SEEN IN THE MSI LOOP AND A
140031Z SSMIS 91GHZ MICROWAVE IMAGE. THE INITIAL INTENSITY IS SET
BETWEEN DVORAK ESTIMATES OF T2.0 (30KTS) FROM KNES AND PGTW AS WELL
AS T3.0 (45KTS) FROM APRF. THE ENVIRONMENT IS MARGINALLY FAVORABLE
WITH WARM (28-29 CELSIUS) SEA SURFACE TEMPERATURES, HIGH (20-25KT)
VERTICAL WIND SHEAR AND GOOD UPPER LEVEL DIFFLUENCE. TC 19S WILL
TRACK SOUTH-SOUTHWESTWARD ON THE NORTHEASTERN PERIPHERY OF A STRONG
SUBTROPICAL RIDGE (STR) LOCATED TO ITS SOUTHWEST. AS THE RIDGE RE-
ORIENTS AFTER TAU 36, TC 19S WILL TRACK DUE WESTWARD ALONG THE
NORTHERN PERIPHERY OF THE STR. THE MARGINALLY FAVORABLE CONDITIONS
WILL ALLOW ONLY LIMITED INTENSIFICATION OVER THE NEXT 24 HOURS, WITH
INTENSITY STABILIZING AT 55 KTS UNTIL TAU 96, WHEN THE UPPER LEVEL
ENVIRONMENT BECOMES MORE FAVORABLE. NUMERICAL MODELS ARE IN GOOD
AGREEMENT UP TO TAU 36 THEN SPREAD SIGNIFICANTLY AFTERWARDS IN
DEPICTING A WESTWARD TO SOUTHWESTWARD TURN. THEREFORE, THERE IS LOW
CONFIDENCE IN THE JTWC TRACK FORECAST. MESOSCALE MODELS ALSO DIFFER
IN HOW THEY INTENSIFY TC 19S, RESULTING IN LOW CONFIDENCE IN THE
JTWC INTENSITY FORECAST. MAXIMUM SIGNIFICANT WAVE HEIGHT AT 140000Z
IS 11 FEET. NEXT WARNINGS AT 140900Z, 141500Z, 142100Z AND 150300Z.
REFER TO TROPICAL CYCLONE 18S (IDAI) WARNINGS (WTXS32 PGTW)
FOR SIX-HOURLY UPDATES.//
2. THIS CANCELS AND SUPERSEDES REF A (WTXS21 PGTW 131730).//
NNNN