Meteosat High resolution animation depicting the exposed low level center.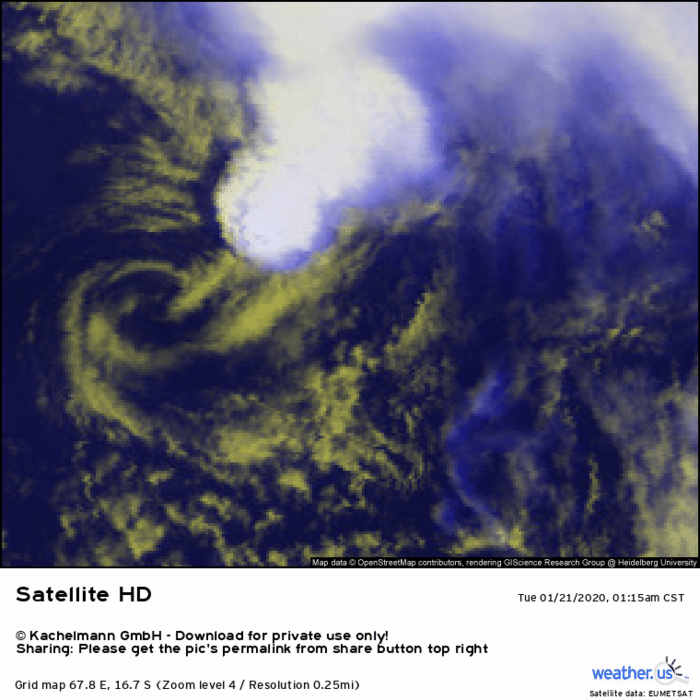 WEATHER US
INVEST 94S SOUTH INDIAN
Location: 16.5°S 67.0°E
Maximum Winds: 25/30 kt
Minimum Central Pressure: 1003 mb
WTXS21 PGTW 210900
MSGID/GENADMIN/JOINT TYPHOON WRNCEN PEARL HARBOR HI//
SUBJ/TROPICAL CYCLONE FORMATION ALERT (INVEST 94S) REISSUED//
REF/A/JOINT TYPHOON WRNCEN PEARL HARBOR HI/210851ZJAN2020//
AMPN/REF A IS A TROPICAL CYCLONE FORMATION ALERT//
RMKS/
1. FORMATION OF A SIGNIFICANT TROPICAL CYCLONE IS POSSIBLE WITHIN
150 NM EITHER SIDE OF A LINE FROM 15.9S 66.8E TO 21.3S 69.0E
WITHIN THE NEXT 12 TO 24 HOURS. AVAILABLE DATA DOES NOT JUSTIFY
ISSUANCE OF NUMBERED TROPICAL CYCLONE WARNINGS AT THIS TIME.
WINDS IN THE AREA ARE ESTIMATED TO BE 25 TO 30 KNOTS. METSAT
IMAGERY AT 210600Z INDICATES THAT A CIRCULATION CENTER IS LOCATED
NEAR 16.5S 67.0E. THE SYSTEM IS MOVING SOUTH-SOUTHEASTWARD AT 20
KNOTS.
2. REMARKS: THE AREA OF CONVECTION (INVEST 94S) PREVIOUSLY LOCATED
NEAR 13.4S 65.4E IS NOW LOCATED NEAR 16.5S 67.0E, APPROXIMATELY 603
NM SOUTH-SOUTHWEST OF DIEGO GARCIA. ANIMATED ENHANCED INFRARED
SATELLITE IMAGERY AND A 210457Z 89GHZ AMSU METOP-B MICROWAVE IMAGE
SHOW DEEP, FLARING CONVECTION FROM THE NORTH WRAPPING INTO A LOW
LEVEL CIRCULATION CENTER. INVEST 94S IS CURRENTLY IN A FAVORABLE
ENVIRONMENT FOR DEVELOPMENT WITH GOOD POLEWARD AND EASTWARD OUTFLOW,
LOW (<15 KNOTS) VERTICAL WIND SHEAR, AND WARM (30-31C) SEA SURFACE
TEMPERATURES. GLOBAL MODELS ARE IN GOOD AGREEMENT THAT 94S WILL
TRACK GENERALLY SOUTHEASTWARD WITH SLIGHT INTENSIFICATION WHILE
REMAINING LARGELY ASYMMETRIC. MAXIMUM SUSTAINED SURFACE WINDS ARE
ESTIMATED AT 25 TO 30 KNOTS. MINIMUM SEA LEVEL PRESSURE IS ESTIMATED
TO BE NEAR 1003 MB. THE POTENTIAL FOR THE DEVELOPMENT OF A
SIGNIFICANT TROPICAL CYCLONE WITHIN THE NEXT 24 HOURS REMAINS HIGH.
THIS SUPERSEDES REF A (WTXS21 PGTW 200900).
3. THIS ALERT WILL BE REISSUED, UPGRADED TO WARNING OR CANCELLED BY
220900Z.//
NNNN
2ND TROPCIAL CYCLONE FORMATION ALERT
TRACK AND INTENSITY GUIDANCE
01/21 0344UTC: ASCAT DEPICTED ASYMMETRIC CIRCULATION BUT READ 35KT WINDS