01/23 04UTC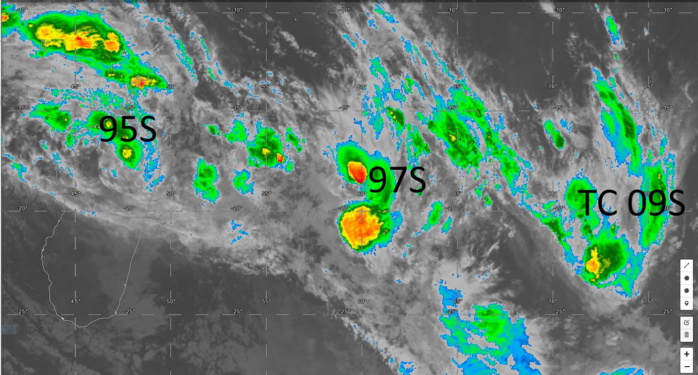 CIRA/US
TC 09S SOUTH INDIAN
Location: 22.3°S 71.0°E
Maximum Winds: 35 kt ( 65km/h)
Gusts: 45 kt ( 85km/h)
Minimum Central Pressure: 1003 mb
REMARKS:
230300Z POSITION NEAR 23.0S 71.2E.
23JAN20. TROPICAL CYCLONE (TC) 09S (NINE), LOCATED APPROXIMATELY 449
NM EAST-SOUTHEAST OF PORT MATHURIN, MAURITIUS, HAS TRACKED SOUTH-
SOUTHEASTWARD AT 14 KNOTS (KTS) OVER THE PAST SIX HOURS. ANIMATED
ENHANCED INFRARED SATELLITE IMAGERY REVEALS ISOLATED CENTRAL
CONVECTION AND NORTHERLY VERTICAL WIND SHEAR. THERE IS FAIR CONFIDENCE
IN THE INITIAL POSITION, PLACED USING A 222306Z SSMIS 37 GHZ MICROWAVE
IMAGE SHOWING RAIN BANDS WRAPPING IN FROM THE NORTH. THE 35 KT INITIAL
INTENSITY ALIGNS WITH THE PGTW DVORAK CURRENT INTENSITY ESTIMATE OF
T2.5 (35 KTS). STRONG EQUATORWARD OUTFLOW AND WARM (28-29 CELSIUS) SEA
SURFACE TEMPERATURE (SST) ARE PARTIALLY OFFSET BY STRONG (20-30 KT)
VERTICAL WIND SHEAR (VWS) TO MAKE THE ENVIRONMENT MARGINAL. FOR THE
DURATION OF THE FORECAST, TC 09S WILL FOLLOW THE PERIPHERY OF A
SUBTROPICAL RIDGE TO THE NORTHEAST. THE MARGINAL ENVIRONMENT WILL
LIMIT FURTHER INTENSIFICATION. BY TAU 24, THE CYCLONE WILL BEGIN
INTERACTING WITH THE MIDLATITUDE BAROCLINIC ZONE AND START
EXTRATROPICAL TRANSITION (ETT). ETT SHOULD COMPLETE BY TAU 48, IF NOT
SOONER. ADDITIONALLY, AS THE CYCLONE MOVES POLEWARD, VWS IS EXPECTED
TO BECOME STRONGER AND SST IS EXPECTED TO COOL CONSIDERABLY. THE
INCREASINGLY HOSTILE ENVIRONMENT COULD CAUSE THE INTENSITY TO FALL
BELOW WARNING THRESHOLD PRIOR TO COMPLETING ETT. NUMERICAL MODEL
GUIDANCE IS IN STRONG AGREEMENT, LENDING HIGH CONFIDENCE TO THE JTWC
TRACK FORECAST. MAXIMUM SIGNIFICANT WAVE HEIGHT AT 230000Z IS 16 FEET.
NEXT WARNINGS AT 231500Z AND 240300Z.//
NNNN
WARNING 2: EXTRATROPICAL TRANSITION SET TO BEGIN IN 24H
TRACK AND INTENSITY GUIDANCE