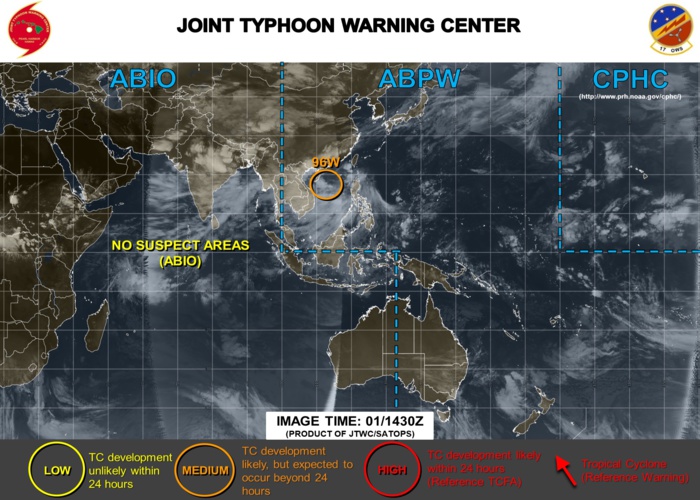 https://www.meteo974.re/M974World_r7.html
https://www.facebook.com/groups/1817419381676514/
WESTERN NORTH PACIFIC
Location: 18.2°N 114.7°E
Maximum Winds: 15/20 kt
Minimum Central Pressure: 1001 mb
ABPW10 PGTW 011430
MSGID/GENADMIN/JOINT TYPHOON WRNCEN PEARL HARBOR HI//
SUBJ/SIGNIFICANT TROPICAL WEATHER ADVISORY FOR THE WESTERN AND SOUTH
PACIFIC OCEANS REISSUED/011430Z-020600ZJUL2019//
RMKS/
1. WESTERN NORTH PACIFIC AREA (180 TO MALAY PENINSULA):
A. TROPICAL CYCLONE SUMMARY: NONE.
B. TROPICAL DISTURBANCE SUMMARY:
(1) THE AREA OF CONVECTION (INVEST 96W) PREVIOUSLY LOCATED
NEAR 16.4N 114.8E, IS NOW LOCATED NEAR 18.2N 114.7E, APPROXIMATELY
247 NM SOUTH OF HONG KONG. ANIMATED ENHANCED INFRARED SATELLITE
IMAGERY SHOWS A BROAD AREA OF TURNING WITH SCATTERED CONVECTION
LOCATED IN THE SOUTHERN SEMI-CIRCLE. A 011054Z SSMIS 37GHZ MICROWAVE
IMAGE CONFIRMS THE BROAD NATURE OF THE CIRCULATION AND THAT THE
CONVECTION REMAINS CONFINED TO THE SOUTHERN SEMI-CIRCLE. UPPER LEVEL
ANALYSIS SHOWS FAVORABLE TO NEUTRAL VERTICAL WIND SHEAR (15 TO 20
KNOTS). THERE IS NO POLEWARD OUTFLOW CHANNEL BUT THERE IS A
DEVELOPING EQUATORWARD OUTFLOW CHANNEL. SEA SURFACE TEMPERATURES ARE
FAVORABLE FOR DEVELOPMENT, NEAR 30 DEGREES CELSIUS. NUMERICAL MODEL
GUIDANCE CONTINUES TO SHOW INVEST 96W TRACKING WESTWARD AND
CONSOLIDATING OVER THE NEXT FEW DAYS AS ENVIRONMENTAL CONDITIONS
IMPROVE. MAXIMUM SUSTAINED SURFACE WINDS ARE ESTIMATED AT 15 TO 20
KNOTS. MINIMUM SEA LEVEL PRESSURE IS ESTIMATED TO BE NEAR 1001 MB.
THE POTENTIAL FOR THE DEVELOPMENT OF A SIGNIFICANT TROPICAL CYCLONE
WITHIN THE NEXT 24 HOURS IS UPGRADED TO MEDIUM.
(2) NO OTHER SUSPECT AREAS.