2021 MAR 06 15UTC
#SOUTHERNHEMISPHERE
TC #23P #NIRAN
#
SOUTHPACIFICOCEAN #CORALSEA
WARNING 23
As of 12:00 UTC Mar 06, 2021:
Location: 24.3°S 169.5°E
Maximum Winds: 90 kt ( 165km/h)
Gusts: 110 kt ( 205km/h)
Minimum Central Pressure: 959mb
CATEGORY US: 2
WEAKENING AND BECOMING SUBTROPICAL
LOCATED AT 06/12UTC APPROXIMATELY 425KM SOUTHEAST OF NOUMEA, NEW CALEDONIA, HAS TRACKED EAST-SOUTHEASTWARD AT 57 KM/H OVER THE PAST SIX HOURS.
Satellite bulletins are to be found in the comments of this post on
JTWC BIS
Cheers,
Patrick Hoareau
Météo974
M974World
Cyclone Class 4
Cheers,PH.
Joint Typhoon Warning Center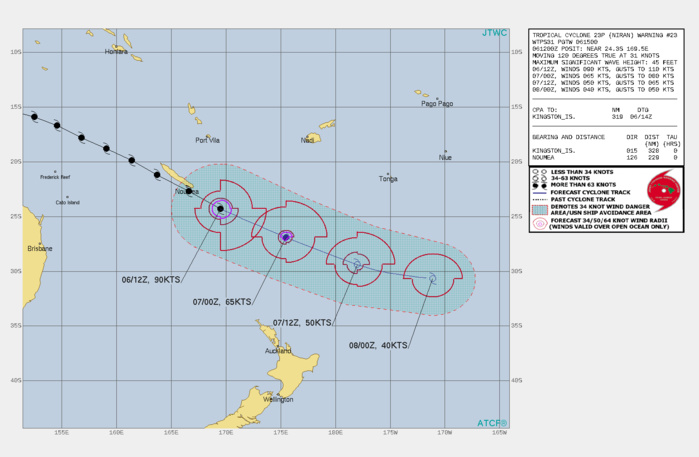 23P(NIRAN). WARNING 23 ISSUED AT 06/15UTC. UPPER LEVEL ANALYSIS INDICATES ROBUST POLEWARD OUTFLOW THAT IS OFFSET BY STRONG (30KTS+) VERTICAL WIND SHEAR. SEA SURFACE TEMPERATURES (SSTS) HAVE ALSO DROPPED TO 26C. THE CYCLONE WILL CONTINUE TO ACCELERATE SOUTHEASTWARD ALONG THE SOUTHWEST PERIPHERY OF THE DEEP LAYERED SUBTROPICAL RIDGE TO THE EAST. THE UNFAVORABLE ENVIRONMENT WILL SUSTAIN THE RAPID WEAKENING DOWN TO 40KNOTS BY 36H. CONCURRENTLY, TC NIRAN WILL BEGIN SUBTROPICAL TRANSITION BY 12H AND BY 36H WILL BECOME A GALE-FORCE SUBTROPICAL LOW, POSSIBLY SOONER.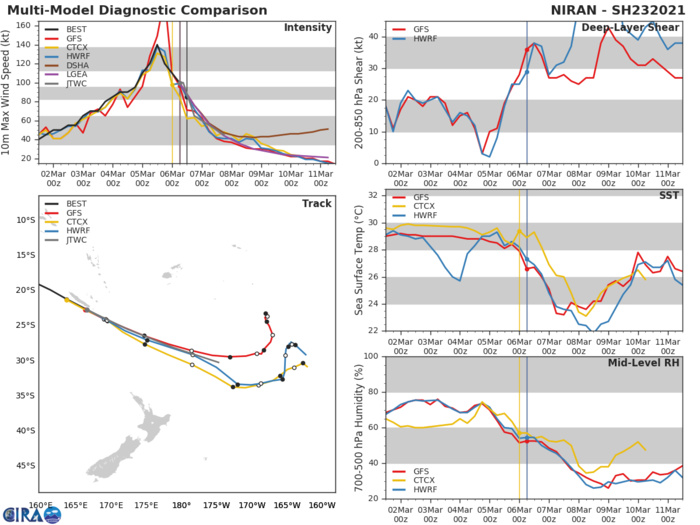 23P(NIRAN). NUMERICAL MODELS ARE IN GOOD AGREEMENT 24H. AFTERWARD, THE SOLUTIONS DIVERGE. THERE IS HIGH CONFIDENCE IN THE FIRST 24 HOURS OF THE FORECAST TRACK AND LOW CONFIDENCE THEREAFTER DUE TO THE INCREASING SPREAD IN MODEL SOLUTIONS.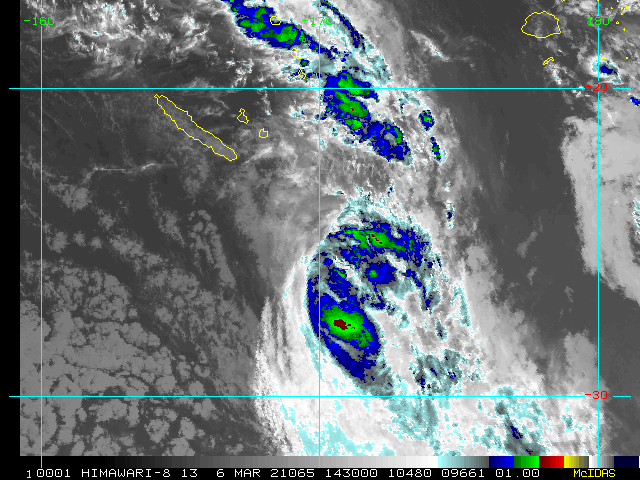 23P(NIRAN). 06/1430UTC. ANIMATED ENHANCED INFRARED SATELLITE IMAGERY SHOWS THE SYSTEM HAS CONTINUED TO ELONGATED WITH FRONTAL CHARACTERISTICS MORE PRONOUNCED AS IT ACCELERATED TO THE SOUTHEAST.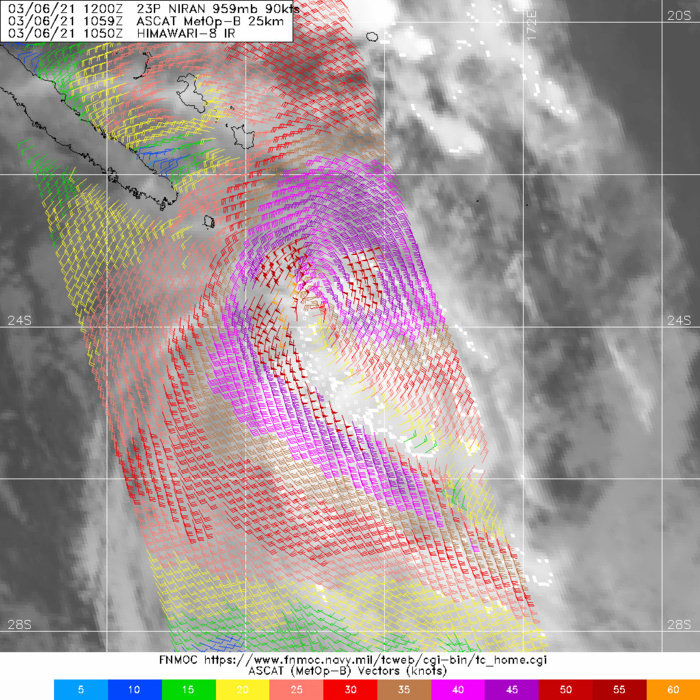 23P(NIRAN). THE INITIAL POSITION WAS PLACED WITH HIGH CONFIDENCE BASED ON A CIRCULATION FEATURE IN THE 06/1059UTC ASCAT BULLSEYE PASS.