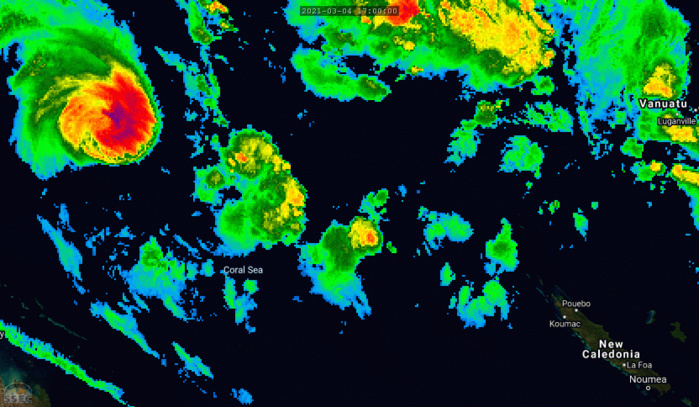 23P(NIRAN). ANIMATED ENHANCED INFRARED (EIR) SATELLITE IMAGERY SHOWS A TIGHT EYE (19KM) FEATURE. THE CYCLONE HAS BEEN RAPIDLY INTENSIFYING OVER THE PAST 6 HOURS. IF NEEDED CLICK TO ANIMATE.
2021 MAR 05 03UTC
#SOUTHERNHEMISPHERE
TC #23P #NIRAN
#
SOUTHPACIFICOCEAN #CORALSEA
WARNING 17
As of 00:00 UTC Mar 05, 2021:
Location: 16.7°S 154.6°E
Maximum Winds: 110 kt ( 205km/h)
Gusts: 135 kt ( 250km/h)
Minimum Central Pressure: 945mb
CATEGORY US: 3
INTENSIFYING
LOCATED AT 05/00UTC APPROXIMATELY 940KM EAST OF CAIRNS, AUSTRALIA, HAS TRACKED EAST-SOUTHEASTWARD AT
40 KM/H OVER THE PAST SIX HOURS.
Satellite bulletins are to be found in the comments of this post on
JTWC BIS
Cheers,
Patrick Hoareau
Météo974
M974World
Cyclone Class 4
Cheers,PH.
Joint Typhoon Warning Center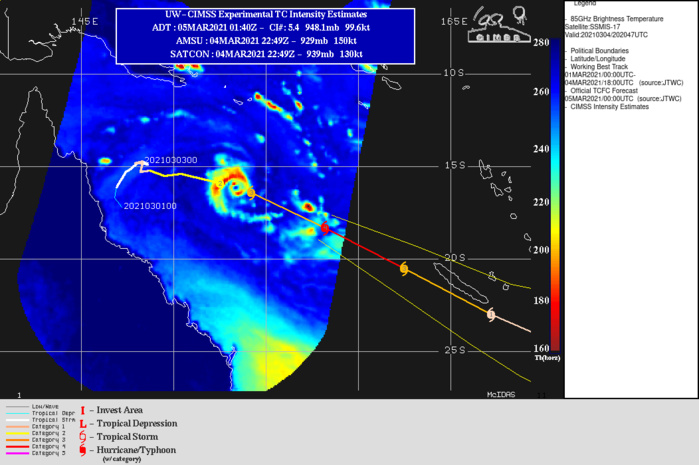 23P(NIRAN). WARNING 17 ISSUED AT 05/03UTC. TC 23P IS CURRENTLY IN A FAVORABLE ENVIRONMENT FOR CONTINUED INTENSIFICATION WITH LOW VERITCAL WIND SHEAR (5-10 KNOTS), WARM SEA SURFACE TEMPERATURES (29 DEGREES CELSIUS) AND STRONG POLEWARD OUTFLOW. TC 23P IS CURRENTLY MOVING ALONG AN EXTENSION OF THE SUBTROPICAL RIDGE POSITIONED TO THE NORTHEAST AND WILL CONTINUE ALONG THIS FEATURE FOR THE REMAINDER OF THE FORECAST. WHILE TC 23P MAINTAINS ITS FAVORABLE ENIVONRMENT, IT IS EXPECTED TO INTENSIFY UP TO 125 KNOTS/US CATEGORY 4 BY 12H BEFORE FALLING STEEPLY TO 75 KNOTS/US CATEGORY 1 AT 36H AS TC 23P ENCOUNTERS HIGH VERTICAL WIND SHEAR (25-30 KNOTS) AND DECREASED UPPER LEVEL SUPPORT ALONG ITS TRACK SOUTHEASTWARD. TC 23P IS FORECAST TO BEGIN SUBTROPICAL TRANSITION BY 36H AND COMPLETE TRANSITION TO A STORM FORCE SUBTROPICAL LOW BY 72H.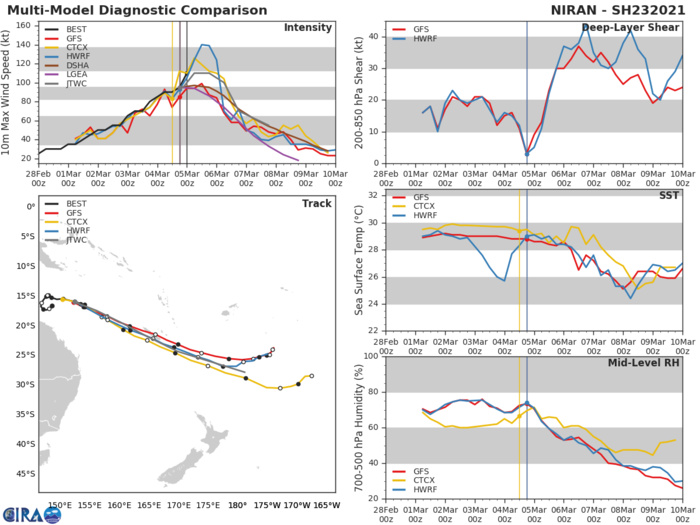 23P(NIRAN). NUMERICAL TRACK MODEL GUIDANCE IS IN VERY TIGHT AGREEMENT THROUGH 24H, INCREASING TO AN ALONG TRACK SPREAD OF 1110KM BY 72H. THE JTWC FORECAST TRACK LIES SLIGHTLY NORTH OF CONSENSUS MEAN TRACK AFTER 48H. WHILE THERE IS HIGH CONFIDENCE IN THE FIRST PORTION OF THE FORECAST, THERE IS LOW CONFIDENCE IN THE EXTENDED JTWC FORECAST TRACK. THERE IS LOW CONFIDENCE IN THE JTWC INTENSITY FORECAST GIVEN THE COMPACT NATURE OF THE SYSTEM.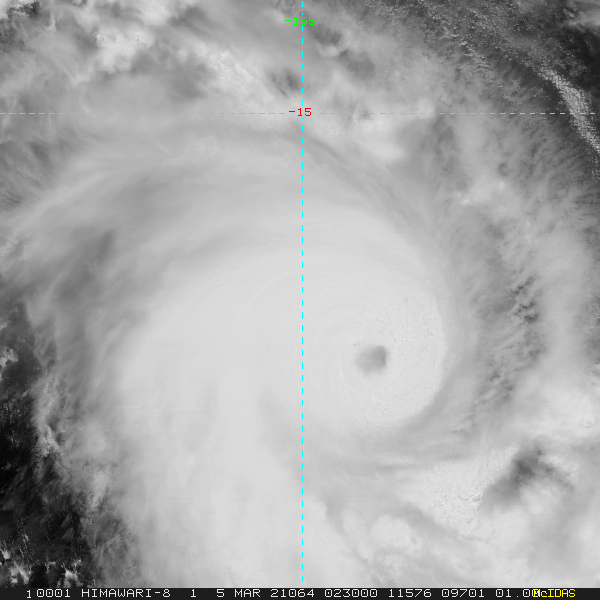 23P(NIRAN). 05/0230UTC. TIGHT (19KM) EYE FEATURE.