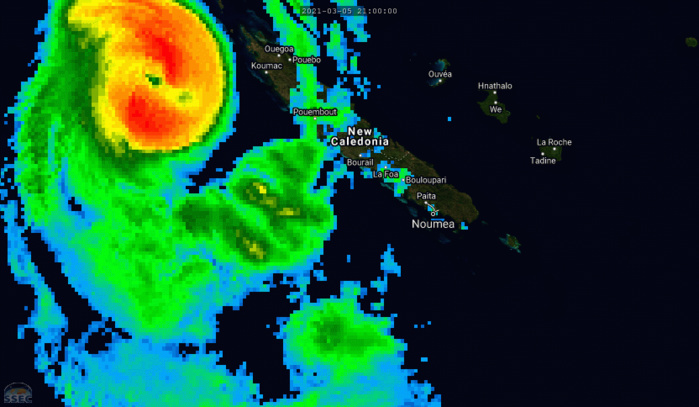 23P(NIRAN). 06/03UTC. WEAKENING SYSTEM. ANIMATED MULTISPECTRAL SATELLITE IMAGERY (MSI) REVEALS THE EYE HAS FILLED AND CONVECTION IS BECOMING MORE RAGGED AND FRONTAL IN NATURE AS NIRAN ACCELERATES TO THE SOUTHEAST. IF NEEDED CLICK ON THE IMAGERY TO ANIMATE.
2021 MAR 06 03UTC
#SOUTHERNHEMISPHERE
TC #23P #NIRAN
#
SOUTHPACIFICOCEAN #CORALSEA
WARNING 21
As of 00:00 UTC Mar 06, 2021:
Location: 21.2°S 163.7°E
Maximum Winds: 110 kt ( 205km/h)
Gusts: 135 kt ( 250km/h)
Minimum Central Pressure: 945mb
CATEGORY US: 3
WEAKENING
LOCATED AT 06/00UTC APPROXIMATELY 265KM WEST-NORTHWEST OF NOUMEA, NEW CALEDONIA, HAS TRACKED EAST-
SOUTHEASTWARD AT 46 KM/H OVER THE PAST SIX HOURS.
Satellite bulletins are to be found in the comments of this post on
JTWC BIS
Cheers,
Patrick Hoareau
Météo974
M974World
Cyclone Class 4
Cheers,PH.
Joint Typhoon Warning Center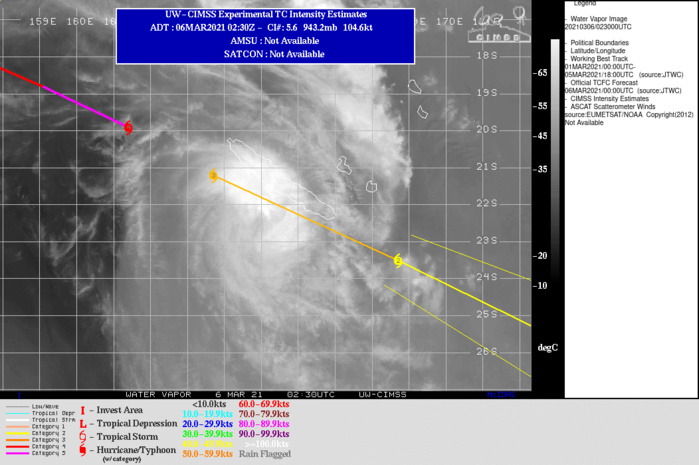 23P(NIRAN). WARNING 21 ISSUED AT 06/03UTC. THE INTENSITY WAS ASSESSED AT 110 KNOTS/US CAT 3, WHICH IS CLOSE TO CIMSS ADT ESTIMATES AND BELOW AGENCY CURRENT INTENSITY ESTIMATES GIVEN THE RAPID WEAKENING OBSERVED.ALTHOUGH POLEWARD OUTFLOW REMAINS ROBUST,VERTICAL WIND SHEAR IS NOW 30 KNOTS AND EXPECTED TO INCREASE. ADDITIONALLY, NIRAN IS TRACKING THROUGH A SHARP GRADIENT OF DECLINING SEA SURFACE TEMPERATURE VALUES. TC 23P IS TRACKING RAPIDLY EAST-SOUTHEASTWARD WITHIN THE TIGHT UPPER-LEVEL GRADIENT BETWEEN THE DEEP-LAYER RIDGE TO THE NORTH AND A MAJOR SHORTWAVE TROUGH TO THE SOUTH. THE SYSTEM IS EXPECTED TO MAINTAIN THIS SOUTHEASTWARD TRACK THROUGH 24H WHERE IT TURNS TO A GENERALLY EASTWARD TRACK. BY 24H, THE SYSTEM SHOULD BEGIN SUBTROPICAL TRANSITION AS IT MOVES INTO COOLER (LESS THAN 26 C) WATERS AND INTERACTS WITH THE TROUGH. THROUGHOUT THE FORECAST PERIOD, TC 23P SHOULD STEADILY WEAKEN AS PERSISTENT HIGH WIND SHEAR IMPACTS THE SYSTEM, WEAKENING TO 45 KNOTS BY 48H. THE SYSTEM SHOULD COMPLETE SUBTROPICAL TRANSITION BY 48H, IF NOT SOONER.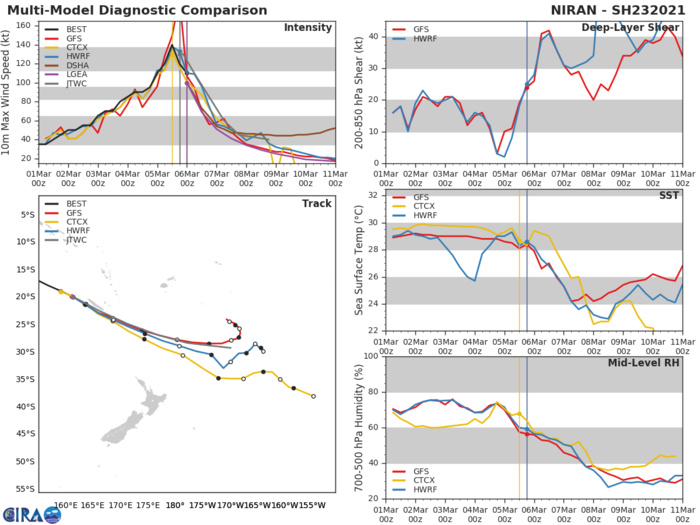 23P(NIRAN). NUMERICAL MODEL GUIDANCE IS IN GOOD AGREEMENT THROUGH 24H. AFTERWARDS, THE SOLUTIONS BEGIN TO DIVERGE. THE TRACK FORECAST IS PLACED CLOSE TO THE PREVIOUS JTWC FORECAST, AND SLIGHTLY NORTH OF THE MULTI-MODEL CONSENSUS TO OFFSET NAVGEM'S SOUTHERN OUTLIER TRACK. THERE IS HIGH CONFIDENCE IN THE FIRST 24 HOURS OF THE FORECAST TRACK AND LOW CONFIDENCE THEREAFTER DUE TO THE INCREASING SPREAD IN MODEL SOLUTIONS.
23P(NIRAN). 06/00UTC. CIMSS Vertical Shear Magnitude : 13.5 m/s (26.2 kts) Direction : 337.0 deg. Experimental Vertical Shear and TC Intensity Trend Estimates: UNFAVOURABLE OVER 24H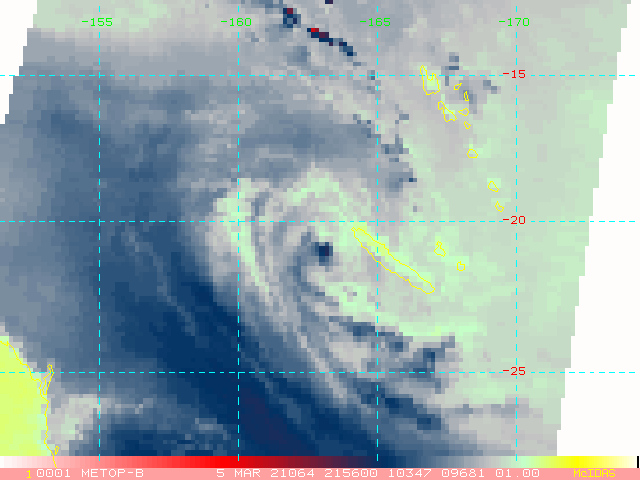 23P(NIRAN). 05/2156UTC. MICROWAVE REVEALS THE DEGRADATION OF CORE STRUCTURE.