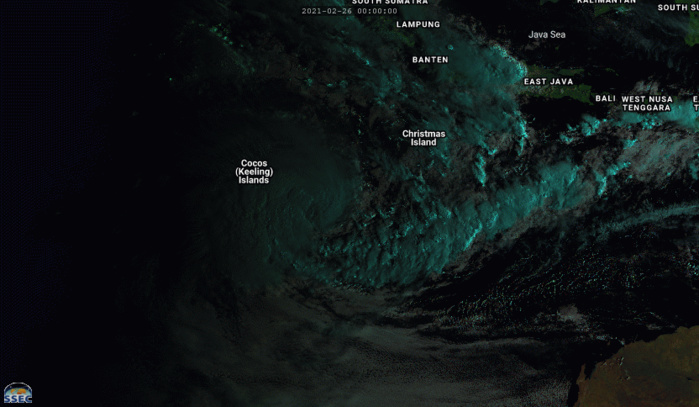 TC 22S. 26/02UTC. ANIMATED MULTISPECTRAL SATELLITE IMAGERY SHOWS THE SYSTEM HAS RAPIDLY CONSOLIDATED WITH FORMATIVE BANDS WRAPPING TIGHTER INTO A LOW LEVEL CIRCULATION CENTER. CLICK IF NEEDED TO ANIMATE.
2021 FEB 26 03UTC
#SOUTHERNHEMISPHERE
TC #22S
#
SOUTHINDIANOCEAN #WESTERNAUSTRALIA
WARNING 1
As of 00:00 UTC Feb 26, 2021:
Location: 14.2°S 100.4°E
Maximum Winds: 45 kt ( 85km/h)
Gusts: 55 kt ( 100km/h)
Minimum Central Pressure: 999 mb
INTENSIFYING
LOCATED AT 26/00UTC APPROXIMATELY 460KM EAST-SOUTHEAST OF COCOS ISLAND/AUSTRALIA HAS TRACKED WESTWARD AT 43 KM/H OVER THE PAST SIX HOURS.
Satellite bulletins are to be found in the comments of this post on
JTWC BIS
Cheers,
Patrick Hoareau
Météo974
M974World
Cyclone Class 4
Cheers,PH.
Joint Typhoon Warning Center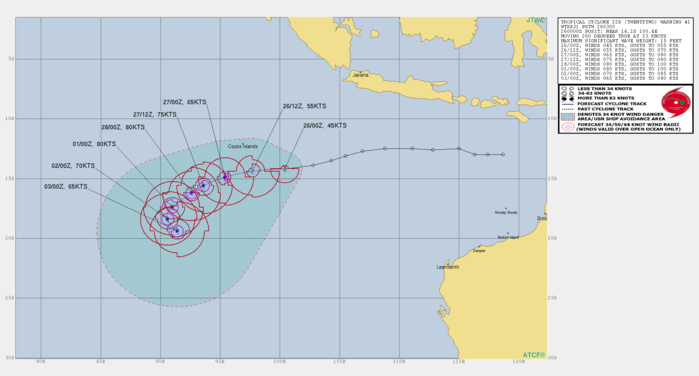 TC 22S. WARNING 1 ISSUED AT 26/03UTC. UPPER LEVEL ANALYSIS INDICATES THE SYSTEM RESIDING EQUATORWARD OF THE SUBTROPICAL RIDGE (STR), ENVELOPED IN A SMALL REGION OF LOW TO MODERATE (10-15 KNOTS) VERTICAL WIND SHEAR AND WARM SEA SURFACE TEMPERATURES (28-29C). MODERATE EASTERLY FLOW CONTINUES TO ENHANCE CONVECTION WEST OF THE LOW LEVEL CIRCULATION CENTER AND OVERALL INTENSIFICATION PEAKING AT 80 KNOTS/CATEGORY 1 NEAR 48H. THE CYCLONE WILL CONTINUE TO PROCEED ON A WEST-SOUTHWESTWARD TRACK AROUND THE STR TO THE SOUTH THROUGH 72H. THEREAFTER, EXPECT THE SYSTEM TO TAKE A MORE SOUTHERLY TURN AS IT BEGINS TO ROUND THE RIDGE AXIS, THEN MOVE SOUTHEASTWARD THROUGH THE FORECAST PERIOD. AS THE SYSTEM TURNS TO THE SOUTHEAST IT WILL ENCOUNTER INCREASING WIND SHEAR ASSOCIATED WITH THE MID-LATITUDE WESTERLIES AND BEGIN TO WEAKEN THE SYSTEM AFTER TAU 120H.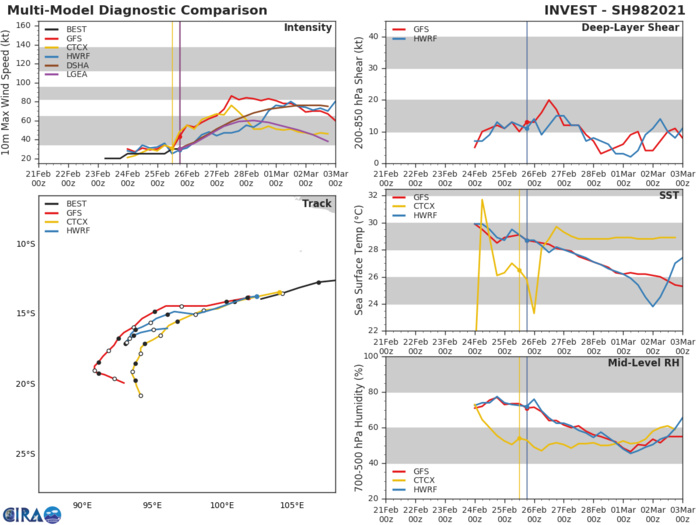 TC 22S. THE NUMERIC GUIDANCE IS IN FAIR AGREEMENT WITH A SPREAD OF 165KM THROUGH 24H, INCREASING TO 520 KM BY 96H. DUE TO THE HIGHER SPREAD IN THE MULTI-MODEL CONSENSUS AT THE EXTENDED FORECAST, THERE IS LOW CONFIDENCE IN THE OVERALL JTWC TRACK FORECAST, WHICH IS LAID SLIGHTLY RIGHT OF CONSENSUS, FAVORING THE EUROPEAN MODELING GUIDANCE OVER THE EXTREME LEFT OUTLIER OF NAVGEM.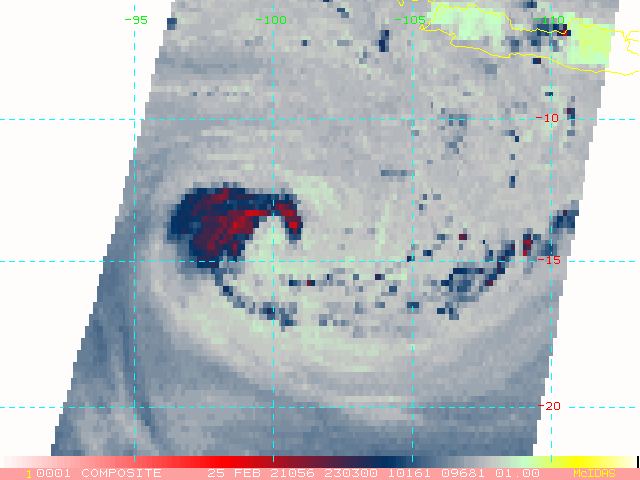 TC 22S. 25/2303UTC.