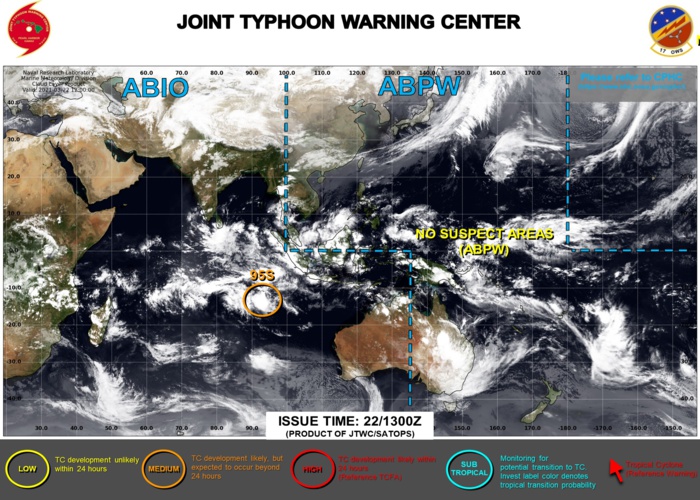 22/13UTC. INVEST 95S IS NOW ASSESSED AS HAVING MEDIUM CHANCES OF REACHING 35KNOTS WITHIN THE NEXT 24HOURS. JTWC IS ISSUING 3HOURLY SATELLITE BULLETINS ON THE SYSTEM.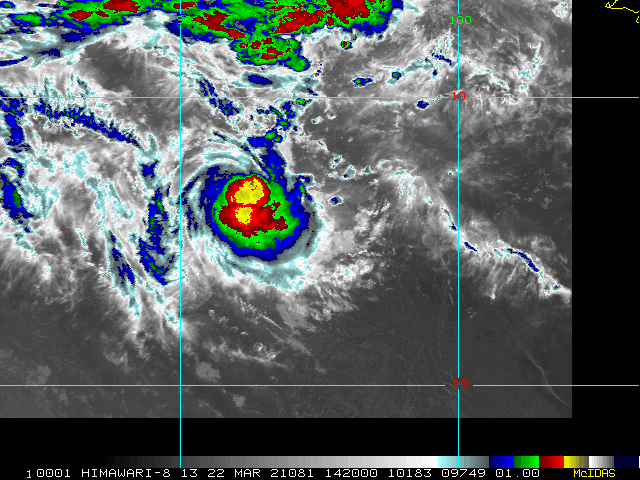 INVEST 95S. 22/1420UTC. SATELLITE IMAGERY DEPICTS FLARING DEEP CONVECTION SHEARED SLIGHTLY SOUTH OF AN ELONGATED LOW LEVEL CIRCULATION (LLC) AND A DIURNALLY FLARING CONVECTIVE BANDING FEATURE WRAPPING IN FROM THE EAST.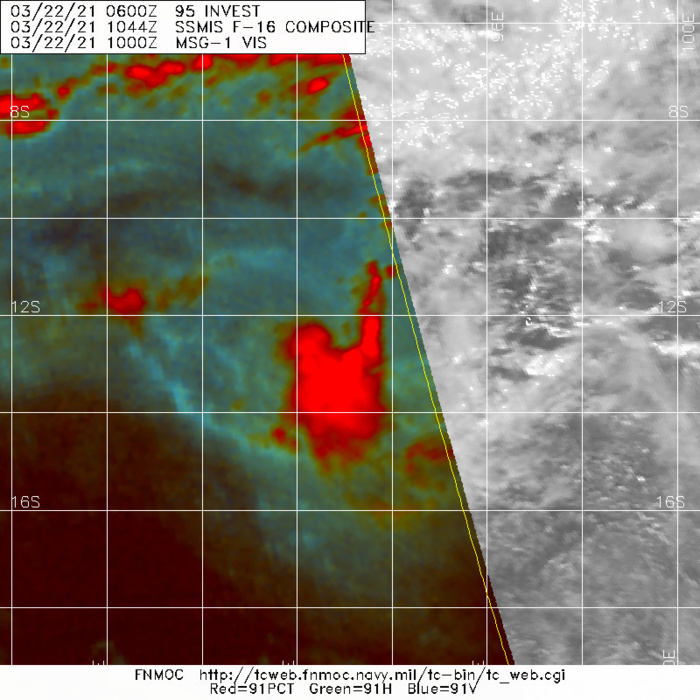 INVEST 95S. 22/1044UTC.MICROWAVE IMAGE REVEALS THE SMALL, COMMA-SHAPED REGION OF DEEP CONVECTION WITH A SHORT TAIL EXTENDING NORTH. A 220301Z METOP-B PERIPHERAL ASCAT PASS SHOWS THE VERY ELONGATED, VERY ASYMMETRIC LLC WITH ELEVATED (25 TO 30 KNOTS) WIND CONTAINED TO THE SOUTH.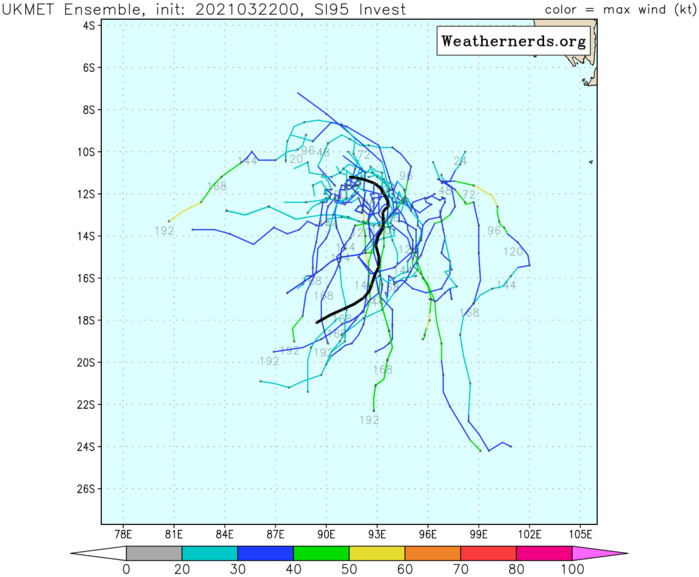 INVEST 95S. 95S IS CURRENTLY IN A FAVORABLE ENVIRONMENT WITH A DEVELOPING POLEWARD OUTFLOW CHANNEL, LOW (5 TO 10 KNOT) VERTICAL WIND SHEAR, AND WARM (28 TO 29 CELSIUS) SEA SURFACE TEMPERATURES. GLOBAL MODELS ARE IN GOOD AGREEMENT THAT 95S WILL REMAIN BROAD AND WEAK BEFORE DISSIPATING; HOWEVER, THE UKMET GLOBAL MODEL STANDS AS THE OUTLIER, DEPICTING MORE INTENSIFICATION THAN THE REST, POTENTIALLY REACHING WARNING CRITERIA IN THE NEXT SEVERAL DAYS.