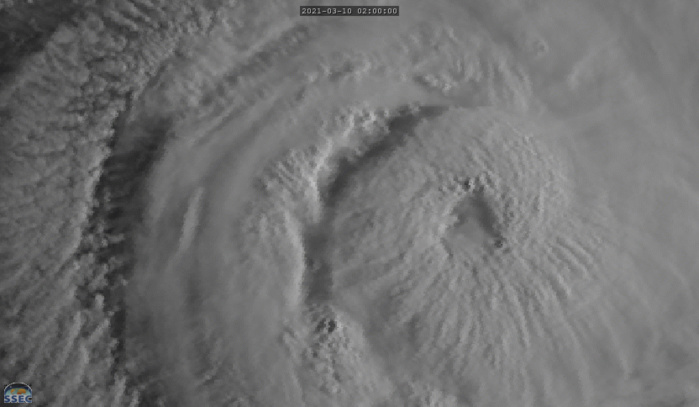 As of 09:00 UTC Mar 10, 2021:
Maximum Winds( AT 10/06UTC): 115 kt (215km/h)
Minimum Central Pressure: 948 mb
LOCATED AT 10/09UTC APPROXIMATELY 1395KM EAST-NORTHEAST OF PORT MATHURIN, RODRIGUES ISLAND, MAURITIUS, HAS TRACKED WEST-NORTHWESTWARD AT 11KM/H OVER THE PAST SIX HOURS.
Satellite bulletins are to be found in the comments of this post on
JTWC BIS
Cheers,
Patrick Hoareau
M974World
ILES SOEURS
Cyclone Class 4
Cheers,PH.
Joint Typhoon Warning Center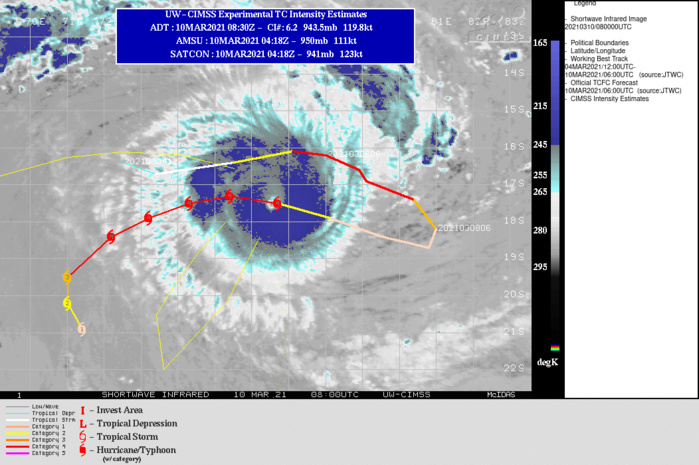 24S(HABANA). WARNING 13 ISSUED AT 10/09UTC.ENVIRONMENTAL CONDITIONS REMAIN FAVORABLE WITH LOW VERTICAL WIND SHEAR, ROBUST EQUATORWARD OUTFLOW AND WARM (28-29C) SST VALUES. TC 24S IS TRACKING WEST- NORTHWESTWARD ALONG THE NORTHERN PERIPHERY OF A SUBTROPICAL RIDGE (STR) POSITIONED TO THE SOUTH AND IS FORECAST TO CONTINUE TRACKING GENERALLY WESTWARD THROUGH 24H UNTIL THE STR WEAKENS AND SHIFTS EAST IN RESPONSE TO AN APPROACHING SHORTWAVE TROUGH. THIS WILL RESULT IN A WEST-SOUTHWESTWARD TO SOUTHWESTWARD TURN THROUGH 72H. AFTER 72H, TC HABANA WILL SLOW SIGNIFICANTLY AND DRIFT SOUTHWARD AS A BROAD STR BUILDS TO THE SOUTH, WHICH WILL LIMIT POLEWARD TRACK MOTION.OVERALL, ENVIRONMENTAL CONDITIONS SHOULD REMAIN FAVORABLE THROUGH 60H WITH GRADUAL WEAKENING AFTER 60H AS MID-LEVEL VWS INCREASES TO MODERATE LEVELS AND SST VALUES COOL SLIGHTLY TO 27C.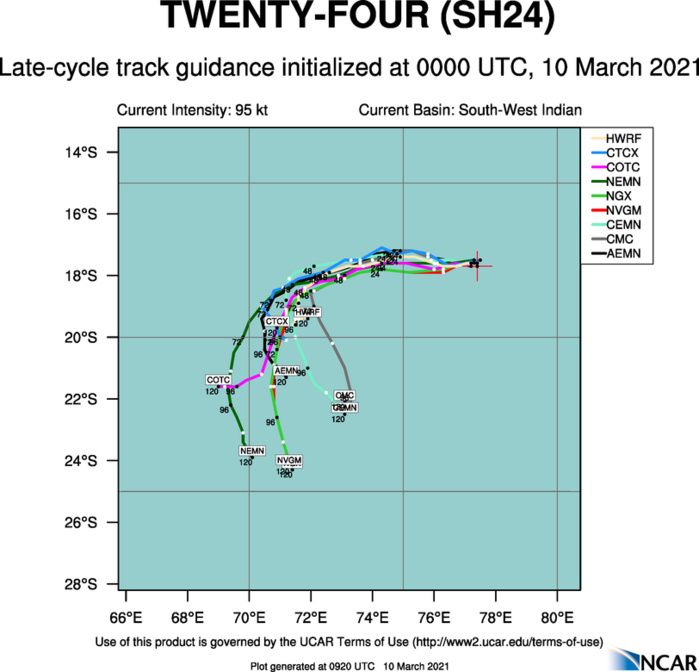 24S(HABANA).WITH THE EXCEPTION OF NAVGEM AND GALWEM, WHICH TRACK THE SYSTEM ERRONEOUSLY INTO THE HIGH TO THE SOUTH, NUMERICAL MODEL GUIDANCE IS IN CLOSE AGREEMENT. OVERALL, THERE IS MODERATE CONFIDENCE IN THE JTWC FORECAST TRACK DUE TO UNCERTAINTY IN THE TIMING OF THE SOUTHWARD TURN AND POTENTIAL FOR QUASI-STATIONARY TRACK MOTION IN THE EXTENDED PERIOD. THERE IS ALSO UNCERTAINTY IN THE INTENSITY FORECAST DUE TO POTENTIAL FOR ERC AS WELL AS UNCERTAINTY IN THE PEAK INTENSITY.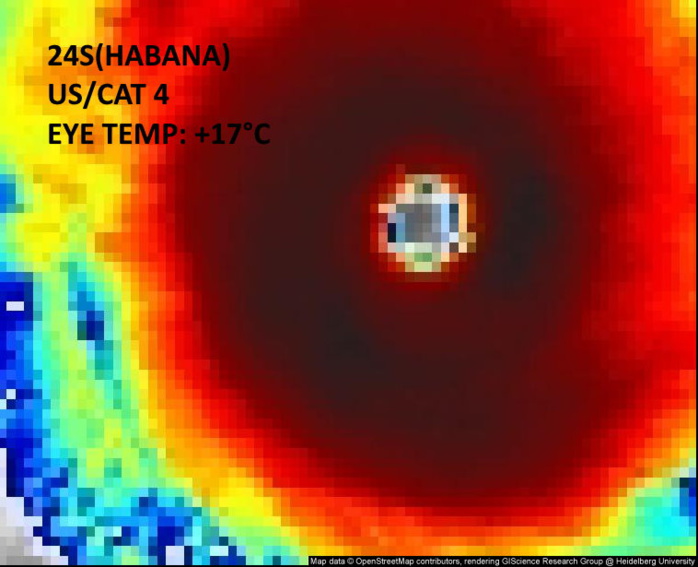 24S(HABANA). 10/0930UTC.MET-8 IS READING AN EYE TEMP OF +17°C AT 0915/0930UTC. AT 0830UTC THE SATELLITE INTENSITY ESTIMATE FROM JTWC WAS T7.0/7.0/D2.5/24HRS STT: D1.0/03HRS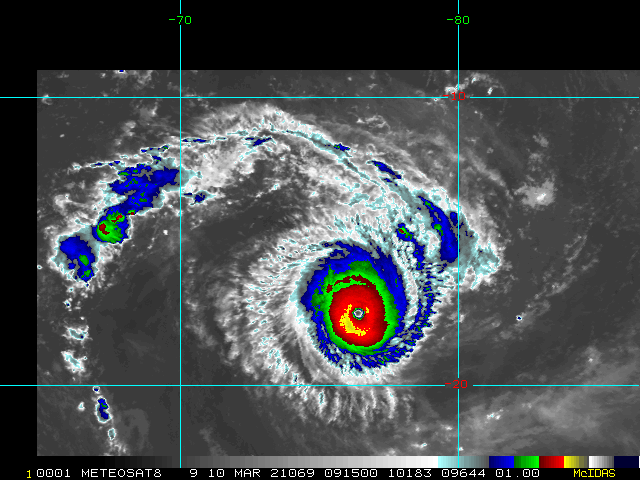 24S(HABANA). 10/0915UTC. TC 24S HAS RAPIDLY INTENSIFIED OVER THE PAST 24 HOURS FROM 70 KNOTS/CAT1 AT 09/06Z TO THE CURRENT INTENSITY OF 115 KNOTS/CAT4. ANIMATED ENHANCED INFRARED SATELLITE IMAGERY REVEALS A COMPACT SYSTEM WITH AN 15KM EYE, WHICH SUPPORTS THE CURRENT POSITION WITH GOOD CONFIDENCE. PREVIOUS MICROWAVE IMAGERY SUGGESTED TC 24S WAS UNDERGOING AN EYEWALL REPLACEMENT CYCLE (ERC) BUT DUE TO THE LACK OF RECENT HIGH- RESOLUTION MICROWAVE IMAGERY IT'S DIFFICULT TO ASCERTAIN HOW THIS IS EVOLVING / AFFECTING THE SYSTEM. HOWEVER, ERC DOESN'T APPEAR TO BE HINDERING THE RAPID INTENSIFICATION OF THE SYSTEM AT THIS TIME.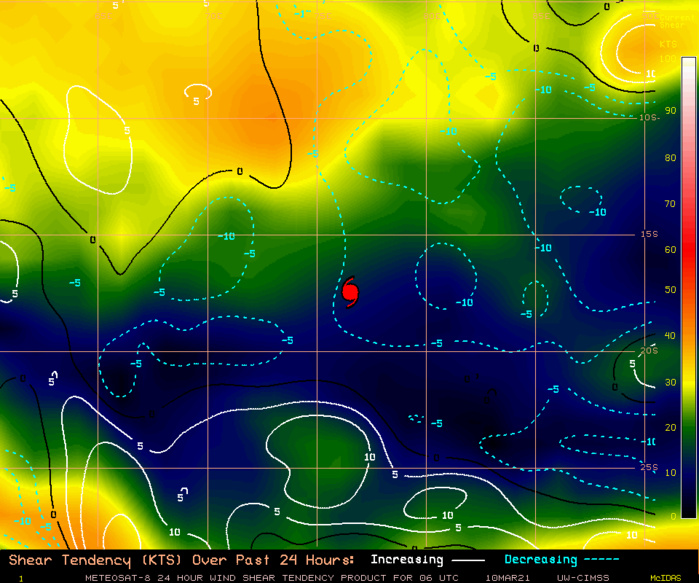 24S(HABANA). 10/06UTC.CIMSS Vertical Shear Magnitude : 6.1 m/s (11.8 kts) Direction : 101.2 deg Experimental Vertical Shear and TC Intensity Trend Estimates: NEUTRAL OVER 24H