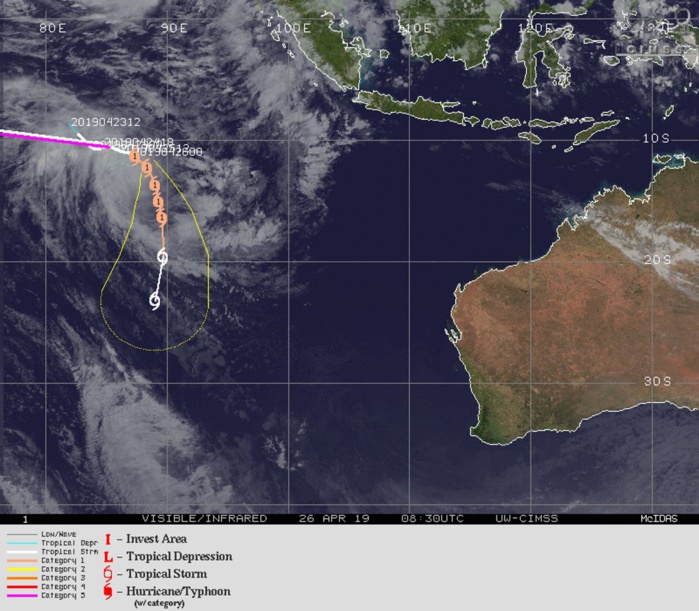 WARNING 12/JTWC
https://www.meteo974.re/M974World_r7.html
https://www.meteo974.re/
Location: 11.3°S 87.4°E
Maximum Winds: 65 kt ( 120km/h)
Gusts: 80 kt ( 150km/h)
Minimum Central Pressure: 981 mb
CATEGORY 1 US
REMARKS:
260900Z POSITION NEAR 11.5S 87.7E.
TROPICAL CYCLONE (TC) 25S (LORNA), LOCATED APPROXIMATELY 918 NM EAST-
SOUTHEAST OF DIEGO GARCIA, HAS TRACKED EAST-SOUTHEASTWARD AT 04
KNOTS OVER THE PAST SIX HOURS. ANIMATED ENHANCED INFRARED SATELLITE
IMAGERY DEPICTS A SLOWLY CONSOLIDATING SYSTEM WITH A CENTRAL DENSE
OVERCAST FEATURE OBSCURING THE LOW-LEVEL CIRCULATION CENTER. A
260327Z MHS 89GHZ MICROWAVE IMAGE DEPICTS AN ELONGATED CORE OF DEEP
CONVECTION WITH A MICROWAVE EYE FEATURE AND WEAK SPIRAL BANDING.
THE CURRENT POSITION IS EXTRAPOLATED FROM A 260328Z ASCAT-A
AMBIGUITY ANALYSIS WITH FAIR CONFIDENCE. THE CURRENT INTENSITY IS
ASSESSED AT 65 KNOTS BASED ON DVORAK INTENSITY ESTIMATES OF T4.0 (65
KNOTS) FROM PGTW AND FMEE, AND SATCON ESTIMATES OF 64-65 KNOTS.
UPPER-LEVEL ANALYSIS INDICATES A GENERALLY FAVORABLE ENVIRONMENT
WITH MODERATE TO STRONG (20 TO 25 KNOTS) VERTICAL WIND SHEAR (VWS)
OFFSET BY ENHANCED POLEWARD OUTFLOW. TC 25S IS EXPECTED TO TURN
SOUTH-SOUTHEASTWARD TO SOUTHWARD AS IT TRACKS ALONG THE WESTERN
PERIPHERY OF A NORTH-SOUTH ORIENTED SUBTROPICAL RIDGE THROUGH THE
FORECAST PERIOD. THE SYSTEM SHOULD REMAIN IN MARGINALLY-FAVORABLE
CONDITIONS WITH GRADUAL INTENSIFICATION TO 75 KNOTS BY TAU 24 THEN
STEADY WEAKENING THROUGH THE REMAINDER OF THE FORECAST PERIOD. TC
25S IS FORECAST TO BEGIN EXTRA-TROPICAL TRANSITION (ETT) BY TAU 72
AS THE SYSTEM BEGINS TO INTERACT WITH THE BAROCLINIC ZONE ASSOCIATED
WITH AN APPROACHING MIDLATITUDE SHORTWAVE TROUGH. THE SYSTEM SHOULD
COMPLETE ETT BY TAU 96 AS IT GAINS FRONTAL CHARACTERISTICS, TRACKS
OVER COOLER SST AND ENCOUNTERS VERY STRONG VWS. OVERALL, THERE IS
MODERATE CONFIDENCE IN THE JTWC OFFICIAL FORECAST TRACK DUE TO THE
LARGE SPREAD IN MODEL SOLUTIONS AFTER TAU 72. MAXIMUM SIGNIFICANT
WAVE HEIGHT AT 260600Z IS 24 FEET. NEXT WARNINGS AT 261500Z,
262100Z, 270300Z AND 270900Z. REFER TO TROPICAL CYCLONE 24S
(KENNETH) FINAL WARNING (WTXS31 PGTW).//
NNNN