CLICK TO ANIMATE: LAPTOP AND PC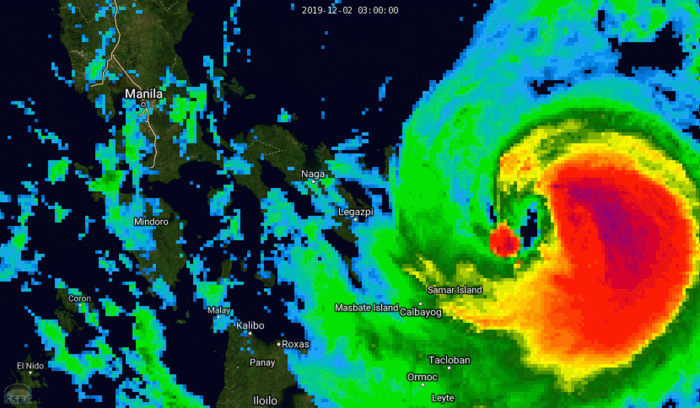 Météo974
WESTERN NORTH PACIFIC
Location: 13.0°N 124.7°E
Maximum Winds: 115 kt ( 215km/h)
Gusts: 140 kt (260km/h)
Minimum Central Pressure: 943 mb
CATEGORY US: 4
WDPN31 PGTW 021500
MSGID/GENADMIN/JOINT TYPHOON WRNCEN PEARL HARBOR HI//
SUBJ/PROGNOSTIC REASONING FOR TYPHOON 29W (KAMMURI) WARNING NR 028//
RMKS/
1. FOR METEOROLOGISTS.
2. 6 HOUR SUMMARY AND ANALYSIS.
TYPHOON (TY) 29W (KAMMURI), LOCATED APPROXIMATELY 236 NM EAST-
SOUTHEAST OF MANILA, PHILIPPINES, HAS TRACKED WESTWARD AT 09 KNOTS
OVER THE PAST SIX HOURS. TY KAMMURI HAS RAPIDLY INTENSIFIED 45 KNOTS
(70-115 KNOTS) OVER THE PAST 24 HOURS. ANIMATED ENHANCED INFRARED
SATELLITE IMAGERY AND RADAR IMAGERY DEPICT A RAPIDLY CONSOLIDATING
SYSTEM WITH A LARGE 48-NM OBLONG EYE, WHICH SUPPORTS THE CURRENT
POSITION WITH GOOD CONFIDENCE. TY 29W IS ABOUT TO MAKE LANDFALL AND
IS CURRENTLY LOCATED JUST NORTH OF SAMAR ISLAND. SURFACE
OBSERVATIONS ARE SPARSE IN THIS AREA BUT VIRAC (98446), LOCATED 47
NM NORTHWEST, REPORTED A SHARP INCREASE IN WINDS TO 51 KNOTS IN
THEIR 02/13Z OBSERVATION WITH SLP NEAR 989.6 MB. THE CURRENT
INTENSITY IS ASSESSED AT 115 KNOTS BASED ON A PGTW DVORAK ESTIMATE
OF T6.0 (115 KNOTS) AND A 020908Z CIMSS SATCON ESTIMATE OF 120
KNOTS. TY KAMMURI IS TRACKING WESTWARD ALONG THE SOUTHERN PERIPHERY
OF AN EXTENSION OF THE SUBTROPICAL RIDGE (STR) POSITIONED TO THE
NORTH.
3. FORECAST REASONING.
A. THERE IS NO SIGNIFICANT CHANGE TO THE FORECAST PHILOSOPHY FROM
THE PREVIOUS PROGNOSTIC REASONING MESSAGE.
B. TY 29W SHOULD GRADUALLY TURN WEST-NORTHWESTWARD TO
NORTHWESTWARD THROUGH TAU 48 AS IT TRACKS ALONG THE SOUTHWESTERN
PERIPHERY OF THE STR. TY 29W SHOULD WEAKEN AS IT TRACKS OVER THE
CENTRAL PHILIPPINES DUE TO INCREASED FRICTIONAL EFFECTS, HOWEVER,
THE SYSTEM SHOULD MAINTAIN TYPHOON STRENGTH DUE TO ITS TRACK OVER
THE WARM WATERS OF THE INLAND SEAS. AFTER TAU 48, TY 29W WILL
ENCOUNTER STRONG NORTHEASTERLY SURGE FLOW AND IS EXPECTED TO WEAKEN
RAPIDLY DUE TO INCREASING VERTICAL WIND SHEAR, SLOW FORWARD MOTION
AND TRACK SOUTHWESTWARD. NUMERICAL MODEL GUIDANCE IS TIGHT AGREEMENT
THROUGH TAU 72 WITH AN 85 NM SPREAD IN SOLUTIONS AT TAU 72 ALTHOUGH
THERE IS SOME UNCERTAINTY IN THE EXACT TRACK AND TIMING OF THE
SOUTHWESTWARD TURN AS THE SYSTEM HITS THE NORTHEAST SURGE.
C. AFTER TAU 72, TY 29W WILL WEAKEN RAPIDLY AS IT ACCELERATES
WITHIN THE NORTHEAST SURGE FLOW, AND IS FORECAST TO DISSIPATE BY TAU
120. OVERALL, THERE IS HIGH CONFIDENCE IN THE JTWC FORECAST TRACK.//
NNNN
CLICK TO ANIMATE: LAPTOP AND PC
TRACKING OVER LEGAZPI SHORTLY