WESTERN NORTH PACIFIC: INVEST 93W. TROPICAL CYCLONE FORMATION ALERT ISSUED AT 08/1530UTC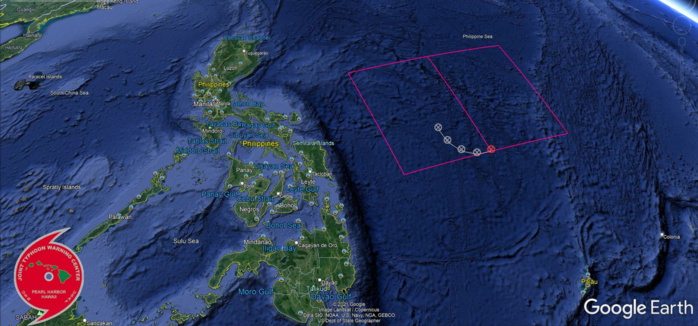 THE AREA OF CONVECTION (INVEST 93W) PREVIOUSLY LOCATED NEAR 12.4N 131.3E IS NOW LOCATED NEAR 12.6N 131.9E, APPROXIMATELY 650KM NORTH-NORTHWEST OF PALAU. THIS SYSTEM IS CURRENTLY CLASSIFIED AS A MONSOON DEPRESSION WITH EXPANSIVE GALE-FORCE WINDS OVER THE EASTERN PERIPHERY OF THE SYSTEM. THE GALE-FORCE WINDS ARE LOCATED OVER 555KM FROM THE BROAD, POORLY-DEFINED SYSTEM CENTER. AS IS TYPICAL WITH MONSOON DEPRESSIONS, ANIMATED ENHANCED INFRARED SATELLITE IMAGERY AND A 080928Z SSMIS 91GHZ MICROWAVE IMAGE DEPICT EXTENSIVE AREAS OF INTENSE DEEP CONVECTION OVER THE WESTERN, SOUTHERN AND EASTERN PERIPHERIES WITH NO CENTRAL CONVECTION OVER THE BROAD, POORLY-DEFINED LOW-LEVEL CIRCULATION. A 081025Z ASCAT-A PARTIAL IMAGE REVEALS AN ELONGATED, WEAK CIRCULATION WITH 20-25 KNOT WESTERLY WINDS OVER THE SOUTHERN SEMICIRCLE AND SHARP TROUGHING EXTENDING NORTHEASTWARD INTO INVEST 94W, WHICH IS ROTATING AROUND THE PERIPHERY OF INVEST 93W. UPPER-LEVEL ANALYSIS INDICATES A MARGINAL ENVIRONMENT WITH CONVERGENT NORTHERLY FLOW OVER THE LLC AND LOW TO MODERATE (10-20 KTS) VERTICAL WIND SHEAR.BASED ON THE PERIPHERAL WINDS IN RECENT ASCAT IMAGERY, MAXIMUM SUSTAINED SURFACE WINDS ARE ESTIMATED AT 30 TO 35 KNOTS. MINIMUM SEA LEVEL PRESSURE IS ESTIMATED TO BE NEAR 996 MB. THE POTENTIAL FOR THE DEVELOPMENT OF A SIGNIFICANT TROPICAL CYCLONE WITHIN THE NEXT 24 HOURS IS HIGH.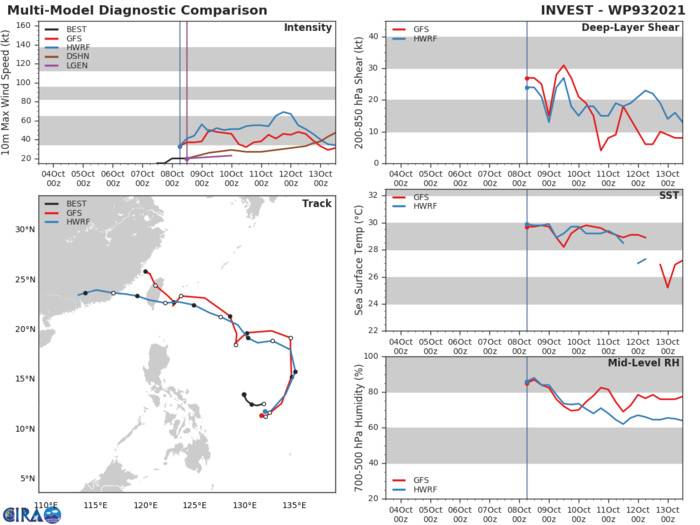 GLOBAL MODELS INDICATE THAT THIS MONSOON DEPRESSION WILL STEADILY STRENGTHEN AS IT TRACKS NORTHWARD TO NORTHWESTWARD OVER THE NEXT TWO DAYS. THE SYSTEM IS EXPECTED TO GRADUALLY GAIN TROPICAL CYCLONE (WARM-CORE) CHARACTERISTICS WITH IMPROVED CENTRAL CONVECTION AND A RADIUS OF MAXIMUM WINDS LESS THAN 185KM.