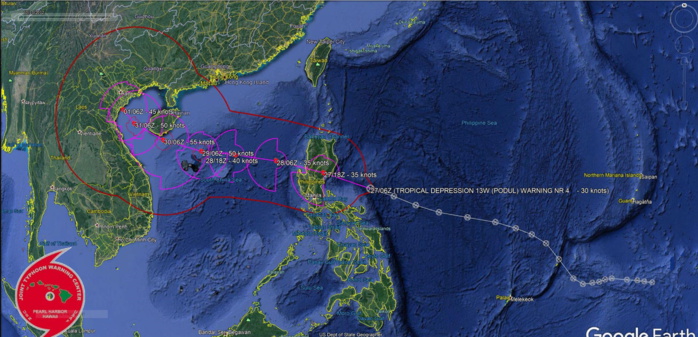 Météo974
WESTERN NORTH PACIFIC
TD PODUL(13W)
Location: 15.2°N 124.8°E
Maximum Winds: 30 kt ( 55km/h)
Gusts: 40 kt ( 75km/h)
Minimum Central Pressure: 1000 mb
WDPN31 PGTW 270900
MSGID/GENADMIN/JOINT TYPHOON WRNCEN PEARL HARBOR HI//
SUBJ/PROGNOSTIC REASONING FOR TROPICAL DEPRESSION 13W (PODUL)
WARNING NR 04//
RMKS/
1. FOR METEOROLOGISTS.
2. 6 HOUR SUMMARY AND ANALYSIS.
TROPICAL DEPRESSION (TD) 13W (PODUL), LOCATED APPROXIMATELY 223
NM EAST OF MANILA, PHILIPPINES, HAS TRACKED WEST-NORTHWESTWARD AT 16
KNOTS (KTS) OVER THE PAST SIX HOURS. ANIMATED MULTISPECTRAL
SATELLITE IMAGERY (MSI) DEPICTS A BROAD, PARTIALLY OBSCURED LOW
LEVEL CIRCULATION WITH FLARING DEEP CONVECTION, PRIMARILY ALONG THE
WESTERN PERIPHERY. THERE IS POOR CONFIDENCE IN THE INITIAL POSITION
BASED ON THE MSI. THE CURRENT INTENSITY OF 30 KNOTS IS BASED ON
MULTI-AGENCY DVORAK ESTIMATES BETWEEN T1.5-2.0 (25-30 KNOTS). THE
ENVIRONMENT IS MARGINAL OVERALL WITH MODERATE-TO-STRONG (20-30 KT)
VERTICAL WIND SHEAR (VWS) OFFSET BY FAVORABLE EQUATORWARD OUTFLOW
AND WARM SEA SURFACE TEMPERATURE (29-30 CELSIUS). TD 13W IS TRACKING
ALONG THE SOUTHERN PERIPHERY OF A SUBTROPICAL RIDGE (STR).
3. FORECAST REASONING.
A. THERE IS NO CHANGE TO THE FORECAST PHILOSOPHY SINCE THE
PREVIOUS PROGNOSTIC REASONING MESSAGE.
B. THROUGH TAU 72, TD 13W WILL CONTINUE TO TRACK WESTWARD TO WEST-
NORTHWESTWARD ALONG THE SOUTHERN PERIPHERY OF THE STR TOWARDS
SOUTHERN HAINAN. THE SYSTEM WILL MAKE LANDFALL OVER LUZON PRIOR TO
TAU 12, QUICKLY TRANSIT THE ISLAND, AND EMERGE OVER THE SOUTH CHINA
SEA (SCS) BY TAU 18. THE MARGINALLY FAVORABLE ENVIRONMENT WILL
SUPPORT SOME INTENSIFICATION BEFORE LANDFALL, WEAKEN ONLY SLIGHTLY
OVER LUZON DUE TO THE FAST TRANSIT SPEED, AND GRADUALLY INTENSIFY
OVER THE SCS, REACHING 55 KTS BY TAU 72. THERE IS HIGH UNCERTAINTY
IN THE INTENSITY FORECAST DUE TO SUSTAINED COMPETING ENVIRONMENTAL
INFLUENCES. THERE IS FAIR CONFIDENCE IN THIS PORTION OF THE JTWC
TRACK FORECAST BECAUSE AVAILABLE MODEL GUIDANCE IS IN FAIR GENERAL
AGREEMENT.
C. AFTER TAU 72, A SHORTWAVE TROUGH OVER EASTERN CHINA IS
EXPECTED TO WEAKEN THE STR AND ALLOW THE SYSTEM TO TURN MORE
POLEWARD TO THE WEST OF HAINAN ISLAND. THE INTENSITY IS FORECASTED
TO GRADUALLY WEAKEN DURING THIS PERIOD DUE TO LAND INTERACTION WITH
VIETNAM AND HAINAN BUT UNCERTAINTY IN THE INTENSITY FORECAST IS HIGH
AS THE OUTFLOW MAY IMPROVE SIGNIFICANTLY DEPENDING ON TIMING OF
TROUGH PASSAGE. AVAILABLE DYNAMIC MODEL GUIDANCE IS IN POOR
AGREEMENT DUE TO DIFFERENCES IN THE TROUGH RESULTING IN SOME MODELS
MAINTAINING A WESTWARD TRACK AND OTHERS DISPLAYING THE POLEWARD
TURN. BASED ON THE COMPLEX STEERING ENVIRONMENT BEYOND TAU 72, THERE
IS LOW CONFIDENCE IN THE EXTENDED PORTION OF THE JTWC FORECAST
TRACK.//
NNNN