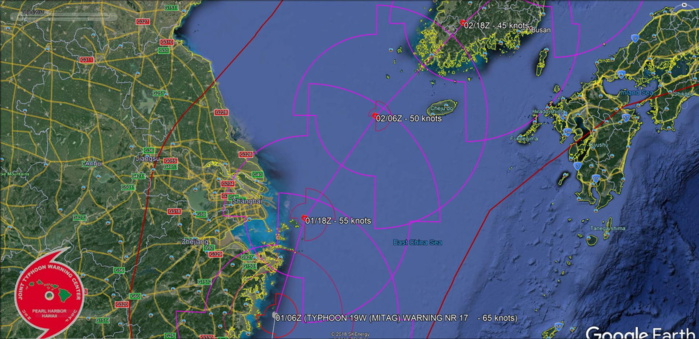 FORECAST TRACK EAST OF SHANGHAI
Météo974
WESTERN NORTH PACIFIC
TY
Location: 28.7°N 122.3°E
Maximum Winds: 65 kt ( 120km/h)
Gusts: 80 kt ( 150km/h)
Minimum Central Pressure: 980 mb
WDPN31 PGTW 010900
MSGID/GENADMIN/JOINT TYPHOON WRNCEN PEARL HARBOR HI//
SUBJ/PROGNOSTIC REASONING FOR TYPHOON 19W (MITAG) WARNING NR 017//
RMKS/
1. FOR METEOROLOGISTS.
2. 6 HOUR SUMMARY AND ANALYSIS.
TYPHOON (TY) 19W (MITAG), LOCATED APPROXIMATELY 156 NM SOUTH-
SOUTHEAST OF SHANGHAI, CHINA, HAS TRACKED NORTHWARD AT 15 KNOTS OVER
THE PAST SIX HOURS. ANIMATED MULTISPECTRAL SATELLITE IMAGERY (MSI)
SHOWS A FULLY-EXPOSED, RAGGED, BUT WELL-DEFINED LOW-LEVEL CIRCULATION
DE-COUPLED FROM THE DEEP CONVECTION TO THE NORTH. THE INITIAL
POSITION IS PLACED WITH HIGH CONFIDENCE BASED ON THE MSI AND ON A
COMPOSITE RADAR LOOP FROM CMA. THE INITIAL INTENSITY OF 65 KNOTS IS
BASED ON AN OVERALL ASSESSMENT OF AGENCY DVORAK ESTIMATES AND NEARBY
SURFACE OBSERVATIONS AND REFLECTS THE WEAKENING. ANIMATED ENHANCED
INFRARED SATELLITE IMAGERY INDICATES RAPIDLY DECAYING DEEP CONVECTION
SHEARING NORTHWARD DUE TO MODERATE TO STRONG (20-30 KNOTS) SOUTHERLY
VERTICAL WIND SHEAR (VWS). SST VALUES HAVE ALSO DECREASED TO 25-26C.
TY 19W IS TRACKING ALONG THE WESTERN PERIPHERY OF A NORTH-SOUTH
ORIENTED SUBTROPICAL RIDGE (STR) POSITIONED TO THE EAST.
3. FORECAST REASONING.
A. THERE IS NO CHANGE TO THE FORECAST PHILOSOPHY SINCE THE
PREVIOUS PROGNOSTIC REASONING MESSAGE.
B. TY 19W IS FORECAST TO GRADUALLY TURN NORTH-NORTHEASTWARD TO
NORTHEASTWARD AS IT ROUNDS THE STR AXIS, MAKING LANDFALL AROUND TAU
30 SOUTH OF KUNSAN, SOUTH KOREA. BY TAU 48, IT WILL EXIT INTO THE SEA
OF JAPAN (SOJ) AND BEGIN EXTRA-TROPICAL TRANSITION (ETT) AS IT
INTERACTS WITH THE MIDLATITUDE WESTERLIES AND BAROCLINIC ZONE. THE
SYSTEM SHOULD WEAKEN RAPIDLY DUE TO INCREASING VWS, COOLER SST AND
INTERACTION WITH LAND. TY MITAG WILL COMPLETE ETT BY TAU 72 IN THE
SOJ AS IT GAINS FRONTAL CHARACTERISTICS AND BECOMES EMBEDDED WITHIN
STRONG MIDLATITUDE WESTERLY FLOW. SST VALUES WILL DECREASE TO LESS
THAN 24C, WHICH WILL FURTHER AID IN WEAKENING THE SYSTEM. NUMERICAL
MODEL GUIDANCE REMAINS IN TIGHT AGREEMENT WITH MINIMAL SPREAD IN
SOLUTIONS, LENDING HIGH CONFIDENCE IN THE JTWC FORECAST TRACK
THROUGH TAU 72.
C. AFTER TAU 72, THIS COLD-CORE EXTRA-TROPICAL LOW WILL ACCELERATE
EAST-NORTHEASTWARD OVER NORTHERN HONSHU. THE SYSTEM IS STILL EXPECTED
TO MAINTAIN GALE-FORCE WINDS. DUE TO THE BROAD NATURE OF THIS LOW AND
THE LARGE SPREAD IN THE NUMERICAL MODELS, THERE IS LOW CONFIDENCE IN
THIS PORTION OF THE JTWC FORECAST TRACK.//
NNNN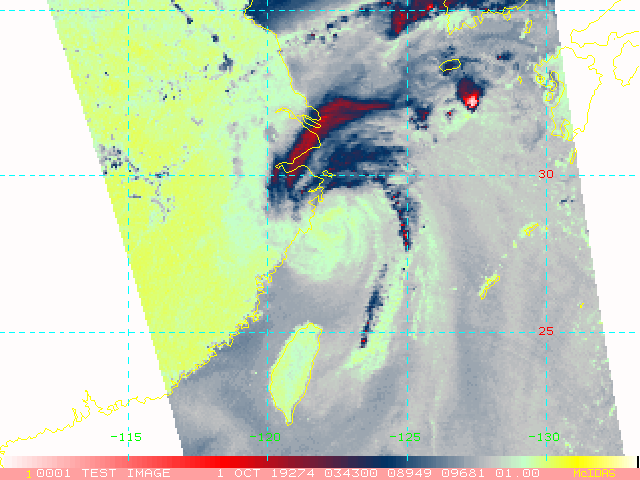 01/0343UTC