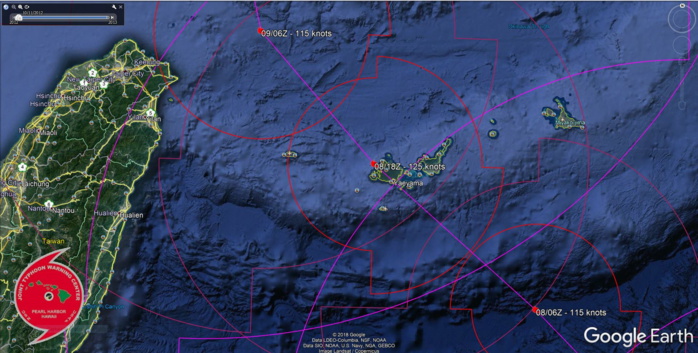 LEKIMA(10W) IS FORECAST TO STRIKE THE YAEYAMA ISLANDS SHORTLY BEFORE 36H AS A STONG CATEGORY 4 WITH 125KNOTS WINDS
Météo974
WESTERN NORTH PACIFIC
Location: 20.9°N 127.7°E
Maximum Winds: 85 kt ( 160km/h)
Gusts: 105 kt ( 195km/h)
Minimum Central Pressure: 958 mb
WDPN31 PGTW 070900
MSGID/GENADMIN/JOINT TYPHOON WRNCEN PEARL HARBOR HI//
SUBJ/PROGNOSTIC REASONING FOR TYPHOON 10W (LEKIMA) WARNING NR 14//
RMKS//
1. FOR METEOROLOGISTS.
2. 6 HOUR SUMMARY AND ANALYSIS.
TYPHOON (TY) 10W (LEKIMA), LOCATED APPROXIMATELY 336 NM SOUTH OF
KADENA AB, OKINAWA, JAPAN, HAS TRACKED NORTHWESTWARD AT 08 KNOTS OVER
THE PAST SIX HOURS. ANIMATED MULTISPECTRAL SATELLITE IMAGERY SHOWS
THE SYSTEM HAS DEVELOPED A WELL-DEFINED 10-NM EYE AS IT BECAME MORE
COMPACT AND CONSOLIDATED. THE SYSTEM STILL TRAILS A LARGE RAIN BAND
TO THE SOUTHWEST. THE INITIAL POSITION IS PLACED WITH HIGH CONFIDENCE
BASED ON THE EYE FEATURE THAT LINED UP PERFECTLY WITH A SHARPLY
OUTLINED MICROWAVE EYE IN THE 070453Z 36GHZ AMSR2 IMAGE. THE INITIAL
INTENSITY OF 85 KNOTS IS BASED ON AN OVERALL ASSESSMENT OF TIGHTLY
CLUSTERED AGENCY DVORAK FIXES RANGING FROM T4.5/77KTS TO T5.0/90KTS.
ENVIRONMENTAL ANALYSIS INDICATES A FAVORABLE ENVIRONMENT WITH
NEAR-RADIAL OUTFLOW, LOW VERTICAL WIND SHEAR AND WARM SST (30C). TY
10W IS TRACKING ALONG THE SOUTHWEST PERIPHERY OF A SUBTROPICAL RIDGE
(STR) TO THE NORTHEAST.
3. FORECAST REASONING.
A. THERE IS NO CHANGE TO THE FORECAST PHILOSOPHY SINCE THE
PREVIOUS PROGNOSTIC REASONING MESSAGE.
B. TY 10W WILL CONTINUE ON ITS CURRENT NORTHWESTWARD TRACK UNDER
THE INFLUENCE OF THE STR, PASSING JUST TO THE NORTH OF TAIWAN NEAR
TAU 48 BEFORE TURNING MORE POLEWARD. THE FAVORABLE CONDITIONS WILL
FUEL GRADUAL TO RAPID INTENSIFICATION TO A PEAK OF 125 KNOTS BY TAU
48. AFTERWARD, INCREASING VWS AND LAND INTERACTION WILL WEAKEN IT TO
100 KNOTS BY TAU 72 AS IT APPROACHES THE CHINESE COAST. NUMERICAL
MODEL GUIDANCE IS IN GOOD AGREEMENT WITH A 155NM SPREAD IN SOLUTIONS
AT TAU 48 NEAR TAIWAN, LENDING FAIR CONFIDENCE IN THIS PORTION OF
THE JTWC FORECAST TRACK.
C. AFTER TAU 72, TY 10W WILL TURN NORTHWARD AS THE STR REORIENTS
IN A NORTH-SOUTH CONFIGURATION TO THE EAST. STEADY WEAKENING IS
EXPECTED PRIMARILY DUE TO INCREASING VWS AND LAND INTERACTION AS THE
SYSTEM STRADDLES THE EASTERN CHINESE COAST. BY TAU 120, TY 10W
WILL BE REDUCED TO 60 KNOTS AFTER IT PASSES JUST TO THE EAST OF
SHANGHAI. NUMERICAL MODELS SIGNIFICANTLY DIVERGE WITH AFUM ON THE
LEFT AND NAVGEM ON THE RIGHT MARGIN OF THE ENVELOPE, SPANNING A SWATH
OF OVER 650NM. THEREFORE, THERE IS LOW CONFIDENCE IN THE EXTENDED
PORTION OF THE JTWC FORECAST TRACK THAT IS LAID TO THE LEFT OF
CONSENSUS TO OFFSET THE UNLIKELY NAVGEM SOLUTION DRIVING THE CYCLONE
STRAIGHT INTO THE STR. SINCE THE EVENTUAL TRACK AFFECTS THE PROJECTED
INTENSITY, THERE IS ALSO LOW CONFIDENCE IN THE INTENSITY FORECAST AT
THE EXTENDED TAUS.//
NNNN
------------------------------------------------------------------------------------------------------------------------
TS FRANCISCO (09W)
Location: 39.6°N 129.3°E
Maximum Winds: 35 kt ( 65km/h)
Gusts: 45 kt ( 85km/h)
Minimum Central Pressure: 996 mb
REMARKS:
070900Z POSITION NEAR 40.1N 130.0E.
07AUG19. TROPICAL STORM (TS) 09W (FRANCISCO), LOCATED APPROXIMATELY
166 NM NORTHEAST OF SEOUL, SOUTH KOREA, HAS TRACKED
NORTH-NORTHEASTWARD AT 16 KNOTS OVER THE PAST SIX HOURS. ANIMATED
MULTISPECTRAL SATELLITE IMAGERY (MSI) INDICATES THE SYSTEM HAS EXITED
INTO THE SEA OF JAPAN (SOJ) AND HAS BEGUN EXTRA-TROPICAL TRANSITION
(ETT), CHARACTERIZED BY AN EXPOSED, WEAK, RAGGED, ELONGATED, BUT
EXPANDING LOW LEVEL CIRCULATION. THE INITIAL POSITION AND INTENSITY
ARE PLACED WITH FAIR CONFIDENCE BASED ON THE MSI LOOP AND BUOY
OBSERVATIONS IN THE SOJ. TS 09W WILL ACCELERATE NORTHEASTWARD ON THE
POLEWARD SIDE OF THE 500MB SUBTROPICAL RIDGE AND COMPLETE ETT BY TAU
12, BECOMING A GALE-FORCE COLD CORE LOW WITH AN EXPANDING WIND FIELD
AS IT EMBEDS IN THE BAROCLINIC ZONE. ITS REMNANTS WILL CROSS THE SOJ
AND MAKE LANDFALL OVER HOKKAIDO BY TAU 36. THIS IS THE FINAL WARNING
ON THIS SYSTEM BY THE JOINT TYPHOON WRNCEN PEARL HARBOR HI. THE
SYSTEM WILL BE CLOSELY MONITORED FOR SIGNS OF REGENERATION. MAXIMUM
SIGNIFICANT WAVE HEIGHT AT 070600Z IS 14 FEET. REFER TO TYPHOON 10W
(LEKIMA) WARNINGS (WTPN31 PGTW) FOR SIX-HOURLY UPDATES. REFER TO
TROPICAL STORM 11W (KROSA) WARNINGS (WTPN33 PGTW) FOR SIX-HOURLY
UPDATES.//
NNNN
JMV FILE/JTWC
0919080106 189N1540E 20
0919080112 191N1538E 20
0919080118 194N1534E 25
0919080200 200N1527E 35
0919080206 209N1519E 35
0919080212 217N1512E 40
0919080218 230N1501E 40
0919080300 242N1486E 40
0919080306 254N1474E 40
0919080312 260N1459E 40
0919080318 267N1443E 40
0919080400 275N1431E 45
0919080406 285N1417E 45
0919080412 291N1397E 45
0919080418 299N1381E 50
0919080500 304N1362E 55
0919080506 308N1345E 55
0919080512 312N1330E 65
0919080518 317N1319E 75
0919080600 330N1309E 60
0919080606 342N1299E 50
0919080612 354N1293E 45
0919080618 368N1289E 40
0919080700 381N1286E 35
0919080706 396N1293E 35
NNNN
-----------------------------------------------------------------------------------------------------------------------
TS KROSA(11W)
Location: 21.2°N 141.3°E
Maximum Winds: 60 kt ( 110km/h)
Gusts: 75 kt (140km/h)
Minimum Central Pressure: 978 mb
WDPN33 PGTW 070900
MSGID/GENADMIN/JOINT TYPHOON WRNCEN PEARL HARBOR HI//
SUBJ/PROGNOSTIC REASONING FOR TROPICAL STORM 11W (KROSA) WARNING
NR 007//
RMKS//
1. FOR METEOROLOGISTS.
2. 6 HOUR SUMMARY AND ANALYSIS.
TROPICAL STORM 11W (KROSA), LOCATED APPROXIMATELY 216 NM SOUTH OF
IWO TO, HAS TRACKED NORTH-NORTHWESTWARD AT 08 KNOTS OVER THE PAST SIX
HOURS. THE CURRENT POSITION IS BASED ON RECENT SATELLITE FIXES FROM
PGTW AND RJTD AND 070336Z GMI 37 GHZ IMAGERY SHOWING A CLEAR CENTER
FEATURE. THE INITIAL INTENSITY IS SET AT 60 KNOTS BASED ON A
CONSENSUS OF SUBJECTIVE DVORAK AND AUTOMATED INTENSITY ESTIMATES FROM
MULTIPLE SOURCES. TS 11W HAS CONTINUED TO STEADILY INTENSIFY OVER THE
PAST SIX HOURS DUE TO PASSAGE OVER VERY WARM WATER (29-30C), AN
IMPROVING POLEWARD AND EASTWARD OUTFLOW PATTERN ALOFT AND LIGHT TO
MODERATE (15-20 KNOTS) VERTICAL WIND SHEAR. RECENT MICROWAVE
SATELLITE IMAGERY, INCLUDING THE AFOREMENTIONED GMI PASS, INDICATE A
CONTRACTING LOW LEVEL CIRCULATION CENTER, CONSISTENT WITH THE RECENT
INTENSIFICATION TREND. TS 11W IS TRACKING NORTH-NORTHWESTWARD ALONG
THE PERIPHERY OF SUBTROPICAL RIDGING SITUATED TO THE NORTH AND EAST.
3. FORECAST REASONING.
A. THE EXTENDED FORECAST TRACK HAS SHIFTED A BIT WESTWARD RELATIVE
TO THE PREVIOUS FORECAST IN ANTICIPATION OF A STEERING RIDGE BUILDING
TO THE NORTH OF THE SYSTEM AFTER TAU 72.
B. TS 11W IS EXPECTED TO CURVE FROM A NORTHWESTWARD ORIENTED TRACK
TOWARD A NORTHEASTWARD ORIENTED TRACK OVER THE NEXT 72 HOURS AS
RIDGING BUILDING TO THE SOUTH OF THE SYSTEM EXERTS AN INCREASING
INFLUENCE ON STORM MOTION. FORWARD TRACK SPEED WILL REMAIN FAIRLY
SLOW THROUGH AT LEAST TAU 48 AS RIDGE PATTERN REORIENTS AND THE
ASSOCIATED STEERING INFLUENCES SHIFT. PASSAGE OVER WARM WATER AND THE
FAVORABLE OUTFLOW PATTERN WILL RESULT IN FURTHER INTENSIFICATION OVER
THE NEXT 48 HOURS OR SO. THEREAFTER, A SLIGHT INCREASE IN VERTICAL
WIND SHEAR AND INTERACTION WITH A MORE STABLE AIR MASS TO THE NORTH
ARE EXPECTED TO HINDER ADDITIONAL INTENSIFICATION. ALTHOUGH THERE ARE
SUBTLE DIFFERENCES IN THE ORIENTATION OF THE STEERING RIDGES DURING
THIS PERIOD, NUMERICAL MODEL GUIDANCE IS IN GOOD OVERALL AGREEMENT
REGARDING THE TRACK SCENARIO. THE CURRENT TRACK FORECAST IS PLACED
NEAR THE MULTI-MODEL CONSENSUS AND PREVIOUS JTWC TRACK FORECASTS
THROUGH TAU 72, WITH HIGH CONFIDENCE.
C. MODEL GUIDANCE DIVERGES IN THE EXTENDED FORECAST PERIOD, WITH A
GROUPING CONSISTING OF THE GFS, NAVGEM AND JGSM MODELS DEPICTING A
NORTH-NORTHWESTWARD TO POLEWARD TRACK AND A SECOND GROUPING
CONSISTING OF THE ECMWF, ECMWF ENSEMBLE AND UKMET MODEL DEPICTING A
STEADY NORTHWESTWARD TRACK. IN BOTH MODEL SCENARIOS, RIDGING TO THE
NORTH OF THE SYSTEM WEAKENS IN THE NEAR TERM IN RESPONSE TO A
DEVELOPING MIDLATITUDE TROUGH. THE ECMWF AND UKMET MODELS INDICATE
THAT A RIDGE WILL BUILD TO THE NORTH OF TS 11W, IN THE WAKE OF THIS
TROUGH, AND TAKE OVER AS THE DOMINANT STEERING MECHANISM. THIS RIDGE
WILL SENDING THE SYSTEM ON A TRAJECTORY TO THE WEST OF THE OTHER
MODEL GROUP. THIS SCENARIO APPEARS INCREASINGLY PROBABLE GIVEN AN
ANTICIPATED ZONAL MIDLATITUDE FLOW PATTERN. THUS THE CURRENT JTWC
TRACK FORECAST LIES TO THE LEFT OF THE MULTI-MODEL CONSENSUS IN FAVOR
OF THE ECMWF, UKMET GROUPING. ADDITIONAL ADJUSTMENTS MAY BE NECESSARY
IN SUBSEQUENT FORECASTS. GIVEN THE NOTED BIFURCATION IN THE MODEL
GUIDANCE, CONFIDENCE IN THE JTWC TRACK FORECAST IS LOW FOR THE
EXTENDED PERIOD. RESTRICTED OUTFLOW AND ENTRAINMENT OF MORE STABLE
AIR ARE EXPECTED TO REDUCE INTENSITY A BIT IN THE EXTENDED RANGE.//
NNNN
----------------------------------------------------------------------------------------------------------------------------
INVEST 96W
Location: 16.3°N 117.3°E
Maximum Winds: 20 kt
Minimum Central Pressure: 997 mb
ABPW10 PGTW 071000
1. WESTERN NORTH PACIFIC AREA (180 TO MALAY PENINSULA):
B. TROPICAL DISTURBANCE SUMMARY:
(1) THE AREA OF CONVECTION (INVEST 96W) PREVIOUSLY LOCATED
NEAR 15.7N 117.5E, IS NOW LOCATED NEAR 16.3N 117.5E, APPROXIMATELY
225 NM WEST-NORTHWEST OF MANILA, PHILIPPINES. ANIMATED MULTISPECTRAL
SATELLITE IMAGERY AND A 070220Z 89GHZ MHS METOP-B MICROWAVE IMAGE
DEPICT A PARTIALLY EXPOSED LOW LEVEL CIRCULATION (LLC) WITH WEAK
CONVECTION SHEARED OVER 60NM TO THE SOUTHWEST. A 070221Z METOP-B 25KM
RESOLUTION ASCAT DIRECT PASS DEPICTS AN ELONGATED LLC WITH 10-15 KNOT
WIND BARBS. THERE IS AN AREA OF 25-30 KNOT WIND BARBS 90 NM TO THE
SOUTHWEST UNDER THE CONVECTION AND NOT ASSOCIATED WITH THE LLC. UPPER
LEVEL ANALYSIS SHOWS 96W IN A MARGINAL ENVIRONMENT WITH STRONG
EQUATORWARD OUTFLOW THAT IS OFFSET BY MODERATE TO HIGH (20-25 KNOT)
VERTICAL WIND SHEAR. SSTS ARE FAVORABLE AT 29-30 DEGREES CELSIUS.
GLOBAL MODELS SHOW 96W MOVING NORTHEASTWARD AND EVENTUALLY BEING
ABSORBED BY TY 10W. MAXIMUM SUSTAINED SURFACE WINDS ARE ESTIMATED AT
15 TO 20 KNOTS. MINIMUM SEA LEVEL PRESSURE IS ESTIMATED TO BE NEAR
998 MB. THE POTENTIAL FOR THE DEVELOPMENT OF A SIGNIFICANT TROPICAL
CYCLONE WITHIN THE NEXT 24 HOURS REMAINS MEDIUM.
-------------------------------------------------------------------------------------------------------------------------------
NORTH INDIAN: BAY OF BENGAL
INVEST 95B
Location: 20.4°N 86.5°E
Maximum Winds: 20 kt
Minimum Central Pressure: 995 mb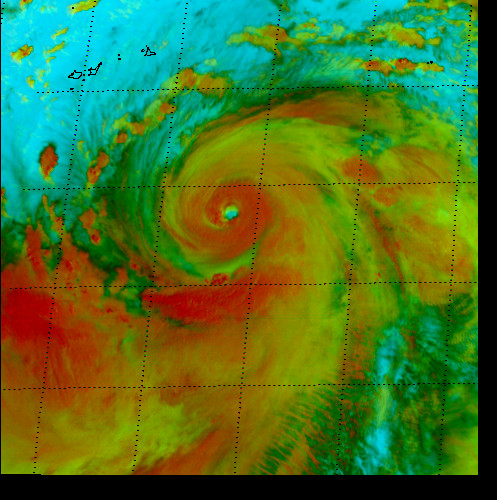 07/0857UTC. LEKIMA(10W)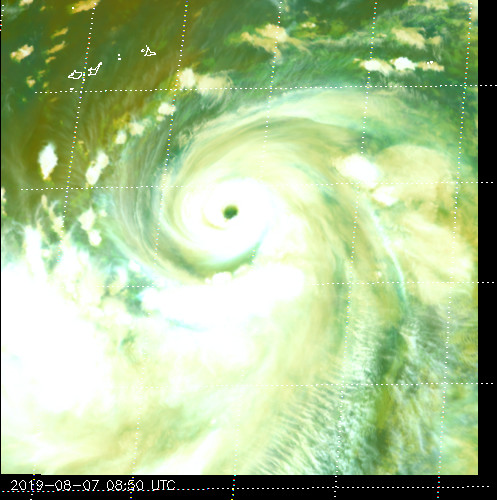 07/0850UTC. LEKIMA(10W)