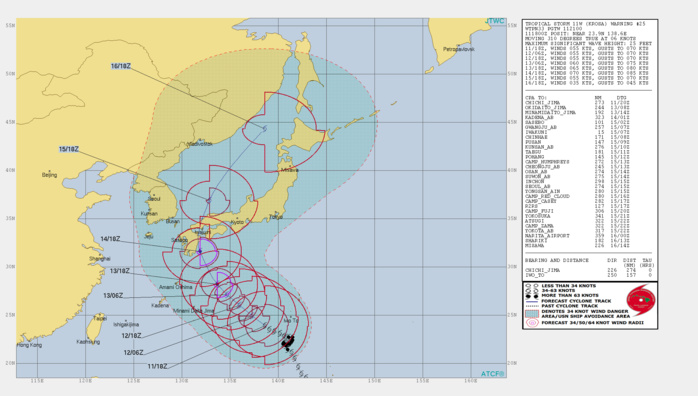 KROSA(11W): WARNING 25. FORECAST TO BE SOUTH OF JAPAN IN 72H AS A TYPHOON
Météo974
WESTERN NORTH PACIFIC
TS KROSA(11W)
Location: 23.9°N 138.6°E
Maximum Winds: 55 kt ( 100km/h)
Gusts: 70 kt (130km/h)
Minimum Central Pressure: 976 mb
WDPN33 PGTW 111500
MSGID/GENADMIN/JOINT TYPHOON WRNCEN PEARL HARBOR HI//
SUBJ/PROGNOSTIC REASONING FOR TROPICAL STORM 11W (KROSA) WARNING NR
024//
RMKS/
1. FOR METEOROLOGISTS.
2. 6 HOUR SUMMARY AND ANALYSIS.
TROPICAL STORM (TS) 11W (KROSA), LOCATED APPROXIMATELY 140 NM
WEST-SOUTHWEST OF IWO TO, JAPAN. ANIMATED ENHANCED INFRARED SATELLITE
IMAGERY SHOWS A VERY EXPANSIVE SYSTEM SPANNING OVER 600NM WITH DEEP
BUT FRAGMENTED CONVECTIVE BANDS SPIRALING AROUND A LARGE, RAGGED AND
FULLY EXPOSED LOW-LEVEL CIRCULATION (LLC). THE INITIAL POSITION IS
PLACED WITH FAIR CONFIDENCE BASED ON THE CENTER OF THE LLC. THE
INITIAL INTENSITY OF 50KTS IS AVERAGED FROM AGENCY DVORAK ESTIMATES
RANGING FROM T2.5/35KTS TO T3.5/55 KTS AND REFLECTS THE OVERALL
WEAKENED STATE. UPPER LEVEL ANALYSIS INDICATES A MARGINAL ENVIRONMENT
WITH A LOW DIRECTLY OVER THE LLC THAT IS CAUSING SUBSIDENCE. HOWEVER,
AROUND THE LOW IS A BROAD ANTICYCLONIC OUTFLOW THAT IS PROVIDING
VENTILATION TO THE OUTER CONVECTIVE BANDS. ALONG-TRACK SST AT 30C
REMAINS CONDUCIVE. THE CYCLONE IS TRACKING ALONG THE SOUTHERN
PERIPHERY OF A BUILDING SUBTROPICAL RIDGE (STR) TO THE NORTH.
3. FORECAST REASONING.
A. THERE IS NO CHANGE TO THE FORECAST PHILOSOPHY SINCE THE
PREVIOUS PROGNOSTIC REASONING MESSAGE.
B. OVER THE NEXT 72 HOURS, TS 11W WILL CONTINUE ON ITS CURRENT
TRACK UNDER THE STR. THE MARGINAL CONDITIONS WILL SUSTAIN THE CURRENT
INTENSITY AT BEST UP TO TAU 24. AFTERWARD, INCREASING POLEWARD
OUTFLOW AHEAD OF A MID-LATITUDE TROUGH WILL PROMOTE INTENSIFICATION
TO A PEAK OF 70 KNOTS BY TAU 72. NUMERICAL MODELS ARE IN GOOD
AGREEMENT, LENDING HIGH CONFIDENCE IN THIS PORTION OF THE JTWC TRACK
FORECAST.
C. AFTER TAU 72, TS KROSA WILL CREST THE STR AXIS AND TURN
POLEWARD THEN ACCELERATE NORTHEASTWARD, MAKING LANDFALL OVER EASTERN
KYUSHU AROUND TAU 78, THEN CROSS INTO THE SEA OF JAPAN (SOJ). LAND
INTERACTION, INCREASING VWS, AND COOLER SSTS IN THE SOJ WILL COMBINE
TO GRADUALLY WEAKEN THE SYSTEM DOWN TO 50KTS AS IT EXITS INTO THE SOJ
THEN DOWN TO 30KTS BY TAU 120 WHERE, CONCURRENTLY, IT WILL BEGIN
EXTRA-TROPICAL TRANSITION AS IT ENTERS THE BAROCLINIC ZONE. NUMERICAL
MODELS SPREAD OUT TO OVER 320 NM BY TAU 120 WITH NAVGEM AS THE SOLE
RIGHT OUTLIER. THERE IS OVERALL MODERATE CONFIDENCE IN THE JTWC
FORECAST TRACK THAT IS LAID JUST TO THE LEFT OF CONSENSUS TO OFFSET
THE UNLIKELY NAVGEM SOLUTION THAT DRIVES THE VORTEX INTO THE STR.//
NNNN
Location: 38.0°N 120.6°E
Maximum Winds: 40 kt ( 75km/h)
Gusts: 50 kt ( 95km/h)
Minimum Central Pressure: 974 mb
REMARKS:
111500Z POSITION NEAR 36.3N 119.3E.
11AUG19. TROPICAL DEPRESSION 10W (LEKIMA), LOCATED APPROXIMATELY
305 NM NORTH-NORTHWEST OF SHANGHAI, CHINA, HAS TRACKED NORTHWARD
AT 12 KNOTS OVER THE PAST SIX HOURS. ANIMATED ENHANCED INFRARED
SATELLITE IMAGERY AND A COMPOSITE RADAR LOOP FROM CMA SHOW THE SYSTEM
HAS RAPIDLY DETERIORATED AS IT MADE LANDFALL OVER SHANDONG PENINSULA
AS THE CENTRAL CONVECTION IS GREATLY SHEARED NORTHWARD AND FULLY
EXPOSING A RAGGED LOW LEVEL CIRCULATION. THE INITIAL POSITION AND
INTENSITY ARE PLACED WITH HIGH CONFIDENCE BASED ON THE EIR AND RADAR
LOOPS AND INTERPOLATED FROM NUMEROUS SURFACE OBSERVATIONS. TD LEKIMA
IS EXPECTED TO CONTINUE TO RAPIDLY ERODE AND UNRAVEL DUE TO HIGH
(GREATER THAN 25 KNOTS) VERTICAL WIND SHEAR AND LAND INTERACTION,
LEADING TO DISSIPATION BY TAU 12. THIS IS THE FINAL WARNING ON THIS
SYSTEM BY THE JOINT TYPHOON WRNCEN PEARL HARBOR HI. THE SYSTEM WILL
BE CLOSELY MONITORED FOR SIGNS OF REGENERATION. REFER TO TROPICAL
STORM 11W (KROSA) WARNINGS (WTPN33 PGTW) FOR SIX-HOURLY UPDATES.//
NNNN
JMV File/JTWC
1019080400 161N1316E 25
1019080406 167N1314E 30
1019080412 176N1312E 35
1019080418 183N1304E 35
1019080500 188N1301E 35
1019080506 189N1297E 35
1019080512 188N1293E 40
1019080518 186N1290E 45
1019080600 189N1293E 45
1019080606 191N1291E 50
1019080612 192N1287E 60
1019080618 195N1284E 65
1019080700 202N1282E 75
1019080706 209N1277E 90
1019080712 216N1270E 100
1019080718 221N1264E 110
1019080800 227N1260E 115
1019080806 237N1254E 130
1019080812 244N1249E 125
1019080818 255N1246E 120
1019080900 264N1234E 115
1019080906 270N1225E 105
1019080912 275N1220E 95
1019080918 284N1214E 85
1019081000 290N1210E 75
1019081006 301N1206E 65
1019081012 308N1208E 60
1019081018 321N1208E 55
1019081100 336N1205E 45
1019081106 348N1198E 35
1019081112 360N1195E 25
NNNN