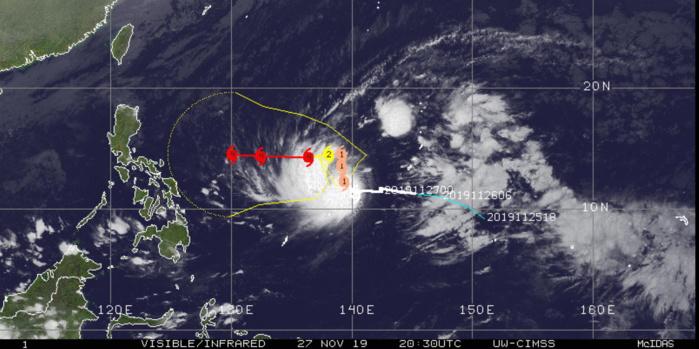 Météo974
WESTERN NORTH PACIFIC
TY KAMMURI (29W)
Location: 12.3°N 139.4°E
Maximum Winds: 65 kt ( 120km/h)
Gusts: 80 kt ( 150km/h)
Minimum Central Pressure: 978 mb
CATEGORY US: 1
WDPN31 PGTW 272100
MSGID/GENADMIN/JOINT TYPHOON WRNCEN PEARL HARBOR HI//
SUBJ/PROGNOSTIC REASONING FOR TYPHOON 29W (KAMMURI) WARNING NR 009//
RMKS/
1. FOR METEOROLOGISTS.
2. 6 HOUR SUMMARY AND ANALYSIS.
TROPICAL STORM (TS) 29W (KAMMURI), LOCATED APPROXIMATELY 185 NM
NORTH-NORTHEAST OF YAP, FSM, HAS TRACKED WEST-NORTHWESTWARD AT 08 KNOTS
OVER THE PAST SIX HOURS. ANIMATED ENHANCED INFRARED SATELLITE IMAGERY
(EIR) SHOWS THE SYSTEM HAS BECOME MORE COMPACT AND ORGANIZED AS RAIN
BANDS TUCKED CLOSER TO A DEEPENING CENTRAL CONVECTION. THE INITIAL
POSITION IS PLACED WITH FAIR CONFIDENCE BASED ON THE EIR LOOP, LINED UP
WITH A LOW LEVEL CIRCULATION FEATURE IN THE 271611Z ATMS MICROWAVE
IMAGE. THE INITIAL INTENSITY OF 65KTS IS BASED ON THE DVORAK ESTIMATES
OF T4.0/65KTS FROM PGTW AND RJTD. ANALYSES INDICATE A FAVORABLE
ENVIRONMENT WITH STRONG POLEWARD OUTFLOW, LOW TO MODERATE (15-20KT)
VERTICAL WIND SHEAR, AND A VERY WARM (>30C) ALONG-TRACK SEA SURFACE
TEMPERATURE. THE CYCLONE IS TRACKING IN THE PHILIPPINE SEA ALONG THE
SOUTHWESTERN PERIPHERY OF THE SUBTROPICAL RIDGE (STR) TO THE NORTH.
3. FORECAST REASONING.
A. THERE IS NO SIGNIFICANT CHANGE TO THE FORECAST PHILOSOPHY FROM
THE LAST PROGNOSTIC REASONING MESSAGE.
B. A TRANSITING SHORTWAVE TROUGH APPROACHING FROM THE NORTHWEST WILL
BREAK THE STEERING STR AND DRIVE TS 29W NORTH-NORTHWESTWARD INTO THE
COL AND INTO A QUASI-STATIONARY (QS) STATE. AFTER THE TROUGH PASSES, A
NEWLY-FORMED STR TO THE NORTHWEST WILL BUILD, REORIENT, AND SLOWLY
DRIVE THE SYSTEM WESTWARD. THE FAVORABLE ENVIRONMENT WILL CONTINUE TO
FUEL STEADY, POSSIBLY RAPID, INTENSIFICATION TO 120KTS BY TAU 72.
C. AFTER TAU 72, TS KAMMURI WILL CONTINUE ON A SLOW WESTWARD TRACK
UNDER THE SECONDARY STR AND OVER THE WARM PHILIPPINE SEA TOWARD
SOUTHERN LUZON, PHILIPPINES. THE FAVORABLE CONDITIONS ARE EXPECTED TO
FUEL AND SUSTAIN INTENSIFICATION TO 125KTS. THE MAJORITY OF NUMERICAL
MODELS ARE IN OVERALL GOOD AGREEMENT WITH THE OVERALL FORECAST TRACK
WITH NAVGEM AS THE SOLE RIGHT-OF-TRACK OUTLIER, OFFERING AN UNLIKELY
POLEWARD TRACK SOLUTION INTO THE STR. HOWEVER, GIVEN THE THE
DIFFERENCES IN ALONG-TRACK SPEEDS AND THE STORM MOTION UNCERTAINTY IN
THE COL, THERE IS LOW CONFIDENCE TO THE JTWC TRACK FORECAST.//
NNNN
Click to animate ( laptop and PC)