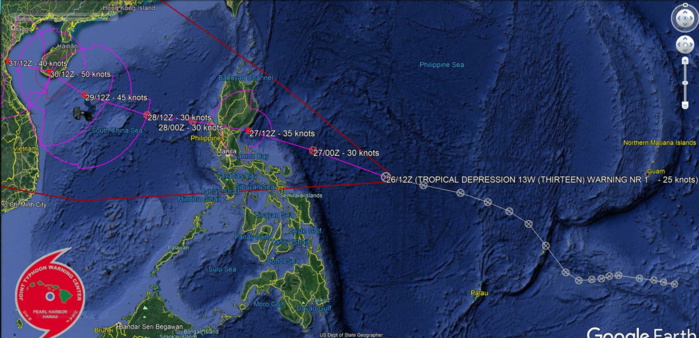 Météo974
WESTERN NORTH PACIFIC
TD 13W
Location: 13.6°N 129.5°E
Maximum Winds: 25 kt
Minimum Central Pressure: 1001 mb
WDPN31 PGTW 261500
MSGID/GENADMIN/JOINT TYPHOON WRNCEN PEARL HARBOR HI//
SUBJ/PROGNOSTIC REASONING FOR TROPICAL DEPRESSION 13W (THIRTEEN)
WARNING NR 01//
RMKS/
1. FOR METEOROLOGISTS.
2. 6 HOUR SUMMARY AND ANALYSIS.
TROPICAL DEPRESSION (TD) 13W (THIRTEEN), LOCATED APPROXIMATELY
498 NM EAST OF MANILA, PHILIPPINES, HAS TRACKED WESTWARD AT 20 KNOTS
OVER THE PAST SIX HOURS. ANIMATED ENHANCED INFRARED SATELLITE
IMAGERY DEPICTS A PARTIALLY-EXPOSED LOW-LEVEL CIRCULATION WITH
FLARING DEEP CONVECTION OVER THE WESTERN SEMICIRCLE. A 261012Z SSMIS
91GHZ COLOR COMPOSITE MICROWAVE IMAGE INDICATES FRAGMENTED BANDING
WRAPPING INTO A BROAD LLCC, THEREFORE, THERE IS FAIR CONFIDENCE IN
THE CURRENT POSITION. THE CURRENT INTENSITY IS ASSESSED AT 25 KNOTS
BASED ON A 261218Z PARTIAL ASCAT IMAGE SHOWING 20-25 KNOT WINDS OVER
THE EASTERN SEMICIRCLE AS WELL AS A 26/1200Z SHIP OBSERVATION, 130NM
SOUTH, SHOWING WEST-NORTHWESTERLY SURFACE WINDS AT 22 KNOTS WITH SLP
NEAR 1004MB. ENVIRONMENTAL ANALYSIS REVEALS A MARGINALLY-FAVORABLE
ENVIRONMENT WITH MODERATE TO STRONG VERTICAL WIND SHEAR OFFSET BY
STRONG DIFFLUENCE ALOFT AND WARM SST (28-30C). TD 13W IS TRACKING
WESTWARD ALONG THE SOUTHERN PERIPHERY OF A SUBTROPICAL RIDGE (STR)
ENTRENCHED TO THE NORTH.
3. FORECAST REASONING.
A. THIS IS THE FIRST PROGNOSTIC REASONING MESSAGE AND SETS THE
FORECAST PHILOSOPHY.
B. IN THE NEAR TERM, TD 13W WILL TRACK WEST-NORTHWESTWARD MAKING
LANDFALL OVER EASTERN LUZON NEAR TAU 24. DUE TO THE MARGINALLY-
FAVORABLE ENVIRONMENT, THE SYSTEM IS EXPECTED TO INCREASE TO MINIMAL
TROPICAL STORM STRENGTH (35 KNOTS) AT TAU 24. TD 13W WILL WEAKEN AS
IT CROSSES LUZON BUT SHOULD RE-INTENSIFY AFTER TAU 48 AS CONDITIONS
GRADUALLY IMPROVE. THE SYSTEM IS EXPECTED TO CONTINUE TRACKING
WESTWARD TO WEST-NORTHWESTWARD UNDER THE STEERING INFLUENCE OF THE
STR POSITIONED TO THE NORTH THROUGH TAU 72.
C. AFTER TAU 72, A DEEP SHORTWAVE TROUGH IS FORECAST TO DIG OVER
EASTERN CHINA WHICH WILL WEAKEN THE STR AND ALLOW THE SYSTEM TO TURN
MORE POLEWARD TOWARD HAINAN ISLAND. THE SYSTEM SHOULD INTENSIFY TO A
PEAK INTENSITY OF 50 KNOTS BY TAU 96. AFTER TAU 96, TD 13W SHOULD
STEER WESTWARD AS IT TRANSITIONS TO THE WESTERN STR. THE DYNAMIC
MODEL GUIDANCE IS IN FAIR AGREEMENT WITH TWO OUTLIERS (NAVGEM AND
JGSM), THEREFORE, THERE IS LOW CONFIDENCE IN THE FORECAST TRACK.//
NNNN