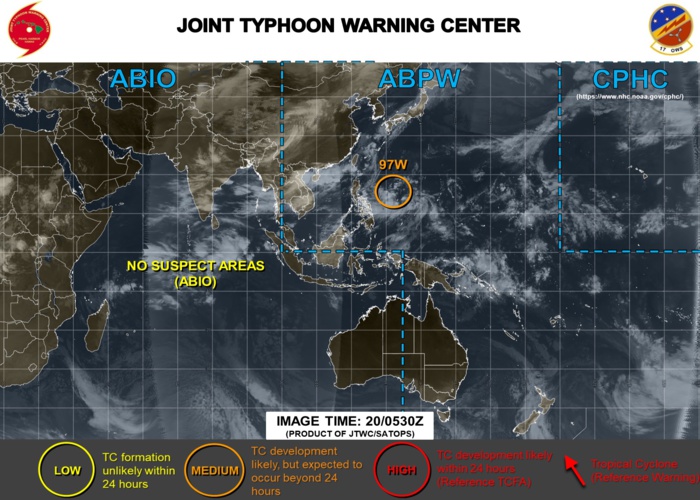 Météo974
WESTERN NORTH PACIFIC
INVEST 97W
Location: 13.6°N 133.7°E
Maximum Winds: 20 kt
Minimum Central Pressure: 1002 mb
ABPW10 PGTW 200600
1. WESTERN NORTH PACIFIC AREA (180 TO MALAY PENINSULA):
A. TROPICAL CYCLONE SUMMARY: NONE.
B. TROPICAL DISTURBANCE SUMMARY:
(1) THE AREA OF CONVECTION (INVEST 97W) PREVIOUSLY LOCATED NEAR
13.1N 134.9E, IS NOW LOCATED NEAR 13.5N 133.8E, APPROXIMATELY 345 NM
NORTHWEST OF YAP, FSM. ANIMATED INFRARED SATELLITE IMAGERY AND A
190420Z 89GHZ AMSR2 MICROWAVE IMAGE SHOW A WEAK, FULLY EXPOSED, BUT
CONSOLIDATING LOW LEVEL CIRCULATION (LLC) WITH PRIMARILY SHALLOW AND
DISORGANIZED ASSOCIATED CONVECTION SHEARED SOUTHWESTWARD FROM THE
CENTER. INVEST 97W IS CURRENTLY IN A MARGINAL ENVIRONMENT WITH STRONG
EQUATORWARD OUTFLOW OFFSET BY HIGH (>25KTS) VWS. SEA SURFACE
TEMPERATURES ARE CONDUCIVE AT 28-29C. GLOBAL MODELS ARE IN
DISAGREEMENT REGARDING THE DEVELOPMENT TIMELINE AND TRACK, WITH
NAVGEM AND UKMET SHOWING SIGNIFICANT DEVELOPMENT IN 48 HOURS AND
TRACKING TOWARD TAIWAN, AND ECMWF AND GFS INDICATING LESS SIGNIFICANT
DEVELOPMENT AND A MORE POLEWARD TRACK. MAXIMUM SUSTAINED SURFACE
WINDS ARE ESTIMATED AT 15 TO 20 KNOTS. MINIMUM SEA LEVEL PRESSURE IS
ESTIMATED TO BE NEAR 1002 MB. THE POTENTIAL FOR THE DEVELOPMENT OF A
SIGNIFICANT TROPICAL CYCLONE WITHIN THE NEXT 24 HOURS REMAINS MEDIUM.
---------------------------------------------------------------------------------------------------------------
INVEST 98W
Location: 26.6°N 152.1°E
Maximum Winds: 20 kt
Minimum Central Pressure: 1007 mb
Dissipating