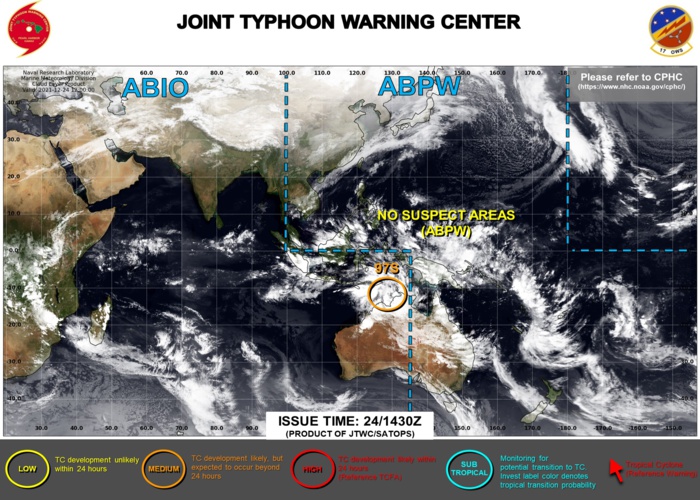 JTWC IS ISSUING 3HOURLY SATELLITE BULLETINS ON 97S.
SOUTHERN HEMISPHERE/TIMOR SEA: INVEST 97S. UP-GRADED TO MEDIUM AT 24/1430UTC. CLICK ON THE IMAGERY BELOW TO GET IT ANIMATED AND/OR ENLARGED.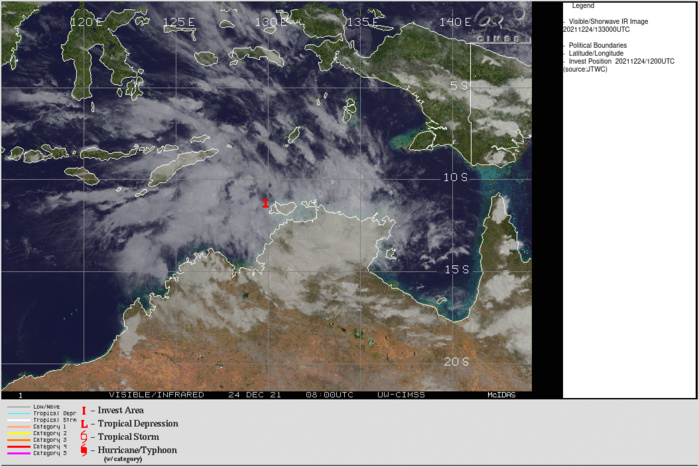 THE AREA OF CONVECTION (INVEST 97S) PREVIOUSLY LOCATED NEAR 9.4S 130.3E IS NOW LOCATED NEAR 11.1S 129.9E, APPROXIMATELY 190 KM NORTH OF DARWIN, AUSTRALIA. ANIMATED ENHANCED INFRARED SATELLITE IMAGERY DEPICTS FRAGMENTED BUT FORMATIVE RAIN BANDS FEEDING INTO A PARTIALLY EXPOSED LOW LEVEL CIRCULATION (LLC). A 241235Z ASCAT PSS AND NEARBY SURFACE OBSERVATIONS INDICATE 20-25KT WINDS ALONG THE NORTHEAST PERIPHERY OF THE LLC. ENVIRONMENTAL ANALYSIS INDICATES FAVORABLE CONDITIONS FOR DEVELOPMENT WITH STRONG POLEWARD AND EQUATORWARD OUTFLOW ALOFT, LOW TO MODERATE (10-15KT) VERTICAL WIND SHEAR, AND VERY WARM (30-32C) SEA SURFACE TEMPERATURES. GLOBAL MODELS ARE IN STRONG AGREEMENT THAT 97S WILL INTENSIFY AND CONSOLIDATE OVER THE NEXT 24 TO 48 HOURS; HOWEVER, THEY ARE SPLIT ON THE TRACK. CMC, GFS AND ITS ENSEMBLES HAVE A MORE EAST-SOUTHEASTWARD TRACK INTO THE GULF OF CARPENTARIA (GOC), WHILE NAVGEM AND ECMWF HAVE A MORE SOUTH-SOUTHEASTWARD TRACK OVER AUSTRALIA JUST SOUTH OF THE GOC. MAXIMUM SUSTAINED SURFACE WINDS ARE ESTIMATED AT 20 TO 25 KNOTS. MINIMUM SEA LEVEL PRESSURE IS ESTIMATED TO BE NEAR 1002 MB. THE POTENTIAL FOR THE DEVELOPMENT OF A SIGNIFICANT TROPICAL CYCLONE WITHIN THE NEXT 24 HOURS IS UPGRADED TO MEDIUM.