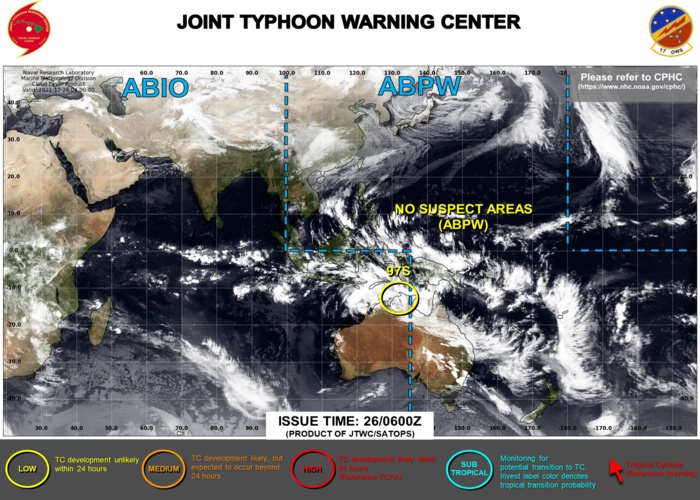 JTWC IS ISSUING 3HOURLY SATELLITE BULLETINS ON 97S.
SOUTHERN HEMISPHERE/NORTHERN AUSTRALIA: INVEST 97S. DOWN-GADED TO LOW AT 25/18UTC. ADVISORY(ABIO) ISSUED AT 25/18UTC. CLICK ON THE IMAGERY BELOW TO GET IT ANIMATED AND/OR ENLARGED.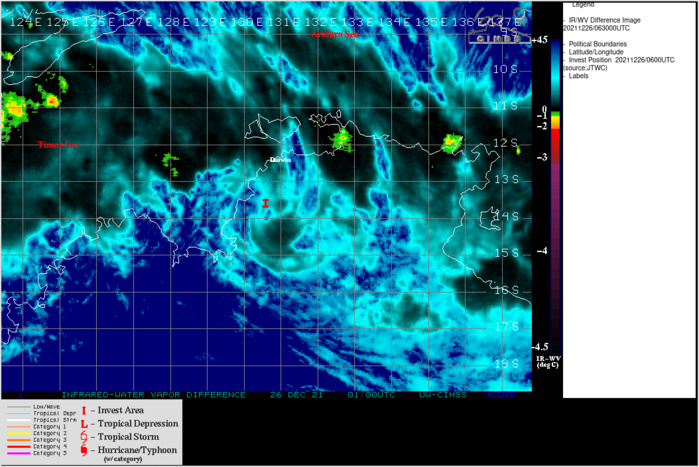 THE AREA OF CONVECTION (INVEST 97S) PREVIOUSLY LOCATED NEAR 11.5S 130.5E IS NOW LOCATED NEAR 12.9S 130.4E, APPROXIMATELY 70 KM SOUTHWEST OF DARWIN, AUSTRALIA. ANIMATED ENHANCED INFRARED (EIR) SATELLITE IMAGERY DEPICTS A BROAD AREA OF SOMEWHAT ORGANIZED CONVECTION ROTATING AROUND AN ASSESSED LOW LEVEL CIRCULATION CENTER (LLCC). RADAR ANALYSIS INDICATES THAT INVEST 97S HAS MADE LANDFALL ALONG THE WESTERN SHORE OF THE TOP END REGION OF AUSTRALIA. ALBEIT OVER LAND, JTWC HAS DOWNGRADED THE INVEST TO A LOW. GLOBAL MODELS AGREE THAT THE VORTEX WILL TRACK TO THE EAST-SOUTHEAST WITH THE SLIGHT POSSIBILITY OF RE-INTENSIFICATION OVER THE GULF OF CARPENTARIA IN APPROXIMATELY 48-72 HOURS. MAXIMUM SUSTAINED SURFACE WINDS ARE ESTIMATED AT 25 TO 30 KNOTS. MINIMUM SEA LEVEL PRESSURE IS ESTIMATED TO BE NEAR 998 MB. THE POTENTIAL FOR THE DEVELOPMENT OF A SIGNIFICANT TROPICAL CYCLONE WITHIN THE NEXT 24 HOURS IS DOWNGRADED TO LOW.
SOUTHERN HEMISPHERE/SOUTH INDIAN OCEAN: INVEST 98S. THIS SYSTEM IS STILL VERY WEAK AND IS NOT OVER THE JTWC MAP YET. KEEPING TABS ON IT.