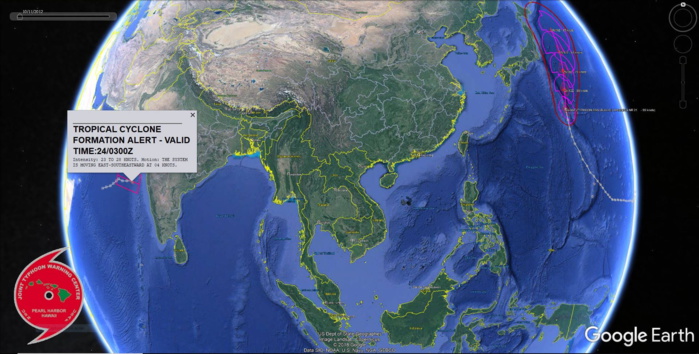 TY 22W & INVEST 97A
Météo974
WESTERN NORTH PACIFIC
TY BUALOI(22W)
Location: 26.9°N 142.3°E
Maximum Winds: 95 kt ( 175km/h)
Gusts: 115 kt ( 220km/h)
Minimum Central Pressure: 963 mb
CATEGORY US: 2
WDPN32 PGTW 240300
MSGID/GENADMIN/JOINT TYPHOON WRNCEN PEARL HARBOR HI//
SUBJ/PROGNOSTIC REASONING FOR TYPHOON 22W (BUALOI) WARNING NR 021//
RMKS/
1. FOR METEOROLOGISTS.
2. 6 HOUR SUMMARY AND ANALYSIS.
TYPHOON 22W (BUALOI), LOCATED APPROXIMATELY 13 NM SOUTH-SOUTHEAST
OF CHICHI JIMA, JAPAN, HAS TRACKED NORTHWARD AT 16 KNOTS OVER THE
PAST SIX HOURS. ANIMATED MULTI-SPECTRAL SATELLITE IMAGERY REVEALS AN
EXPANSIVE CIRRUS SHIELD TO THE NORTH OF THE LOW-LEVEL CIRCULATION
CENTER (LLCC), INDICATIVE OF THE INCREASING VERTICAL WIND SHEAR
(VWS). A 232110Z CORIOLIS 36 GHZ MICROWAVE IMAGE REVEALS A MICROWAVE
EYE IN THE LOWER LEVELS, ASSISTING IN PLACING THE INITIAL POSITION
WITH GOOD CONFIDENCE. ADDITIONALLY, WINDS OUT OF THE NORTHEAST AT
CHICHI JIMA, JAPAN AT 24/00Z CONTRIBUTED TO PLACING THE LLCC TO THE
SOUTH-SOUTHEAST OF THE ISLAND. THE INITIAL INTENSITY OF 95 KTS IS
BASED ON MULTI-AGENCY DVORAK CURRENT INTENSITY ESTIMATES RANGING
5.0-5.5 (90-102 KTS). STRONG (25-30 KT) VWS IS OFFSETTING EXCELLENT
POLEWARD OUTFLOW AND WARM (28-29 CELSIUS) SEA SURFACE TEMPERATURE
(SST) TO DEGRADE THE ENVIRONMENT TO MARGINAL. TY 22W IS ROUNDING THE
AXIS OF A SUBTROPICAL RIDGE (STR) TO THE EAST.
3. FORECAST REASONING.
A. THERE IS NO SIGNIFICANT CHANGE TO THE FORECAST PHILOSOPHY FROM
THE PREVIOUS PROGNOSTIC REASONING MESSAGE.
B. BY TAU 12, TY 22W WILL HAVE ROUNDED THE STR AXIS AND BEGUN
TRACKING NORTH-NORTHEASTWARD AT WHICH TIME VWS WILL BEGIN SEVERELY
IMPACTING 22W, REACHING 45 KTS BY TAU 12 AND 65 KTS BY TAU 36.
INITIALLY, THE IN-PHASE STORM MOTION WILL OFFSET THE VWS ENOUGH THAT
THE SYSTEM WILL WEAKEN SLOWLY TO 90 KTS AT TAU 12. HOWEVER, AFTER TAU
12 TY 22W WILL BEGIN RAPIDLY WEAKENING AS THE VWS CONTINUES TO
INCREASE AND SSTS DECREASE. THE SYSTEM WILL BEGIN EXTRA-TROPICAL
TRANSITION (ETT) SHORTLY AFTER TAU 12 AS IT STARTS INTERACTING WITH
THE UPPER-LEVEL JET AND WILL COMPLETE ETT BY TAU 48. NUMERICAL MODEL
TRACK GUIDANCE IS IN EXCELLENT AGREEMENT THROUGH TAU 12 BUT SPREAD
STEADILY INCREASES AFTERWARD AS THE SYSTEM UNDERGOES ETT. THE JTWC
TRACK FORECAST IS IN LINE WITH CONSENSUS, WITH FAIR CONFIDENCE IN THE
OVERALL TRACK.//
NNNN
NORTH INDIAN
Location: 15.6°N 70.5°E
Maximum Winds: 25 kt
Minimum Central Pressure: 999 mb
WTIO21 PGTW 240300
MSGID/GENADMIN/JOINT TYPHOON WRNCEN PEARL HARBOR HI//
SUBJ/TROPICAL CYCLONE FORMATION ALERT (INVEST 97A)//
RMKS/
1. FORMATION OF A SIGNIFICANT TROPICAL CYCLONE IS POSSIBLE WITHIN
080 NM EITHER SIDE OF A LINE FROM 15.6N 72.0E TO 16.0N 66.7E
WITHIN THE NEXT 12 TO 24 HOURS. AVAILABLE DATA DOES NOT JUSTIFY
ISSUANCE OF NUMBERED TROPICAL CYCLONE WARNINGS AT THIS TIME.
WINDS IN THE AREA ARE ESTIMATED TO BE 23 TO 28 KNOTS. METSAT
IMAGERY AT 240000Z INDICATES THAT A CIRCULATION CENTER IS LOCATED
NEAR 15.6N 70.5E. THE SYSTEM IS MOVING EAST-SOUTHEASTWARD AT 04
KNOTS.
2. REMARKS: THE AREA OF CONVECTION (INVEST 97A) PREVIOUSLY LOCATED
NEAR 15.8N 70.1E IS NOW LOCATED NEAR 15.6N 70.5E, APPROXIMATELY 243
NM SOUTHWEST OF MUMBAI, INDIA. ANIMATED ENHANCED INFRARED SATELLITE
IMAGERY SHOWS FLARING CONVECTION TO THE NORTH OF A CONSOLIDATING
LOW-LEVEL CIRCULATION CENTER (LLCC) WITH FORMATIVE BANDING TO THE
SOUTH AND WEST. A 231659 ASCAT-B IMAGE DEPICTS THIS TIGHTENING LLCC
WITH A LARGE BAND OF 25 KT WINDS SOUTH OF THE LLCC WITH POCKETS OF 30
KT WINDS 140 NM FROM THE CIRCULATION. UPPER-LEVEL ANALYSIS REVEALS
DECENT POLEWARD OUTFLOW WITH THE SYSTEM CURRENTLY UNDER FAVORABLE
VERTICAL WIND SHEAR (VWS) (5-10 KTS). HOWEVER, JUST TO THE WEST OF
THE SYSTEM IS STRONG VWS REACHING 25-30 KTS OVER THE CENTRAL ARABIAN
SEA. NUMERICAL MODEL GUIDANCE INDICATES STEADY INTENSIFICATION TO 35
KTS IN THE NEXT 24 HOURS. TRACK GUIDANCE INITIALLY SLOWLY TRACKS THE
SYSTEM TO THE EAST, HOWEVER ALL MODELS THEN REVERSE THE TRACK BETWEEN
TAUS 24 AND 72 TO TRACK WESTWARD INTO THE ARABIAN SEA. MAXIMUM
SUSTAINED SURFACE WINDS ARE ESTIMATED AT 23 TO 28 KNOTS. MINIMUM SEA
LEVEL PRESSURE IS ESTIMATED TO BE NEAR 1001 MB. THE POTENTIAL FOR THE
DEVELOPMENT OF A SIGNIFICANT TROPICAL CYCLONE WITHIN THE NEXT 24
HOURS IS HIGH.
3. THIS ALERT WILL BE REISSUED, UPGRADED TO WARNING OR CANCELLED BY
250300Z.//
NNNN