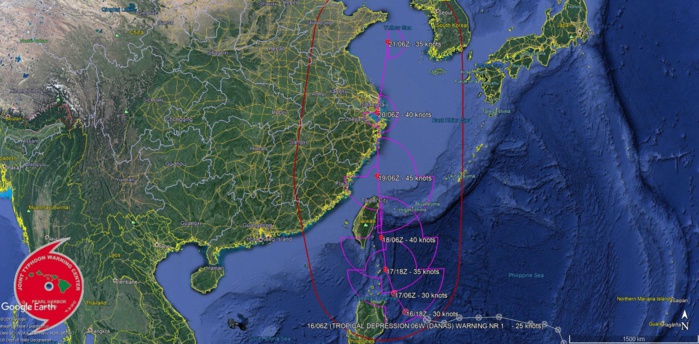 WARNING 1/JTWC. FORECAST PEAK INTENSITY OF 45KNOTS IN 72H
https://www.meteo974.re/M974World_r7.html
https://www.facebook.com/groups/1817419381676514/
WESTERN NORTH PACIFIC
Location: 17.0°N 125.3°E
Maximum Winds: 25 kt ( 45km/h)
Gusts: 35 kt (65km/h)
Minimum Central Pressure: 996 mb
WDPN31 PGTW 160900
MSGID/GENADMIN/JOINT TYPHOON WRNCEN PEARL HARBOR HI//
SUBJ/PROGNOSTIC REASONING FOR TROPICAL DEPRESSION TROPICAL
DEPRESSION 06W (DANAS) WARNING NR 01//
RMKS//
1. FOR METEOROLOGISTS.
2. 6 HOUR SUMMARY AND ANALYSIS.
TROPICAL DEPRESSION (TD) 06W (DANAS), LOCATED APPROXIMATELY 587 NM
SOUTH-SOUTHWEST OF KADENA AB, HAS TRACKED WEST-NORTHWESTWARD AT 12
KNOTS (KTS) OVER THE PAST SIX HOURS. ANIMATED MULTISPECTRAL
SATELLITE IMAGERY DEPICTS A BROAD CIRCULATION WITH DEEP CONVECTION
DISPLACED TO THE WEST OF THE PARTLY OBSCURED LOW LEVEL CIRCULATION
CENTER (LLCC) AND SHALLOW RAIN BANDS STARTING TO WRAP IN FROM THE
SOUTH. THE INITIAL POSITION IS PLACED WITH POOR CONFIDENCE BASED ON
THE BROAD CIRCULATION CENTER AS EVIDENCED IN THE MSI LOOP AND A
PARTIAL 160529Z AMSR2 89 GHZ MICROWAVE IMAGE. OF NOTE, A 160021Z
METOP-A AND 160135Z METOP-B ASCAT PASS CAUSED A SIGNIFICANT WESTWARD
SHIFT IN THE 160000Z BEST TRACK POSITION AND THE WIND FIELD DEPICTED
BY THOSE ASCAT PASSES SUGGESTED THAT THIS SYSTEM MAY BE BEGINNING TO
TRANSITION FROM A MONSOON DEPRESSION INTO A TROPICAL CYCLONE. THE
INITIAL INTENSITY OF 25 KTS IS CONSISTENT WITH THE KNES DVORAK
INTENSITY OF T1.5 (25 KTS) AND THE AFOREMENTIONED ASCAT PASSES WHICH
SHOWED 25-30 KT WINDS IN THE CONVECTION TO THE SOUTH AND WEST OF THE
LLCC AND 10-20 KTS TO THE NORTHEAST. ENVIRONMENTAL CONDITIONS FOR TD
06W ARE MARGINAL WITH GOOD EQUATORWARD OUTFLOW AND WARM SEA SURFACE
TEMPERATURE (30-31 CELSIUS) BEING OFFSET BY MODERATE TO STRONG
VERTICAL WIND SHEAR (20-30 KTS). TD 06W IS TRACKING ALONG THE
SOUTHWESTERN PERIPHERY OF A SUBTROPICAL RIDGE (STR).
3. FORECAST REASONING.
A. THIS IS THE INITIAL PROGNOSTIC REASONING AND SETS THE FORECAST
PHILOSOPHY.
B. BY TAU 24, TD 06W SHOULD BE TRACKING MORE NORTHWARD AS IT
ROUNDS THE STR AXIS. THE JTWC TRACK FORECAST CLOSELY FOLLOWS THE
CONSENSUS TRACK BUT SPREAD IN THE MODEL TRACK GUIDANCE GROWS QUITE
RAPIDLY, LIKELY DUE TO THE BROAD NATURE OF THE CIRCULATION.
CONTINUED HIGH VWS WILL PREVENT TD 06W FROM INTENSIFYING
SIGNIFICANTLY THROUGH TAU 48. AFTER TAU 48, SOMEWHAT IMPROVED
ENVIRONMENTAL CONDITIONS ARE EXPECTED TO ALLOW SOME INTENSIFICATION
TO 45 KTS AS TD 06W APPROACHES THE EAST COAST OF CHINA. THE JTWC
INTENSITY FORECAST CLOSELY FOLLOWS THE INTENSITY GUIDANCE THROUGH
TAU 48. AFTER TAU 48, THE MESOSCALE MODELS BRING TD 06W INLAND OVER
CHINA, RENDERING THE INTENSITY GUIDANCE THOSE MODELS PROVIDE USELESS
BASED ON THE JTWC TRACK FORECAST. AS A RESULT, BEYOND TAU 48 THE
INTENSITY FORECAST IS BASED ON THE EXPECTATION THAT ENVIRONMENTAL
CONDITIONS WILL BE MARGINALLY FAVORABLE. OVERALL, THERE IS LOW
CONFIDENCE IN THIS PORTION OF THE JTWC TRACK FORECAST BASED ON LARGE
SPREAD IN THE MODEL GUIDANCE AND HIGH UNCERTAINTY IN THE INITIAL
POSITION.
C. AFTER TAU 72, TD 06W IS EXPECTED TO CONTINUE TRACKING
NORTHWARD ALONG THE WESTERN PERIPHERY OF THE STR, BRUSH THE EAST
COAST OF CHINA, AND MOVE INTO THE YELLOW SEA WITH WEAK TROPICAL
STORM FORCE WINDS. THE MODEL TRACK GUIDANCE HAS SIGNIFICANT SPREAD
BETWEEN THE EASTERNMOST (GFS) AND WESTERNMOST (ECMWF AND GFS
ENSEMBLE MEANS) MEMBERS. THE JTWC TRACK FORECAST CONTINUES TO FOLLOW
THE CONSENSUS TRACK, WHICH CLOSELY FOLLOWS THE ECMWF, GALWEM, JGSM,
AND NAVGEM SOLUTIONS. THE INTENSITY FORECAST ANTICIPATES SLIGHT
WEAKENING AS THE SYSTEM BRUSHES THE CHINA COAST AND MOVES INTO THE
YELLOW SEA BUT MAINTAINS THE INTENSITY AT WEAK TROPICAL STORM
STRENGTH FOR THE DURATION OF THE EXTENDED FORECAST PERIOD. FOR THIS
PORTION OF THE FORECAST, THERE IS LOW CONFIDENCE IN THE JTWC TRACK
FORECAST DUE TO HIGH UNCERTAINTY IN THE MODEL GUIDANCE AND THE
INITIAL POSITION OF THE SYSTEM.//
NNNN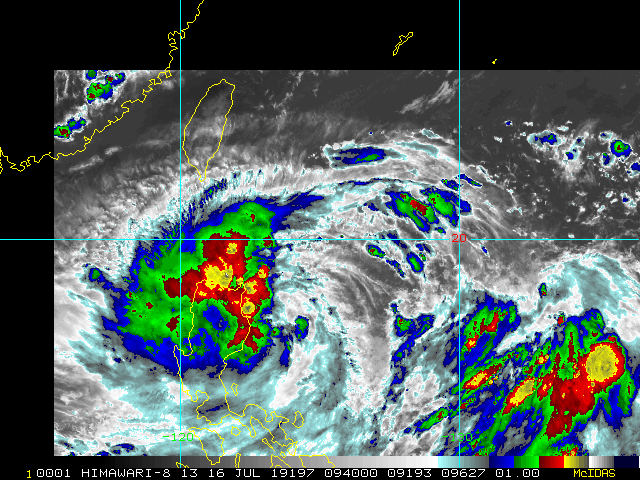 0940UTC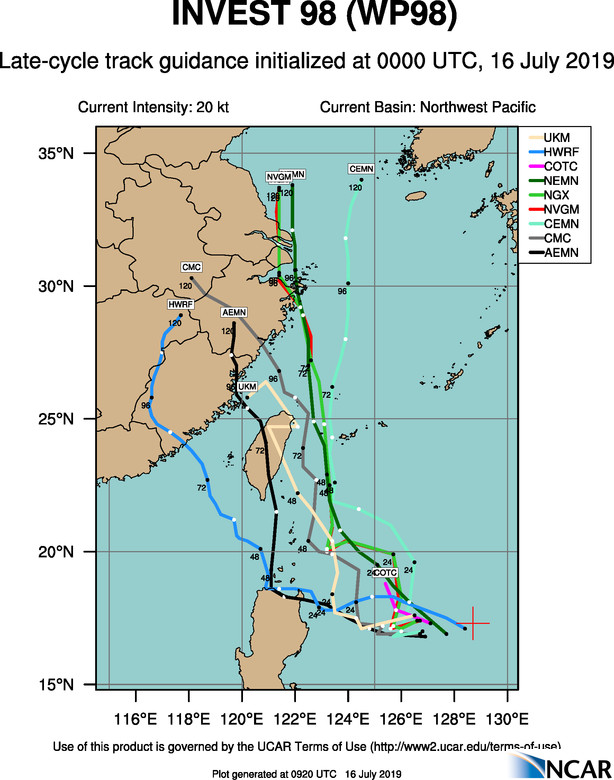 TRACK GUIDANCE