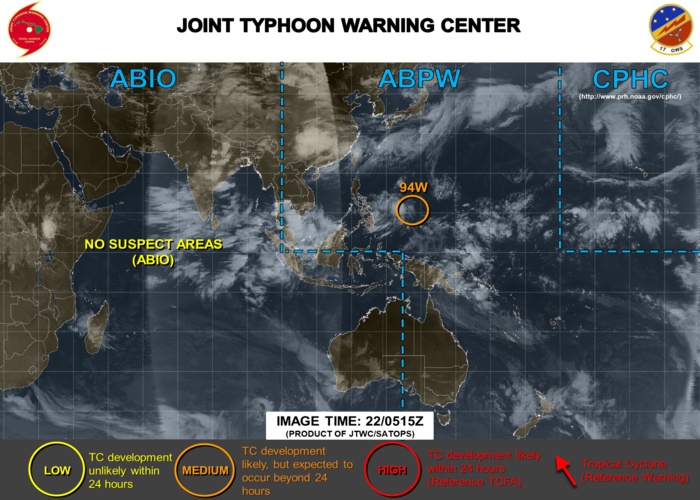 https://www.meteo974.re/M974World_r7.html
https://www.facebook.com/groups/1817419381676514/
WESTERN NORTH PACIFIC
Location: 11.7°N 135.5°E
Maximum Winds: 20 kt
Minimum Central Pressure: 1003 mb
ABPW10 PGTW 220600
1. WESTERN NORTH PACIFIC AREA (180 TO MALAY PENINSULA):
A. TROPICAL CYCLONE SUMMARY: NONE.
B. TROPICAL DISTURBANCE SUMMARY:
(1) THE AREA OF CONVECTION (INVEST 94W) PREVIOUSLY LOCATED
NEAR 8.5N 139.0E, IS NOW LOCATED NEAR 11.1N 137.0E, APPROXIMATELY
119 NM NORTHWEST OF YAP. ANIMATED MULTISPECTRAL SATELLITE IMAGERY
SHOWS A VERY WEAK, ILL-DEFINED LOW LEVEL CIRCULATION (LLC) WITH
MINOR FLARING CONVECTION ON THE PERIPHERY. A 220018Z MHS METOP-A
89GHZ MICROWAVE IMAGE SHOWS VERY LITTLE STRUCTURE AND NO SIGNIFICANT
CENTRAL CONVECTION. A 220058Z METOP-C ASCAT PASS SHOWS THAT THE LLC
IS A VERY ELONGATED, EAST-WEST ORIENTED CIRCULATION WITH A SMALL
SWATH OF 15 TO 20 KNOT WINDS ON THE NORTH SIDE. 94W IS CURRENTLY IN
A MARGINAL ENVIRONMENT WITH WARM (29-30 CELSIUS) SEA SURFACE
TEMPERATURE BEING OFFSET BY WEAK WESTWARD UPPER LEVEL OUTFLOW AND
MODERATE (20-25 KNOT) VERTICAL WIND SHEAR. GLOBAL MODELS ALL AGREE
THAT 94W WILL TRACK GENERALLY NORTHWESTWARD. THE MODELS DIFFER,
HOWEVER, ON POTENTIAL INTENSIFICATION WITH ECMWF, NAVGEM, AND JGSM
SHOWING NO SIGNIFICANT DEVELOPMENT WHILE UKMET AND GFS SHOW
INTENSIFICATION AFTER 84 HRS, POSSIBLY AS A SUBTROPICAL SYSTEM.
MAXIMUM SUSTAINED SURFACE WINDS ARE ESTIMATED AT 15 TO 20 KNOTS.
MINIMUM SEA LEVEL PRESSURE IS ESTIMATED TO BE NEAR 1005 MB. THE
POTENTIAL FOR THE DEVELOPMENT OF A SIGNIFICANT TROPICAL CYCLONE
WITHIN THE NEXT 24 HOURS REMAINS MEDIUM.
(2) NO OTHER SUSPECT AREAS.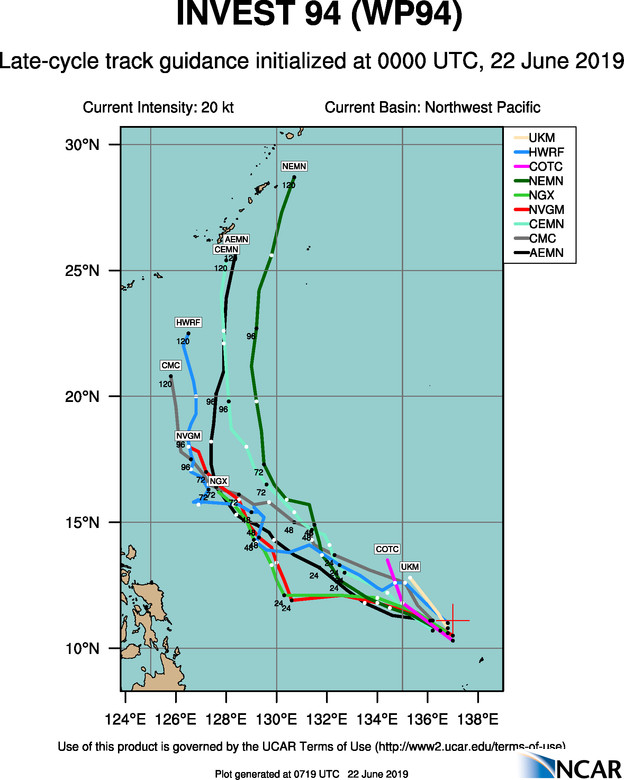 TRACK GUIDANCE