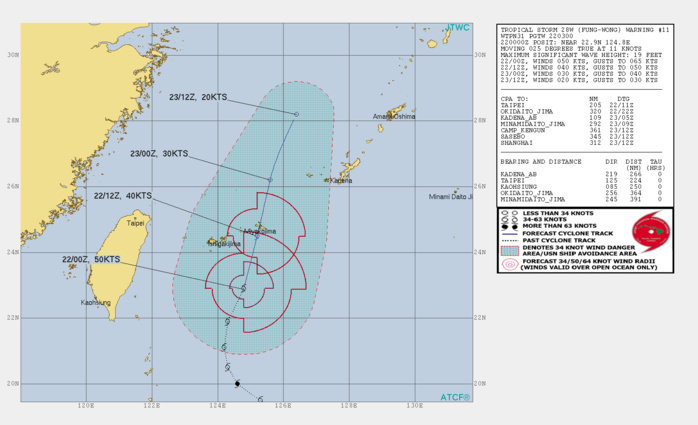 Météo974
WESTERN NORTH PACIFIC
TS FUNG-WONG (28W)
Location: 22.9°N 124.8°E
Maximum Winds: 50 kt ( 95 km/h)
Gusts: 65 kt ( 120km/h)
Minimum Central Pressure: 999 mb
WDPN31 PGTW 220300
MSGID/GENADMIN/JOINT TYPHOON WRNCEN PEARL HARBOR HI//
SUBJ/PROGNOSTIC REASONING FOR TROPICAL STORM 28W (FUNG-WONG) WARNING
NR 011//
RMKS/
1. FOR METEOROLOGISTS.
2. 6 HOUR SUMMARY AND ANALYSIS.
TROPICAL STORM (TS) 28W (FUNG-WONG), LOCATED APPROXIMATELY 271 NM
SOUTHWEST OF KADENA AB, OKINAWA, JAPAN, HAS TRACKED NORTH-
NORTHEASTWARD AT 11 KNOTS OVER THE PAST SIX HOURS. ANIMATED
MULTISPECTRAL SATELLITE IMAGERY SHOWS LOW LEVEL BANDING WRAPPING
INTO A LOW LEVEL CIRCULATION CENTER (LLCC) WHICH IS OBSCURED BY DEEP
CONVECTION. THE INITIAL POSITION IS PLACED WITH GOOD CONFIDENCE AND
IS BASED ON A 222223Z 37GHZ WINDSAT IMAGE, WHICH SHOWS A MICROWAVE
EYE FEATURE. THE INITIAL INTENSITY OF 50 KNOTS IS HEDGED BETWEEN
DVORAK CURRENT INTENSITY (CI) ESTIMATES OF T3.5 (55 KNOTS) FROM PGTW
AND T3.0 (45 KNOTS) FROM RJTD. ENVIRONMENTAL ANALYSIS SHOWS THAT TS
28W IS EXPERIENCING UNFAVORABLE VERTICAL WIND SHEAR (40 TO 50 KNOTS)
WHICH IS OFFSET BY GOOD POLEWARD OUTFLOW. SEA SURFACE TEMPERATURES
ARE MARGINAL, BETWEEN 25 TO 27 DEGREES CELSIUS. TS 28W IS TRACKING
GENERALLY NORTHWARD WHILE POSITIONED ON THE WESTERN EDGE OF A
SUBTROPICAL RIDGE (STR) WHICH IS LOCATED TO THE EAST.
3. FORECAST REASONING.
A. THERE IS NO SIGNIFICANT CHANGE TO THE FORECAST PHILOSOPHY FROM
THE PREVIOUS PROGNOSTIC REASONING MESSAGE.
B. THE STR WILL REMAIN THE PRIMARY STEERING FEATURE FOR THE
REMAINDER OF THE FORECAST AS TS 28W TRACKS NORTH-NORTHWESTWARD. AN
APPROACHING WEST TO EAST MOVING MID-LATITUDE SHORTWAVE TROUGH WILL
ALSO KEEP TS 28W ON A NORTH-NORTHWESTWARD TRACK. AS TS 28W TRACKS
NORTH-NORTHWESTWARD IT WILL ENCOUNTER UNFAVORABLE SEA SURFACE
TEMPERATURES. ADDITIONALLY, VERTICAL WIND SHEAR WILL CONTINUE TO
INCREASE WHICH WILL CONTINUE TO DE-COUPLE THE UPPER AND LOWER LEVEL
CIRCULATIONS. THESE UNFAVORABLE CONDITIONS WILL CAUSE TS 28W TO
QUICKLY WEAKEN IN INTENSITY AND DISSIPATE TO 20 KNOTS BY TAU 36.
DYNAMIC MODEL GUIDANCE IN GOOD AGREEMENT INDICATING A NORTH-
NORTHWESTWARD TRACK. THEREFORE, THERE IS HIGH CONFIDENCE IN THE JTWC
FORECAST TRACK.//
NNNN