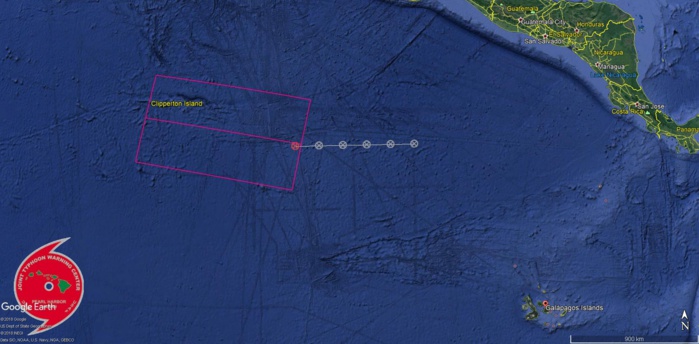 TCFA ISSUED: 750KM FROM CLIPPERTON ISLAND
https://www.meteo974.re/M974World_r7.html
https://www.facebook.com/groups/1817419381676514/
EASTERN NORTH PACIFIC
Location: 7.9°N 102.9°W
Maximum Winds: 20 kt ( 40km/h)
Minimum Central Pressure: 1008 mb
INTENSIFYING
WTPN21 PHNC 290200
MSGID/GENADMIN/JOINT TYPHOON WRNCEN PEARL HARBOR HI//
SUBJ/TROPICAL CYCLONE FORMATION ALERT//
RMKS/
1. FORMATION OF A SIGNIFICANT TROPICAL CYCLONE IS POSSIBLE WITHIN
140 NM EITHER SIDE OF A LINE FROM 8.0N 102.6W TO 9.6N 110.9W
WITHIN THE NEXT 12 TO 24 HOURS. AVAILABLE DATA DOES NOT JUSTIFY
ISSUANCE OF NUMBERED TROPICAL CYCLONE WARNINGS AT THIS TIME.
WINDS IN THE AREA ARE ESTIMATED TO BE 18 TO 23 KNOTS. METSAT
IMAGERY AT 290000Z INDICATES THAT A CIRCULATION CENTER IS LOCATED
NEAR 7.9N 102.9W. THE SYSTEM IS MOVING WESTWARD AT 12 KNOTS.
2. REMARKS: THE AREA OF CONVECTION (INVEST 94E) PREVIOUSLY LOCATED
NEAR 7.9N 101.7W IS NOW LOCATED NEAR 7.9N 102.9W, APPROXIMATELY 1682
NM SOUTH-SOUTHEAST OF SAN DIEGO. ANIMATED INFRARED SATELLITE
IMAGERY DEPICTS A CONSOLIDATING LLC WITH DEEP CONVECTIVE BANDING
OVER THE NORTHERN SEMI-CIRCLE. UPPER LEVEL ENVIRONMENT IS MODERATELY
FAVORABLE FOR DEVELOPMENT WITH LOW VERTICAL WIND SHEAR (10-15 KNOTS)
AND GOOD DIVERGENCE ALOFT. GLOBAL MODELS INDICATE STEADY
INTENSIFICATION OVER THE NEXT 24-36 HOURS AS THE SYSTEM TRACKS
WESTWARD. MAXIMUM SUSTAINED SURFACE WINDS ARE ESTIMATED AT 18 TO 23
KNOTS. MINIMUM SEA LEVEL PRESSURE IS ESTIMATED TO BE NEAR 1008 MB.
THE POTENTIAL FOR THE DEVELOPMENT OF A SIGNIFICANT TROPICAL CYCLONE
WITHIN THE NEXT 24 HOURS IS HIGH.
3. THIS ALERT WILL BE REISSUED, UPGRADED TO WARNING OR CANCELLED BY
300200Z.
//
NNNN