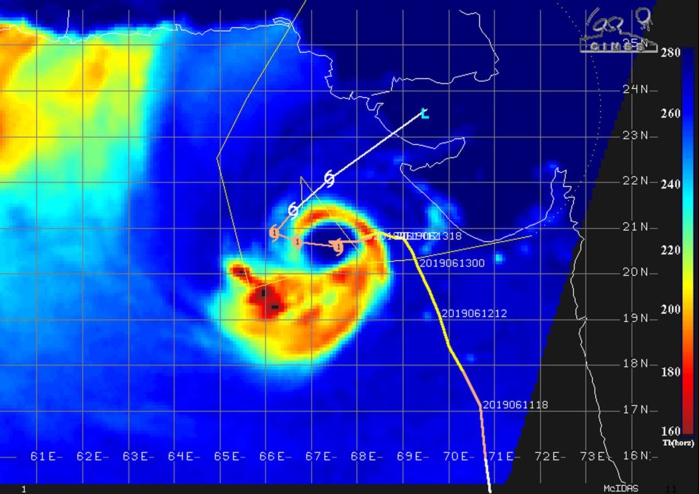 https://www.meteo974.re/M974World_r7.html
https://www.facebook.com/groups/1817419381676514/
NORTH INDIAN: Arabian Sea
Location: 20.6°N 67.6°E
Maximum Winds: 80 kt ( 150km/h)
Gusts: 100 kt ( 185km/h)
Minimum Central Pressure: 962 mb
REMARKS:
150300Z POSITION NEAR 20.6N 67.4E.
TROPICAL CYCLONE 02A (VAYU), LOCATED APPROXIMATELY 254 NM SOUTH
OF KARACHI, PAKISTAN, HAS TRACKED WEST-SOUTHWESTWARD AT 04 KNOTS
OVER THE PAST SIX HOURS. ANIMATED INFRARED SATELLITE IMAGERY (IR)
INDICATES THE RAGGED EYE FEATURE DECREASED IN SIZE AND BECAME
PARTIALLY OBSCURED BY THE CENTRAL DENSE OVERCAST OVER THE PAST SIX
HOURS. THE INITIAL POSITION IS BASED WITH HIGH CONFIDENCE ON A WELL
DEFINED CENTER IN THE 142357Z SSMIS 37GHZ PASS. THE INTENSITY WAS
RAISED TO 80 KNOTS AS DEEP CORE CONVECTION HAS IMPROVED, WITH AGENCY
DVORAK ESTIMATES NOW RANGING FROM 77 TO 90 KNOTS AND AUTOMATED
ESTIMATES BETWEEN 66 TO 82 KNOTS. ENVIRONMENTAL ANALYSIS INDICATES
VERTICAL WIND SHEAR (VWS) REMAINS MODERATELY HIGH AT APPROXIMATELY 20
KNOTS, WITH DEEP CONVECTION BECOMING MORE ASYMMETRIC IN RESPONSE TO
THE VWS. HOWEVER, ANIMATED WATER VAPOR IMAGERY INDICATES THE OVERALL
MOISTURE ENVELOPE IS STILL WELL DEFINED, AND THE WESTWARD OUTFLOW
CHANNEL REMAINS ROBUST. VAYU IS SLOWLY TRACKING GENERALLY WESTWARD
WITHIN THE POOR STEERING ENVIRONMENT OF A COL BETWEEN TWO
SUB-TROPICAL RIDGES. OVER THE NEXT 24 HOURS, VWS IS EXPECTED TO
INCREASE SHARPLY AS THE 200 MB NORTHEASTERLY FLOW ENHANCES, RESULTING
IN A DE-COUPLING OF THE VORTEX FROM THE MEAN STEERING FLOW. AFTER TAU
24, THE LLCC IS EXPECTED TO TURN BACK TO THE NORTHEAST AS THE SYSTEM
BEGINS TRACKING WITH THE LOW LEVEL SOUTHWESTERLY FLOW. RAPID
WEAKENING IS FORECAST TO BEGIN SHORTLY THEREAFTER AS VWS AND
MID-LEVEL MOISTURE CONDITIONS QUICKLY DETERIORATE. TC 02A WILL
DISSIPATE SHORTLY AFTER LANDFALL OVER THE NORTHWESTERN COAST OF
INDIA. THERE IS A LARGE SPREAD IN THE NWP GUIDANCE DUE TO DIFFERENCES
IN WHEN VAYU BEGINS ITS TURN TO THE NORTHEAST, AS WELL AS SHARP
DIFFERENCES IN TRACK SPEEDS AFTER THE TURN. AS A RESULT, THERE IS LOW
CONFIDENCE IN THE JTWC FORECAST, WHICH WAS PLACED CLOSE TO THE
PREVIOUS JTWC TRACK AND THE ECMWF MODEL SOLUTION. MAXIMUM SIGNIFICANT
WAVE HEIGHT AT 150000Z IS 28 FEET. NEXT WARNINGS AT 150900Z, 151500Z,
152100Z AND 160300Z.
//
NNNN