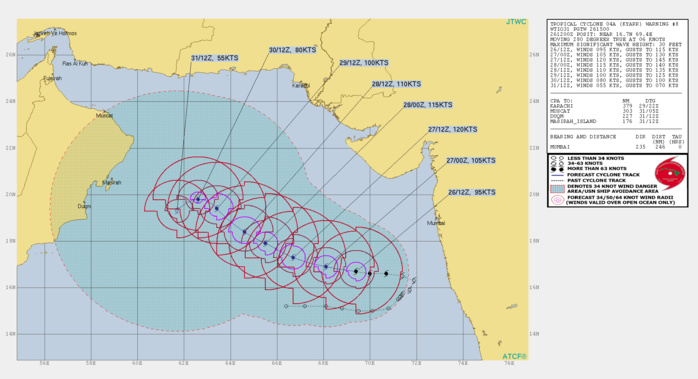 LATEST SATELLITE DATA DO INDICATE TC 04A HAS BEEN INTENSIFYING FASTER THAN ANTICIPATED. CATEGORY 4 US SHOULD BE REACHED VERY SOON
Météo974
NORTH INDIAN
Location: 16.7°N 69.4°E
Maximum Winds: 95 kt ( 175km/h)
Gusts: 115 kt ( 220km/h)
Minimum Central Pressure: 961 mb
CATEGORY US: 2
REMARKS:
261500Z POSITION NEAR 16.7N 69.1E. 26OCT19. TROPICAL CYCLONE (TC)
04A (KYARR), LOCATED APPROXIMATELY 504 NM SOUTH-SOUTHEAST OF
KARACHI, PAKISTAN, HAS TRACKED WESTWARD AT 06 KNOTS OVER THE PAST
SIX HOURS. ANIMATED ENHANCED INFRARED SATELLITE IMAGERY SHOWS
SYMMETRIC DEEP CONVECTION WRAPPING AROUND A RAGGED EYE FEATURE. THE
INITIAL POSITION IS PLACED WITH HIGH CONFIDENCE AND IS BASED ON A
261055Z SSMIS 37GHZ IMAGE, WHICH SHOWS A MICROWAVE EYE. THE INITIAL
INTENSITY OF 95 KNOTS IS HEDGED BETWEEN A PGTW DVORAK ESTIMATE OF
T5.5 (102 KNOTS) AND 260841Z SATCON ESTIMATE OF 90 KNOTS. TC 04A IS
EXPERIENCING FAVORABLE VERTICAL WIND SHEAR (5 TO 10 KNOTS) AND
CONTINUES TO HAVE ROBUST POLEWARD AND EQUATORWARD OUTFLOW CHANNELS.
SEA SURFACE TEMPERATURES REMAIN FAVORABLE FOR ADDITIONAL
DEVELOPMENT, NEAR 28 DEGREES CELSIUS. TC 04A IS TRACKING WEST-
NORTHWESTWARD ALONG THE SOUTHWESTERN PERIPHERY OF A SUBTROPICAL
RIDGE (STR) WHICH IS LOCATED TO THE NORTHEAST. THE AFOREMENTIONED
FAVORABLE ENVIRONMENTAL CONDITIONS WILL ALLOW TC 04A TO CONTINUE TO
INTENSIFY RAPIDLY IN THE SHORT TERM, REACHING 120 KNOTS BY TAU 24.
TC 04A WILL TRACK NORTHWESTWARD THROUGH TAU 72 WHILE UNDER THE
INFLUENCE OF THE STR. A WEAKNESS IN THE RIDGE WILL CAUSE TC 04A TO
DRIFT NORTHWARD NEAR TAU 96. BEYOND TAU 96, A SECOND STR LOCATED TO
THE NORTHWEST WILL BECOME THE PRIMARY STEERING FEATURE AND ALLOW TC
04A TO TRACK SOUTHWESTWARD AS IT WEAKENS IN INTENSITY. DYNAMIC MODEL
GUIDANCE REMAINS IN POOR AGREEMENT. BY TAU 72, THE MODEL SPREAD IS
220NM WITH ECMWF, AND NOW NAVGEM, ON THE WESTERN EDGE OF THE
ENVELOPE. IN PREVIOUS MODEL RUNS NAVGEM WAS ON THE EASTERN EDGE OF
THE ENVELOPE. THE GFS ENSEMBLE AND AFUM ARE NOW ON THE EASTERN EDGE
OF THE ENVELOPE. BY TAU 120, THE MODEL SPREAD IS 590NM. OVERALL
THERE IS LOW CONFIDENCE IN THE JTWC FORECAST TRACK BASED ON THE WIDE
SPREAD IN MODEL GUIDANCE. THE JTWC FORECAST TRACK IS PLACED NEAR THE
MULTI-MODEL CONSENSUS, FAVORING THE ECMWF ENSEMBLE. MAXIMUM
SIGNIFICANT WAVE HEIGHT AT 261200Z IS 30 FEET. NEXT WARNINGS AT
262100Z, 270300Z, 270900Z AND 271500Z.//
NNNN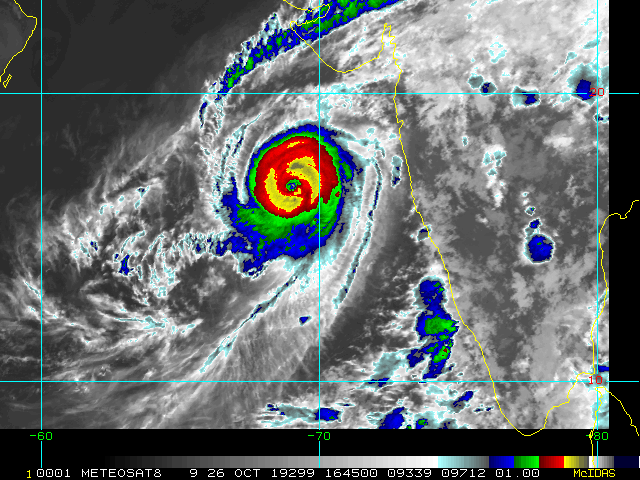 26/1645UTC