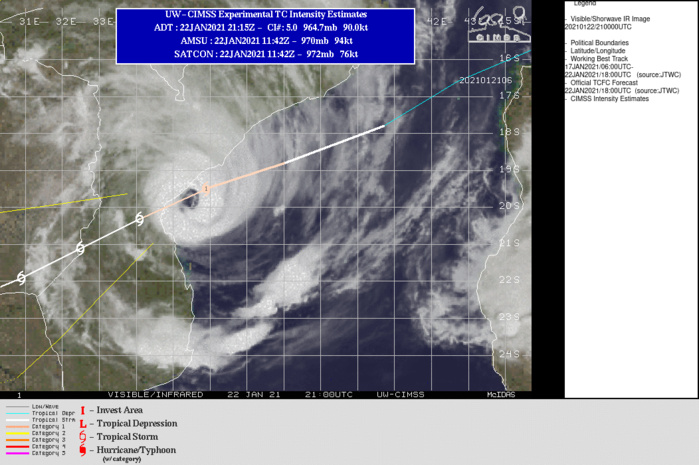 WARNING 12. AT 22/18UTC LOCATED APPRX 115KM EAST NORTHEAST OF BEIRA/MOZAMBIQUE WITH ESTIMATED SUSTAINED WINDS OF 75KNOTS. RECENT TREND INDICATES INTENSIFICATION IS STILL LIKELY WITH PGTW(JTWC) SATELLITE INTENSITY ESTIMATE YIELDING DVORAK OF 5.0/5.0(+0.5/3H) AT 22/2045UTC. THE CYCLONE IS FORECAST TO MAKE LANDFALL LESS THAN 30KM SOUTH OF BEIRA/MOZAMBIQUE WITHIN 6/9HOURS WITH TOP GUSTS POSSIBLY APPROACHING 200KM/H CLOSE TO THE CENTER.
2021 JAN 22 2125UTC
TC #12S #ELOISE
#SOUTHINDIANOCEAN
As of 18:00 UTC Jan 22, 2021:
WARNING 12
Location: 19.5°S 35.9°E
Maximum Winds: 75 kt ( 140km/h)
Gusts: 90 kt ( 170km/h)
Minimum Central Pressure: 979 mb
CATEGORY US: 1
INTENSIFYING
Satellite bulletins are to be found in the comments of this post on
JTWC BIS
Cheers,
Patrick Hoareau
M974World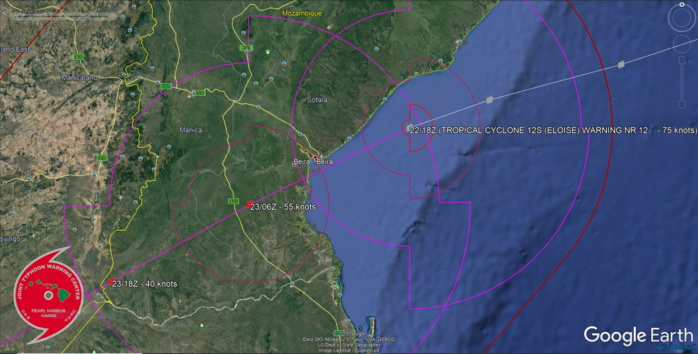 THERE IS HIGH CONFIDENCE IN THE JTWC FORECAST TRACK, ESPECIALLY THE TRACK JUST SOUTH OF BEIRA, MOZAMBIQUE.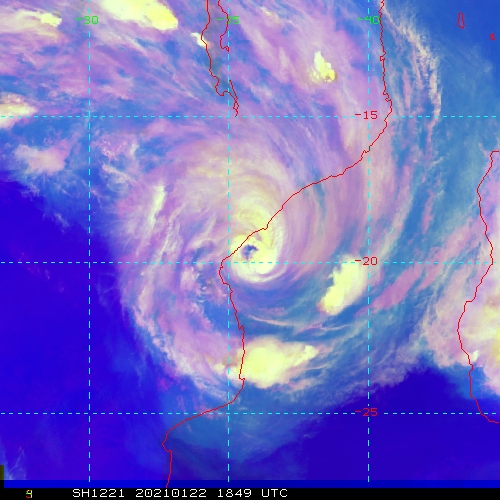 22/1849UTC. THE EYE IS WELL DEPICTED WITH AN IMPROVED SIGNATURE.THE CORE HAS BEEN GETTING BETTER ORGANIZED.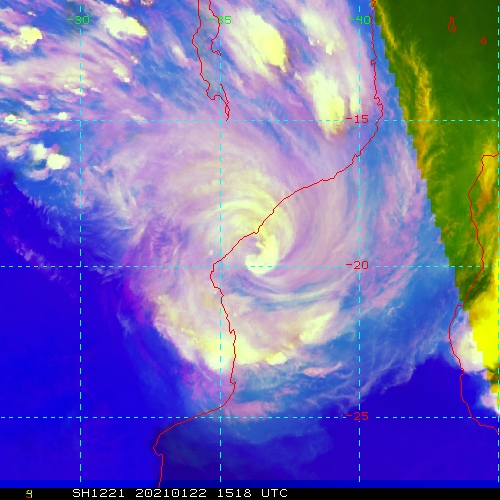 22/1518UTC. THE EYE WAS LESS DEFINED COMPARED TO THE IMAGERY ABOVE 3 HOURS LATER. CORE CONVECTION WAS LESS INTENSE AND LESS TIGHT COMPARED TO THE IMAGERY ABOVE.