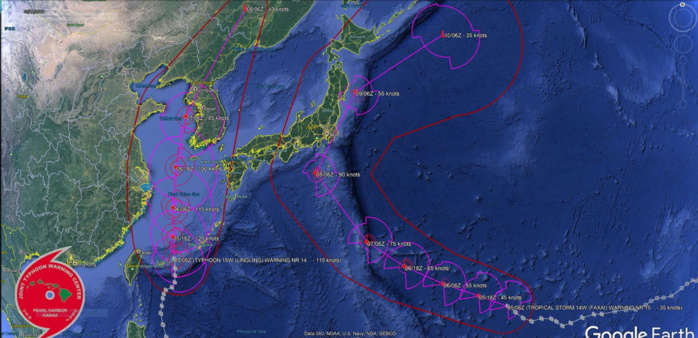 Météo974
WESTERN NORTH PACIFIC
TY LINGLING ( 15W)
Location: 25.0°N 125.3°E
Maximum Winds: 115 kt ( 215km/h)
Gusts: 140 kt ( 260km/h)
Minimum Central Pressure: 934 mb
CATEGORY US: 4
WDPN32 PGTW 050900
MSGID/GENADMIN/JOINT TYPHOON WRNCEN PEARL HARBOR HI//
SUBJ/PROGNOSTIC REASONING FOR TYPHOON 15W (LINGLING) WARNING NR 14//
RMKS/
1. FOR METEOROLOGISTS.
2. 6 HOUR SUMMARY AND ANALYSIS.
TYPHOON (TY) 15W (LINGLING), LOCATED APPROXIMATELY 162 NM WEST-
SOUTHWEST OF KADENA AB, HAS TRACKED NORTHWARD AT 08 KNOTS (KTS) OVER
THE PAST SIX HOURS. ANIMATED MULTISPECTRAL SATELLITE IMAGERY,
SHOWING TIGHTLY CURVED BANDS WRAPPING INTO A VERY WELL-DEFINED 20NM
EYE, SUPPORTED THE INITIAL POSITION WITH HIGH CONFIDENCE. THIS
POSITION IS ALSO CONSISTENT WITH THE CIRCULATION DEPICTED IN A
COMPOSITE RADAR LOOP FROM JMA. ADDITIONALLY, SURFACE OBSERVATIONS AT
MIYAKOJIMA (47927), LOCATED AT 24.8N 125.3E, SHOWS EYE PASSAGE OF THE
SYSTEM OCCURRED AT 0500Z WHEN CENTRAL PRESSURE WAS OBSERVED AT
941MB. THE INITIAL INTENSITY OF 115 KTS IS BASED ON DVORAK INTENSITY
ESTIMATES OF T6.0/115 KTS FROM PGTW AND RJTD. UPPER-LEVEL ANALYSIS
INDICATES A FAVORABLE ENVIRONMENT WITH LOW-TO-MODERATE (10-20KT)
VERTICAL WIND SHEAR (VWS) AND EXCELLENT EQUATORWARD AND POLEWARD
OUTFLOW. SEA SURFACE TEMPERATURE (SST) REMAINS CONDUCIVE AT 28-29
CELSIUS. TY 15W MAINTAINED A NORTHWARD TRACK UNDER THE STEERING
INFLUENCE OF A SUBTROPICAL RIDGE (STR) TO THE EAST.
3. FORECAST REASONING.
A. THERE IS NO CHANGE TO THE FORECAST PHILOSOPHY SINCE THE
PREVIOUS PROGNOSTIC REASONING MESSAGE.
B. TY 15W WILL CONTINUE TRACKING NORTHWARD UNDER THE STR. AFTER
TAU 48, IT WILL TRACK MORE NORTH-NORTHEASTWARD ENTERING INTO THE
YELLOW SEA AS THE STR RECEDES EASTWARD IN RESPONSE TO A MIDLATITUDE
TROUGH APPROACHING FROM THE NORTHWEST. THE OVERALL FAVORABLE
ENVIRONMENT WILL PROMOTE A PERIOD OF CONTINUED INTENSIFICATION TO A
PEAK OF 120 KTS AT TAU 12. AFTER TAU 24, INCREASING VWS AND COOLING
SST WILL START TO WEAKEN THE SYSTEM. AROUND TAU 48, TY 15W WILL
BEGIN EXTRA-TROPICAL TRANSITION PRIOR TO MAKING LANDFALL OVER THE
SOUTH COAST OF NORTH KOREA AROUND TAU 60. WITH LAND INTERACTION OVER
THE RUGGED TERRAIN AND UNFAVORABLE ENVIRONMENTAL CONDITIONS, TY 15W
WILL RAPIDLY DECAY AS IT COMPLETES ETT BY TAU 72. NUMERICAL MODELS
ARE IN TIGHT AGREEMENT WITH HIGH CONFIDENCE UNTIL TAU 48. AFTERWARD,
DUE TO UNCERTAINTY IN TRACK SPEEDS OVER RUGGED TERRAIN, CONFIDENCE
IS FAIR IN THE EXTENDED PORTION OF THE JTWC FORECAST.//
NNNN
-----------------------------------------------------------------------------------------------
TS FAXAI (14W)
Location: 20.1°N 155.2°E
Maximum Winds: 35 kt ( 65km/h)
Gusts : 45kt ( 85km/h)
Minimum Central Pressure: 1000 mb
WDPN31 PGTW 050900
MSGID/GENADMIN/JOINT TYPHOON WRNCEN PEARL HARBOR HI//
SUBJ/PROGNOSTIC REASONING FOR TROPICAL STORM 14W (FAXAI) WARNING NR
15//
RMKS/
1. FOR METEOROLOGISTS.
2. 6 HOUR SUMMARY AND ANALYSIS.
TROPICAL STORM (TS) 14W (FAXAI), LOCATED APPROXIMATELY 820 NM
EAST-SOUTHEAST OF IWO TO, HAS TRACKED NORTHWESTWARD AT 10 KNOTS
(KTS) OVER THE PAST SIX HOURS. ANIMATED MULTISPECTRAL IMAGERY (AMSI)
SHOWS THE LOW-LEVEL CIRCULATION (LLC) HAS MOVED BENEATH DEEP
CONVECTION. THE INITIAL POSITION IS PLACED WITH FAIR CONFIDENCE
BASED ON RAIN BANDS WRAPPING UNDER THE SYSTEM IN THE AMSI. THE
INITIAL INTENSITY OF 35 KTS IS BASED ON THE DVORAK ESTIMATE OF
T2.5/35KTS FROM PGTW. UPPER-LEVEL ANALYSIS MAINTAINS A TUTT CELL TO
THE NORTHWEST AND TROUGHING TO THE SOUTH OF TS 14W. THESE FEATURES
ARE CAUSING STRONG SUBSIDENCE ALONG THE WESTERN PERIPHERY OF THE
CYCLONE, WHICH CONSEQUENTLY IS RESTRICTING WESTWARD OUTFLOW AND
INHIBITING VERTICAL DEVELOPMENT. HOWEVER, MODERATE SOUTHEASTWARD
OUTFLOW INTO ANOTHER TUTT CELL LOCATED TO THE EAST PROVIDES
VENTILATION FOR THE SYSTEM. TS 14W REMAINS IN AN AREA OF FAVORABLE
(5-15 KTS) VERTICAL WIND SHEAR (VWS) AND WARM (30 CELSIUS) SEA
SURFACE TEMPERATURE (SST). A SUBTROPICAL RIDGE (STR) CONTINUES TO
STEER TS 14W TO THE NORTH.
3. FORECAST REASONING.
A. THERE IS NO CHANGE TO THE FORECAST PHILOSOPHY SINCE THE
PREVIOUS PROGNOSTIC REASONING MESSAGE.
B. TS 14W WILL CONTINUE ON ITS CURRENT TRACK, STEERED BY THE STR.
AFTER TAU 48, THE TRACK WILL TURN MORE NORTHWESTWARD AS IT BEGINS TO
ROUND THE STR AXIS. AROUND TAU 72, TS 14W WILL CREST THE STR AXIS
NORTH OF IWO TO. THE FAVORABLE ENVIRONMENT WILL ALLOW
INTENSIFICATION TO PEAK AT 90 KTS BY TAU 72 WHILE POLEWARD OUTFLOW
INCREASES AS THE SYSTEM MOVES AWAY FROM THE INFLUENCE OF THE TUTT
CELL AND TOWARD THE PREVAILING WESTERLIES. NUMERICAL MODELS ARE IN
TIGHT AGREEMENT, LENDING HIGH CONFIDENCE IN THIS PORTION OF THE JTWC
FORECAST TRACK.
C. BEYOND TAU 72, TS 14W WILL TRACK NORTHWARD TOWARD JAPAN ON THE
POLEWARD SIDE OF THE STR AXIS, MAKING LANDFALL AROUND TAU 84 OVER
HONSHU SOUTHWEST OF TOKYO. UPON LANDFALL, THE SYSTEM WILL BEGIN TO
ERODE AS VWS VALUES INCREASE AND LAND INTERACTION DECREASES
INTENSITY TO 55 KTS BY TAU 96. AFTER TAU 96, TS 14W WILL BEGIN EXTRA-
TROPICAL TRANSITION (ETT) AS IT ACCELERATES NORTHEASTWARD ACROSS THE
KANTO PLAIN, EXITING BACK OVER THE PACIFIC OCEAN BEFORE COMPLETING
ETT. THERE IS FAIR CONFIDENCE IN THE EXTENDED PORTION OF THE JTWC
TRACK FORECAST DUE TO UNCERTAINTY IN THE TIMING OF THE RECURVE AND
TRACK SPEED OVER LAND.//
NNNN
---------------------------------------------------------------------------------------------
Remnants of TD KAJIKI(16W)
Location: 18.2°N 111.4°E
Maximum Winds: 15 kt
Minimum Central Pressure: 1010 mb