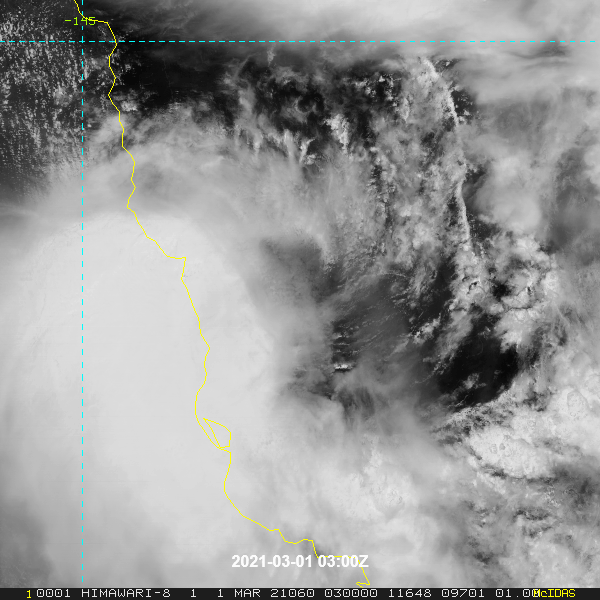 23P. 01/0310UTC. ANIMATED MULTISPECTRAL SATELLITE IMAGERY DEPICTS A PARTIALLY-EXPOSED, WELL- DEFINED LOW-LEVEL CIRCULATION CENTER (LLCC) POSITIONED ALONG THE EASTERN EDGE OF A LARGE CLUSTER OF PERSISTENT DEEP CONVECTION. DESPITE MODERATE TO STRONG (20-25 KNOT) NORTHEASTERLY VERTICAL WIND SHEAR, THERE IS GOOD EVIDENCE THAT THE SYSTEM HAS CONSOLIDATED OVER THE PAST TWELVE HOURS: FIRST, A 282030Z MHS 89GHZ MICROWAVE IMAGE REVEALS MULTIPLE SHALLOW BANDS WRAPPING TIGHTLY INTO A DEFINED LLCC; SECOND, SURFACE OBSERVATIONS FROM LUCINDA AND HOLMES REEF INDICATE PEAK SUSTAINED WINDS OF 35-40 KNOTS (1-MINUTE AVERAGE); THIRD, FLINDER'S REEF REPORTED MINIMUM SLP OF 996MB, WHICH CORRESPONDS TO A 35 KNOT SYSTEM, WITH A SIGNIFICANT 4-5MB 24-HOUR SLP DECREASE.
2021 MAR 01 0330UTC
#SOUTHERNHEMISPHERE
TC #23P
#
SOUTHPACIFICOCEAN #CORALSEA
WARNING 1
As of 00:00 UTC Mar 01, 2021:
Location: 17.2°S 147.2°E
Maximum Winds: 35 kt ( 65km/h)
Gusts: 45 kt ( 85km/h)
Minimum Central Pressure: 996mb
LOCATED AT 01/00UTC APPROXIMATELY 150 KM EAST-SOUTHEAST OF CAIRNS, AUSTRALIA, HAS
TRACKED WESTWARD AT 09 KM/H OVER THE PAST SIX HOURS.
Satellite bulletins are to be found in the comments of this post on
JTWC BIS
Cheers,
Patrick Hoareau
Météo974
M974World
Cyclone Class 4
Cheers,PH.
Joint Typhoon Warning Center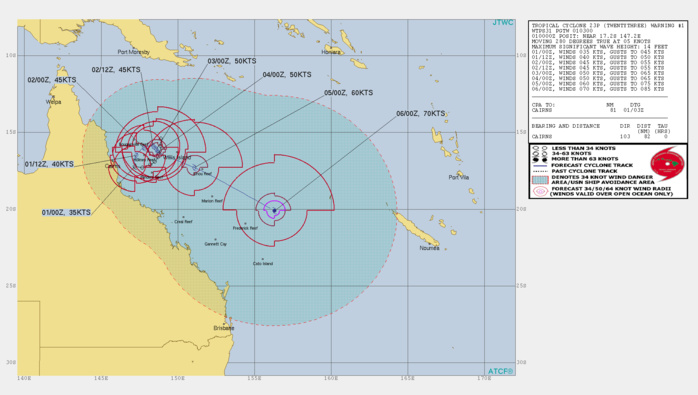 23P. WARNING 1 ISSUED AT 01/03UTC.ENVIRONMENTAL ANALYSIS DEPICTS A MARGINAL ENVIRONMENT WITH THE MODERATE TO STRONG WIND SHEAR OFFSET BY ROBUST POLEWARD OUTFLOW AND WARM SST VALUES (30C). THE CURRENT STEERING ENVIRONMENT IS VERY COMPLEX WITH A STRONG SUBTROPICAL RIDGE (STR) OVER EASTERN AUSTRALIA AND ANOTHER STR EAST AND SOUTH OF THE SYSTEM. ADDITIONALLY, A STRONG NEAR-EQUATORIAL RIDGE IS ENTRENCHED NORTH OF THE SYSTEM. CONSEQUENTLY, TC 23P IS BOXED IN AND THE TRACK MOTION IS EXPECTED TO BE SLOW, LIMITED AND ERRATIC THROUGH 72H DUE TO A COMBINATION OF THESE STEERING INFLUENCES. THE JTWC FORECAST TRACK INDICATES A CLOCKWISE LOOP WHICH IS IN LINE WITH THE BULK OF THE NUMERICAL MODEL GUIDANCE THROUGH 72H. THERE IS OBVIOUSLY HIGH UNCERTAINTY (LOW CONFIDENCE) IN THE TRACK DUE TO THE AFOREMENTIONED COMPLEX STEERING ENVIRONMENT. WIND SHEAR WILL DECREASE THUS THE SYSTEM IS FORECAST TO GRADUALLY INTENSIFY 72H. AFTER 72H, A MAJOR MIDLATITUDE TROUGH IS FORECAST TO DEEPEN TO THE SOUTH, WHICH WILL ERODE THE STR AND ALLOW THE SYSTEM TO ACCELERATE EAST-SOUTHEASTWARD ALONG THE SOUTHERN PERIPHERY OF THE NEAR-EQUATORIAL RIDGE THROUGH THE REMAINDER OF THE PERIOD. THIS TROUGH WILL ALSO IMPROVE POLEWARD VENTING WHICH WILL LEAD TO A SHARPER INTENSIFICATION RATE WITH A PEAK INTENSITY OF 70 KNOTS/US CATEGORY 1 ANTICIPATED BY 120H.