https://www.meteo974.re/M974World_r7.html
https://www.facebook.com/groups/1817419381676514/
NORTH INDIAN: Arabian Sea
Location: 18.4°N 70.0°E
Maximum Winds: 90 kt ( 170km/h)
Gusts: 110 kt ( 205km/h)
Minimum Central Pressure: 961 mb
REMARKS:
120900Z POSITION NEAR 18.7N 70.0E.
TROPICAL CYCLONE (TC) 02A (VAYU), LOCATED APPROXIMATELY 419 NM SOUTH-
SOUTHEAST OF KARACHI, PAKISTAN, HAS TRACKED NORTH-NORTHWESTWARD
AT 08 KNOTS OVER THE PAST SIX HOURS. ANIMATED MULTISPECTRAL
SATELLITE IMAGERY DEPICTS TIGHTLY-CURVED BANDING WRAPPING INTO A
RAGGED, SMALL EYE, WHICH SUPPORTS THE INITIAL POSITION WITH GOOD
CONFIDENCE. A 120501Z MHS 89GHZ COLOR COMPOSITE MICROWAVE IMAGE
REVEALS DEEP CONVECTIVE BANDING OVER THE WESTERN SEMICIRCLE WRAPPING
INTO A COMPACT CORE WITH A MICROWAVE EYE FEATURE. THE INITIAL
INTENSITY IS ASSESSED AT 90 KNOTS BASED ON DVORAK INTENSITY
ESTIMATES OF T5.0 (90 KNOTS) FROM PGTW AND KNES. ENVIRONMENTAL
CONDITIONS REMAIN FAVORABLE WITH LOW TO MODERATE (15 TO 20 KNOTS)
VERTICAL WIND SHEAR, EXCELLENT EQUATORWARD OUTFLOW AND WARM SST (30-
31C). TC 02A IS FORECAST TO TRACK NORTHWARD TO NORTH-NORTHWESTWARD
THROUGH TAU 36 ALONG THE WESTERN PERIPHERY OF A DEEP-LAYERED
SUBTROPICAL RIDGE (STR) POSITIONED OVER INDIA. AFTER TAU 36, THE
SYSTEM IS FORECAST TO SLOW SIGNIFICANTLY AS IT TRACKS NORTHWESTWARD
INTO A WEAKER STEERING ENVIRONMENT BETWEEN THE AFOREMENTIONED STR
AND A BUILDING STR OVER THE ARABIAN PENINSULA. THE BULK OF THE
NUMERICAL GUIDANCE SUPPORTS THE STALL SCENARIO JUST OFFSHORE OF
NORTHWEST INDIA, HOWEVER, NVGM REMAINS THE PRIMARY OUTLIER WITH AN
UNREALISTIC WESTWARD TRACK TOWARD OMAN INTO THE STRONG LOW-LEVEL
SOUTHWESTERLY SURGE FLOW. THE 11/12Z ECMWF ENSEMBLE GUIDANCE
INDICATES A VERY LOW PROBABILITY OF THE SYSTEM TRACKING WESTWARD AS
NAVGEM INDICATES WITH A HIGH PROBABILITY OF IT STALLING OVER
NORTHWEST INDIA OR JUST OFFSHORE AND DISSIPATING. TC 02A IS FORECAST
TO INTENSIFY SLIGHTLY BY TAU 12 UNDER FAVORABLE CONDITIONS WITH A
PEAK INTENSITY OF 95 KNOTS. AFTER TAU 24, THE SYSTEM WILL STEADILY
WEAKEN DUE TO INCREASING FRICTIONAL EFFECTS, CONVERGENCE ALOFT AND
POSSIBLY DRY AIR ENTRAINMENT WITH DISSIPATION EXPECTED BY TAU 120.
MAXIMUM SIGNIFICANT WAVE HEIGHT AT 120600Z IS 28 FEET. NEXT WARNINGS
AT 121500Z, 122100Z, 130300Z AND 130900Z.//
NNNN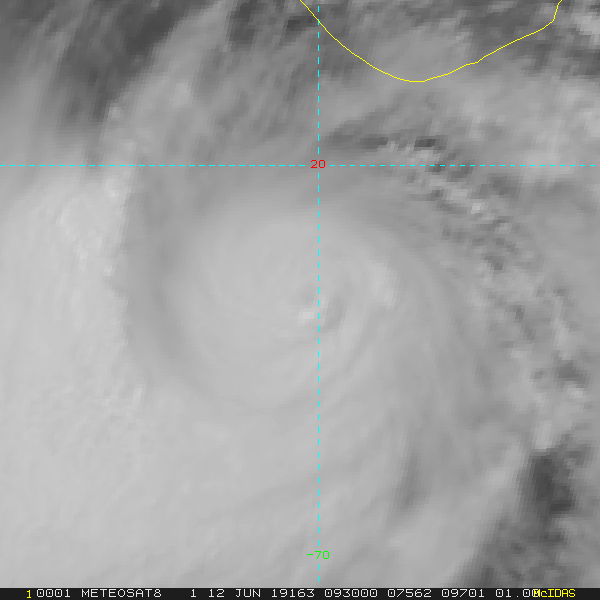 0930UTC: SMALL CLOUD-FILLED EYE