WESTERN NORTH PACIFIC/SOUTH CHINA SEA: TS 28W(RAI). WARNING 32/FINAL ISSUED AT 20/21UTC.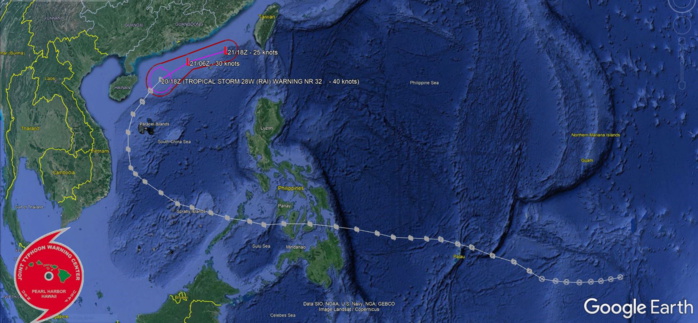 TROPICAL STORM 28W (RAI), LOCATED APPROXIMATELY 300 KM SOUTH-SOUTHWEST OF HONG KONG, HAS TRACKED NORTHEASTWARD AT 20 KM/H OVER THE PAST SIX HOURS. THE CIRCULATION HAS LOST ALL CONVECTION AS IT TRANSLATES OVER COOLER SEA SURFACE TEMPERATURES OF 23-24 DEGREES CELSIUS. THE SYSTEM IS THUS EXPECTED TO IMMINENTLY BECOME SUBTROPICAL AS THE CIRCULATION GRADUALLY SPINS DOWN OVER THE NEXT 12-24 HOURS. THIS IS THE FINAL WARNING ON THIS SYSTEM BY THE JOINT TYPHOON WRNCEN PEARL HARBOR HI.
STY 28W(RAI) REACHED 140KNOTS/CAT 5 TWICE. IT SET A NEW INTENSITY RECORD OVER THE SOUTH CHINA SEA. NB THE 2ND INTENSITY PEAK OVER THE SOUTH CHINA SEA IS NOW ESTIMATED AT 140KNOTS(145KNOTS IN REAL-TIME).
NORTH INDIAN OCEAN/BAY OF BENGAL: INVEST 94B. UP-GRADED TO MEDIUM AT 20/18UTC. ADVISORY(ABIO) ISSUED AT 20/18UTC.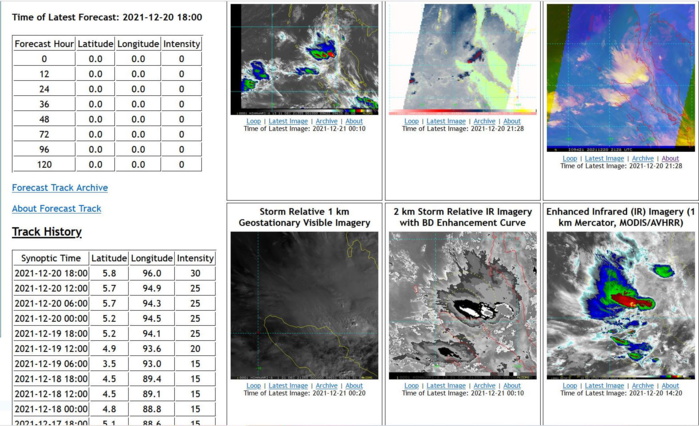 AN AREA OF CONVECTION (INVEST 94B) PREVIOUSLY LOCATED NEAR 4.8N 93.7E, IS NOW LOCATED NEAR 6.0N 96.0E, APPROXIMATELY 335 KM SOUTHWEST OF PHUKET, THAILAND. ANIMATED ENHANCED INFRARED SATELLITE IMAGERY (EIR) DEPICTS FLARING CONVECTION OVER A LOW LEVEL CIRCULATION (LLC). ENVIRONMENTAL ANALYSIS DEPICTS GENERALLY FAVORABLE CONDITIONS FOR DEVELOPMENT WITH ROBUST POLEWARD OUTFLOW, LOW (15 KTS) VERTICAL WIND SHEAR (VWS), AND WARM (28-29C) SEA SURFACE TEMPERATURES. HOWEVER, GLOBAL MODELS ARE IN AGREEMENT THAT 94B WILL TRACK EAST-NORTHEAST WHILE REMAINING BELOW WARNING CRITERIA AS IT INTERACTS WITH THE MOUNTAINS OF SUMATRA. MAXIMUM SUSTAINED SURFACE WINDS ARE ESTIMATED AT 25 TO 30 KNOTS. MINIMUM SEA LEVEL PRESSURE IS ESTIMATED TO BE NEAR 1007 MB. THE POTENTIAL FOR THE DEVELOPMENT OF A SIGNIFICANT TROPICAL CYCLONE WITHIN THE NEXT 24 HOURS IS UPGRADED TO MEDIUM.
WESTERN NORTH PACIFIC: INVEST 98W. THIS SYSTEM IS STILL VERY WEAK AT THE MOMENT AND IS NOT OVER THE JTWC MAP YET. KEEPING TABS ON IT.