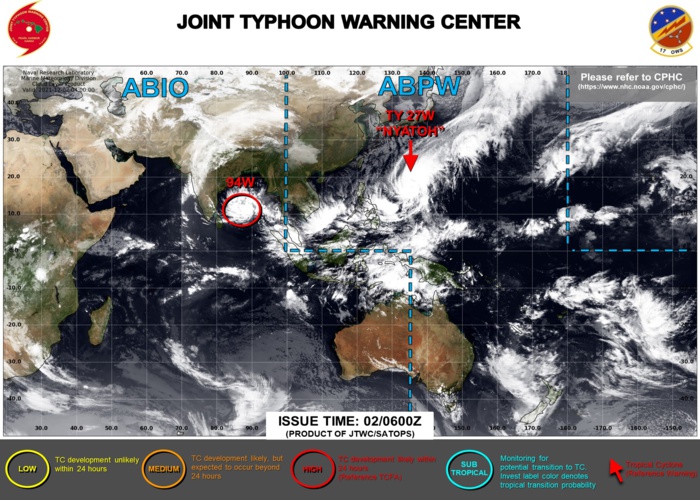 JTWC IS ISSUING 6HOURLY WARNINGS ON TY 27W(NYATOH). WARNING 2/FINAL WAS ISSUED ON TC 02S(TERATAI) AT 01/21UTC. 3HOURLY SATELLITE BULLETINS ARE ISSUED ON 27W,02S AND 94W.
WESTERN NORTH PACIFIC: TY 27W(NYATOH). WARNING 13 ISSUED AT 02/15UTC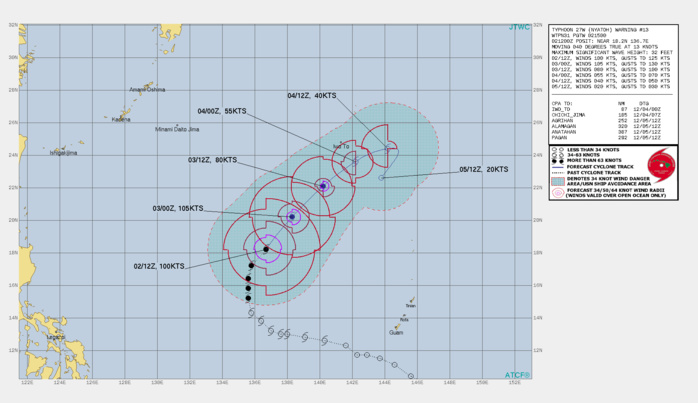 FORECAST REASONING. SIGNIFICANT FORECAST CHANGES: THERE ARE NO SIGNIFICANT CHANGES TO THE FORECAST FROM THE PREVIOUS WARNING. FORECAST DISCUSSION: TY 27W HAS MAINTAINED A RAGGED, PARTIALLY CLOUD-FILLED EYE WHILE RAPIDLY INTENSIFYING WITH A SIGNIFICANT JUMP IN DVORAK ESTIMATES OVER THE PAST SIX HOURS. DESPITE INCREASING, HIGH VERTICAL WIND SHEAR(VWS), TY 27W SHOULD BE ABLE TO INTENSIFY TO A PEAK OF 105 KNOTS OR HIGHER WITHIN THE NEXT 06-12 HOURS. AFTER 12H, THE SYSTEM WILL BEGIN INTERACTING WITH THE WESTERLIES ON THE SOUTHEASTERN PERIPHERY OF A DEEP MAJOR SHORTWAVE TROUGH WITH VWS VALUES INCREASING TO 30-40 KNOTS AND SIGNIFICANT DRY AIR ENTRAINMENT, WHICH WILL LEAD TO A FAIRLY RAPID WEAKENING TREND FROM 24H TO 72H. THE SYSTEM SHOULD CONTINUE TO TRACK NORTHEASTWARD THROUGH 48H BUT WILL STALL AND TURN SHARPLY EQUATORWARD UNDER THE LOW-LEVEL NORTHEASTERLIES BY 72H. TY 27W WILL DISSIPATE BY 72H DUE TO VERY STRONG VWS EXCEEDING 50 KNOTS AND SIGNIFICANT DRY AIR ENTRAINMENT.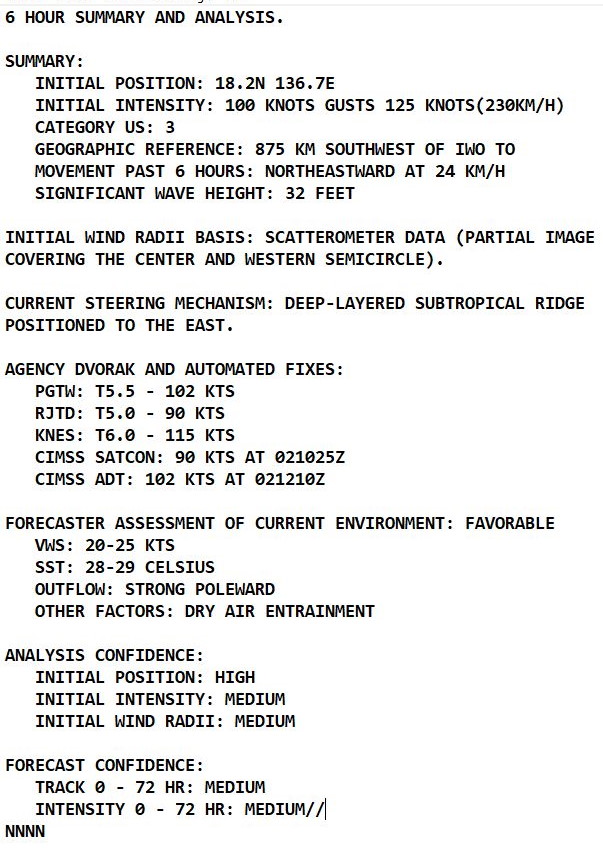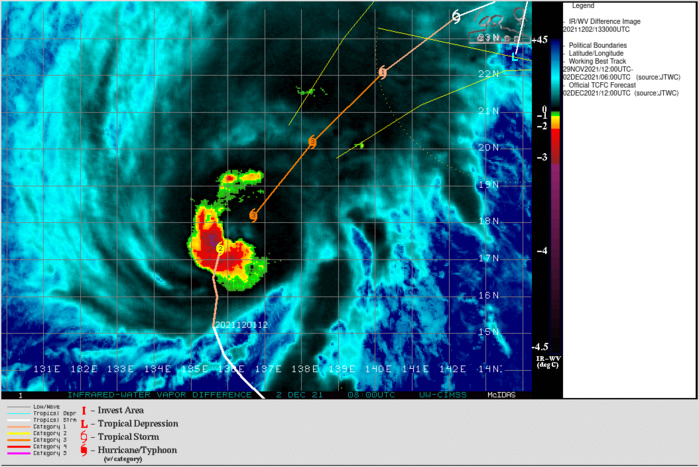 SATELLITE ANALYSIS, INITIAL POSITION AND INTENSITY DISCUSSION: TY 27W HAS RAPIDLY INTENSIFIED 35 KNOTS OVER THE PAST 24 HOURS FROM 65 KNOTS TO THE INITIAL INTENSITY OF 100 KNOTS. ANIMATED ENHANCED INFRARED SATELLITE IMAGERY (EIR) CONTINUES TO INDICATE RAPID CONSOLIDATION WITH A PARTIALLY CLOUD-FILLED, RAGGED EYE EVIDENT WITH INTENSE CORE CONVECTION. A 021242Z METOP-B MHS 89GHZ MICROWAVE IMAGE INDICATES A 65-75KM DIAMETER MICROWAVE EYE FEATURE, WHICH SUPPORTS THE INITIAL POSITION WITH HIGH CONFIDENCE. THE COINCIDENT 021240Z EIR IMAGE INDICATES THE PARTIAL EYE FEATURE IS ROTATING CYCLONICALLY WITHIN THIS LARGER EYE. DVORAK INTENSITY ESTIMATES HAVE JUMPED AS HIGH AS T6.0 (115 KNOTS) WITH DATA-T ESTIMATES UP TO 6.5 (127 KNOTS). ADT ESTIMATES AT 021210Z WERE AT 5.5 (102 KNOTS) SUPPORTING THE INITIAL INTENSITY ASSESSMENT OF 100 KNOTS BUT HAVE INCREASED QUICKLY TO 6.1 (117 KNOTS) AT 021340Z. BASED ON THE RAPID INTENSIFICATION AND INCREASE IN DVORAK ESTIMATES AND ADT ESTIMATES, THERE IS MEDIUM CONFIDENCE IN THE INITIAL INTENSITY ESTIMATE. UPPER-LEVEL OUTFLOW REMAINS ROBUST WITH A STRONG POLEWARD OUTFLOW CHANNEL. HOWEVER, VERTICAL WIND SHEAR (VWS) VALUES HAVE INCREASED TO 20-25 KNOTS WITH SIGNIFICANT DRY AIR PRESENT OVER THE WESTERN SEMICIRCLE.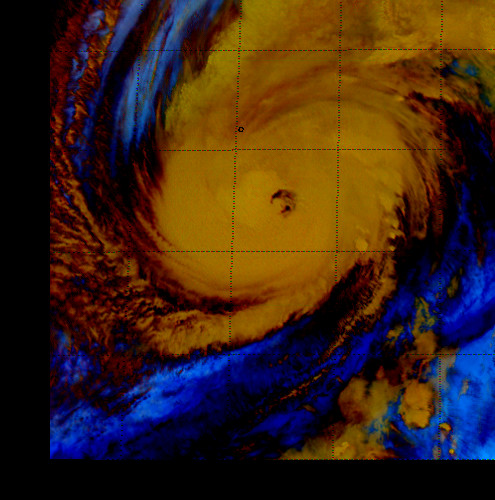 02/1417UTC.
02/09UTC. MICROWAVE EYE. INTENSE CORE.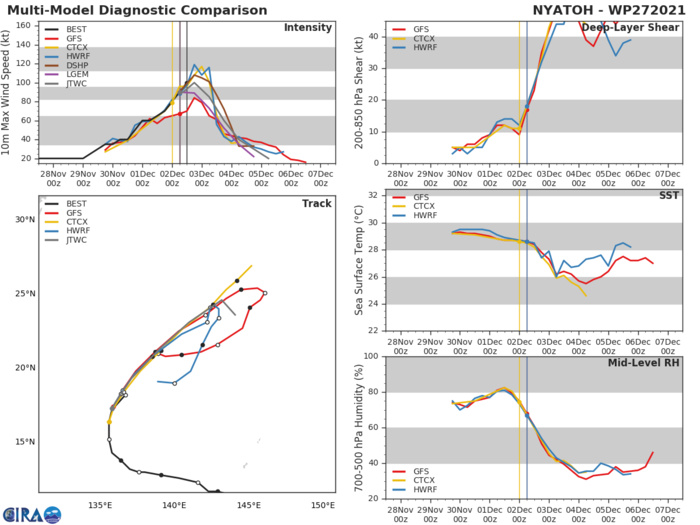 MODEL DISCUSSION: NUMERICAL MODEL GUIDANCE IS IN GOOD AGREEMENT THROUGH 48H THEN DIVERGES WITH THE BULK OF THE MODELS INDICATING A SHARP EQUATORWARD TRACK CHANGE. HOWEVER, THERE ARE SIGNIFICANT DIFFERENCES IN THE STALL POINT AND TIMING OF THE SOUTHWARD TURN. THE BULK OF THE ECMWF (EPS) AND GFS (GEFS) ENSEMBLE SOLUTIONS SUPPORT THE JTWC FORECAST TRACK SCENARIO, HOWEVER, DUE TO THE UNCERTAINTY IN THE EXACT TIMING OF THE TURN THERE IS MEDIUM CONFIDENCE.
HWRF AT 02/06UTC. 119KNOTS AT +12H
TY 27W(NYATOH) IS NOW A POWERFUL TYPHOON BUT THANKFULLY FAR TO THE NORTHEAST OF THE PHILIPPINES.
NORTH INDIAN OCEAN/BAY OF BENGAL: INVEST 94W. UP-GRADED TO HIGH(TROPICAL CYCLONE FORMATION ALERT) AT 02/0230UTC.
SOUTHERN HEMISPHERE/SOUTH INDIAN: REMNANTS OF TC 02S(TERATAI).