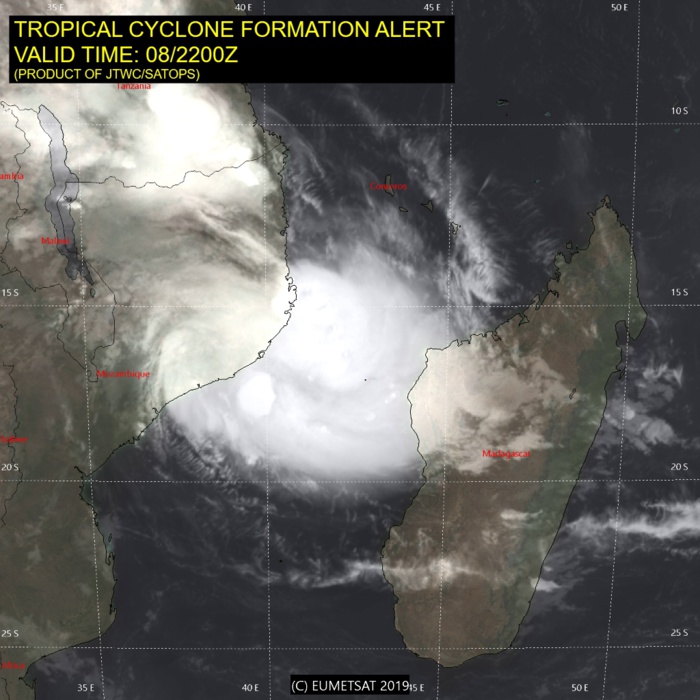 Location: 16.3°S 37.6°E
Maximum Winds: 20 kt
Minimum Central Pressure: 1005 mb
WTXS21 PGTW 082200
MSGID/GENADMIN/JOINT TYPHOON WRNCEN PEARL HARBOR HI//
SUBJ/TROPICAL CYCLONE FORMATION ALERT(INVEST 98S)//
RMKS/
1. FORMATION OF A SIGNIFICANT TROPICAL CYCLONE IS POSSIBLE WITHIN
185 NM EITHER SIDE OF A LINE FROM 16.2S 37.5E TO 20.1S 42.6E
WITHIN THE NEXT 12 TO 24 HOURS. AVAILABLE DATA DOES NOT JUSTIFY
ISSUANCE OF NUMBERED TROPICAL CYCLONE WARNINGS AT THIS TIME.
WINDS IN THE AREA ARE ESTIMATED TO BE 28 TO 33 KNOTS. METSAT
IMAGERY AT 081800Z INDICATES THAT A CIRCULATION CENTER IS LOCATED
NEAR 16.3S 37.6E. THE SYSTEM IS MOVING EAST-SOUTHEASTWARD AT 15
KNOTS.
2. REMARKS: THE AREA OF CONVECTION (INVEST 98S) PREVIOUSLY LOCATED
NEAR 15.6S 36.2E, IS NOW LOCATED NEAR 16.3S 37.6E, APPROXIMATELY
287 NM NORTHWEST OF EUROPA ISLAND. ANIMATED ENHANCED INFRARED
SATELLITE IMAGERY AND A 081908Z MHS METOP-B 89GHZ MICROWAVE
IMAGE SHOW A CONSOLIDATING LOW LEVEL CIRCULATION CENTER (LLCC)
WITH CURVED DEEP CONVECTIVE BANDING. UPPER LEVEL ANALYSIS
DEPICTS FAVORABLE (05-15 KNOT) VERTICAL WIND SHEAR, WITH NEAR
RADIAL OUTFLOW ALOFT. SEA SURFACE TEMPERATURES ARE WARM
(30 TO 31 CELSIUS) AND SUPPORT FUTURE DEVELOPMENT IN THE SURROUNDING
WATER. DYNAMIC MODELS ARE IN GENERAL AGREEMENT THAT 98S WILL TRACK
BACK OVER THE MOZAMBIQUE CHANNEL IN THE NEXT 18-36 HOURS AND
INTENSIFY RAPIDLY TO TROPICAL CYCLONE STRENGTH. MAXIMUM SUSTAINED
SURFACE WINDS ARE ESTIMATED AT 28 TO 33 KNOTS. MINIMUM SEA LEVEL
PRESSURE IS ESTIMATED TO BE NEAR 998 MB. THE POTENTIAL FOR THE
DEVELOPMENT OF A SIGNIFICANT TROPICAL CYCLONE WITHIN THE NEXT 24
HOURS IS HIGH.
3. THIS ALERT WILL BE REISSUED, UPGRADED TO WARNING OR CANCELLED BY
092200Z.
//
NNNN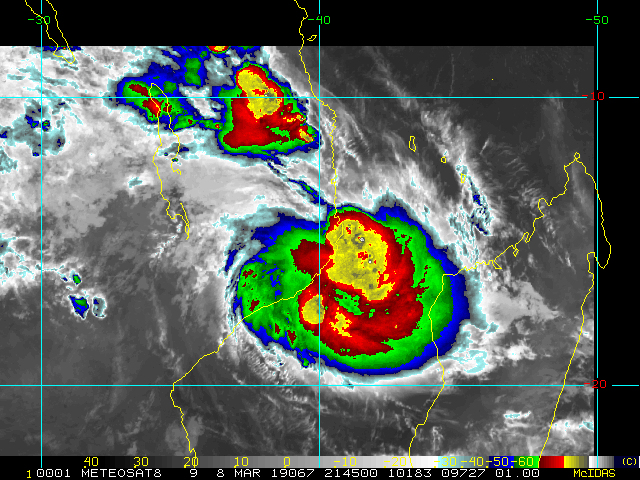 2145UTC