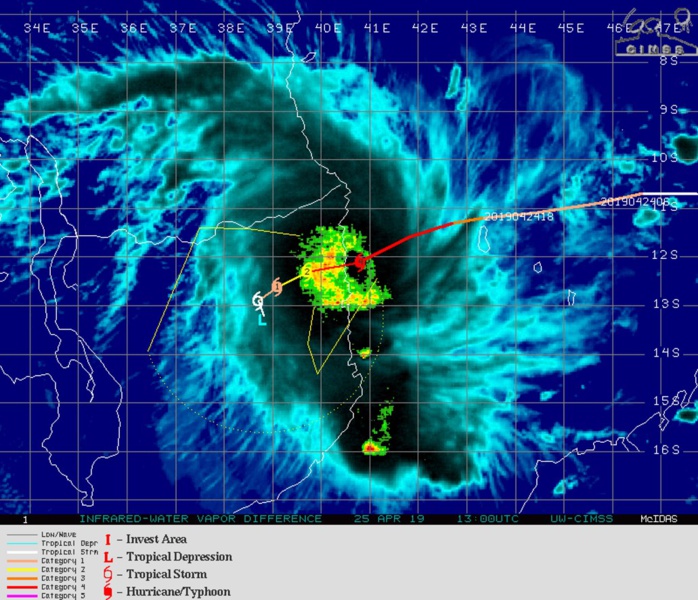 WARNING 11/JTWC
https://www.meteo974.re/M974World_r7.html
https://www.meteo974.re/
Location: 12.1°S 40.8°E
Maximum Winds: 120 kt ( 220km/h)
Gusts: 145 kt ( 270km/h)
Minimum Central Pressure: 942 mb
CATEGORY 4 US
REMARKS:
251500Z POSITION NEAR 12.1S 40.5E.
TROPICAL CYCLONE (TC) 24S (KENNETH), LOCATED APPROXIMATELY 150 NM
WEST OF COMOROS, HAS TRACKED WEST-SOUTHWESTWARD AT 11 KNOTS OVER THE
PAST SIX HOURS. ANIMATED ENHANCED INFRARED SATELLITE IMAGERY DEPICTS
A SLIGHT WEAKENING OF DEEP CONVECTION AS THE SYSTEM BEGINS TO MAKE
LANDFALL OVER NORTHEAST MOZAMBIQUE, HOWEVER, THE SYSTEM HAS RETAINED
A 12NM EYE, WHICH SUPPORTS THE CURRENT POSITION WITH EXCELLENT
CONFIDENCE. A 251030Z AMSR2 89GHZ IMAGE DEPICTS TIGHTLY-CURVED
BANDING WRAPPING INTO A COMPACT CORE SURROUNDING A SMALL MICROWAVE
EYE FEATURE. THE CURRENT INTENSITY IS ASSESSED AT 120 KNOTS BASED ON
DVORAK INTENSITY ESTIMATES OF 5.5/6.5 (102/127 KNOTS) FROM PGTW AND
KNES, AND A 6.0/6.5 (115/127 KNOTS) FROM FMEE. UPPER-LEVEL ANALYSIS
INDICATES A FAVORABLE ENVIRONMENT WITH LOW TO MODERATE VERTICAL WIND
SHEAR AND RADIAL OUTFLOW ENHANCED BY STRONG WESTERLIES TO THE SOUTH.
TC 24S IS FORECAST TO TRACK WEST-SOUTHWESTWARD ALONG THE NORTHERN
PERIPHERY OF THE SUBTROPICAL RIDGE (STR) THROUGH TAU 24. AFTER TAU
24, THE STR IS FORECAST TO ERODE AS A SHORTWAVE TROUGH DEEPENS TO
THE SOUTH, WHICH WILL RESULT IN A SLOW SOUTHWESTWARD TO SOUTHWARD
DRIFT WITH RAPID WEAKENING. THERE IS A SLIGHT POSSIBILITY THAT THE
SYSTEM MAY TRACK BACK OVER WATER AFTER TAU 72, HOWEVER, THE SYSTEM
IS EXPECTED TO WEAKEN SIGNIFICANTLY BY THAT TIME. OVERALL, THERE IS
LOW CONFIDENCE IN THE JTWC FORECAST TRACK DUE TO THE WEAK STEERING
ENVIRONMENT AND POTENTIAL FOR QUASI-STATIONARY MOTION AFTER TAU 24
AS REFLECTED IN THE LARGE SPREAD OF DYNAMIC MODEL GUIDANCE AFTER TAU
24. MAXIMUM SIGNIFICANT WAVE HEIGHT AT 251200Z IS 40 FEET. NEXT
WARNINGS AT 252100Z, 260300Z, 260900Z AND 261500Z. REFER TO TROPICAL
CYCLONE 25S (LORNA) WARNINGS (WTXS32 PGTW) FOR SIX-HOURLY UPDATES.//
NNNN