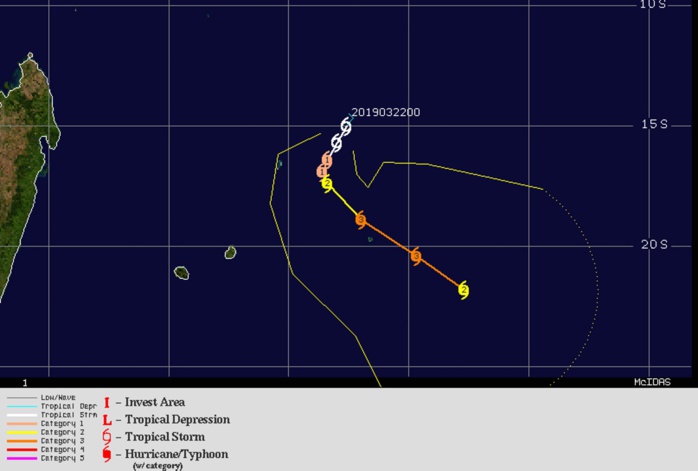 WARNING 3/JTWC
https://www.facebook.com/groups/1817419381676514/
Location: 15.0°S 62.4°E
Maximum Winds: 40 kt (75km/h)
Gusts: 50 kt ( 95km/h)
Minimum Central Pressure: 993 mb
REMARKS:
221500Z POSITION NEAR 15.2S 62.3E.
TROPICAL CYCLONE 22S (JOANINHA), LOCATED APPROXIMATELY 760 NM
SOUTHWEST OF DIEGO GARCIA, HAS TRACKED SOUTHWESTWARD AT 04 KNOTS
OVER THE PAST SIX HOURS. ANIMATED MULTISPECTRAL SATELLITE IMAGERY
(MSI) DEPICTS CONVECTIVE BANDING WRAPPING INTO A CONSOLIDATING LOW
LEVEL CIRCULATION CENTER (LLCC) WHICH IS NOW OBSCURED BY A GROWING
CENTRAL DENSE OVERCAST (CDO). THE INITIAL POSITION IS BASED WITH
FAIR CONFIDENCE ON THE MSI IMAGERY. THE INITIAL INTENSITY OF 40
KNOTS IS BASED ON THE BURGEONING CDO FEATURE, AND IS ABOVE THE KNES
AND PGTW DVORAK CURRENT INTENSITY ESTIMATES OF T2.5 (35 KTS). TC
22S HAS TRACKED SLOWLY SOUTHWESTWARD, CAUGHT BETWEEN THE COMPETING
STEERING INFLUENCES OF A NEAR-EQUATORIAL RIDGE TO THE NORTHEAST AND
MID-LEVEL RIDGING TO THE SOUTHEAST. IN THE NEAR TERM, TC 22S IS
FORECAST TO MOVE SLOWLY SOUTHWESTWARD DUE TO THE MIDLEVEL RIDGING TO
THE SOUTH. AFTER TAU 36, THE NEAR-EQUATORIAL RIDGE WILL BUILD IN TO
THE NORTH OF TC 22S, ACCELERATING THE SYSTEM TO THE SOUTHEAST.
THOUGH IT HAS BEEN SLOW TO CONSOLIDATE THUS FAR, TC 22S IS FORECAST
TO RAPIDLY INTENSIFY IN A FAVORABLE ENVIRONMENT WITH EXCELLENT
ALMOST RADIAL OUTFLOW ALOFT, LOW (5-10 KT) VERTICAL WIND SHEAR (VWS)
AND CONDUCIVE SEA SURFACE TEMPERATURES (28-30 DEGREES CELSIUS),
REACHING A PEAK OF 100 KTS AT TAU 72, WHEN A PASSING MIDLATITUDE
TROUGH TO THE SOUTH WILL FURTHER ENHANCE POLEWARD OUTFLOW. THE JTWC
FORECAST INTENSITY IS ON THE HIGH END OF AVAILABLE INTENSITY
GUIDANCE, CLOSE TO THE HWRF SOLUTION, AS THERE IS NOTHING
DETRIMENTAL IN THE ENVIRONMENT TO HINDER INTENSIFICATION UNTIL VWS
BEGINS TO INCREASE AFTER TAU 96, LEADING TO SLIGHT WEAKENING AT THE
END OF THE FORECAST PERIOD. AVAILABLE NUMERICAL MODEL GUIDANCE HAS
COME INTO BETTER AGREEMENT THIS RUN WITH THE S-SHAPED TRACK, BUT
THERE REMAIN VARIATIONS IN ALONG-TRACK SPEED AND THE INFLECTION
POINTS WHEN THE TRACK CURVES. DUE TO THE SIGNIFICANT SPREAD IN
AVAILABLE MODEL GUIDANCE, THERE IS OVERALL LOW CONFIDENCE IN THE
JTWC TRACK FORECAST. THE JTWC TRACK FORECAST IS PLACED BEHIND AND
WEST OF THE MULTIMODEL CONSENSUS IN THE SHORT TERM DUE TO SLOW
RECENTLY OBSERVED MOVEMENT, AND CLOSE TO THE MULTI-MODEL CONSENSUS
IN LATER TAUS. MAXIMUM SIGNIFICANT WAVE HEIGHT AT 221200Z IS 17
FEET. NEXT WARNINGS AT 222100Z, 230300Z, 230900Z AND 231500Z.
REFER TO TROPICAL CYCLONE 21S (VERONICA) WARNINGS (WTXS32 PGTW)
FOR SIX-HOURLY UPDATES.//
NNNN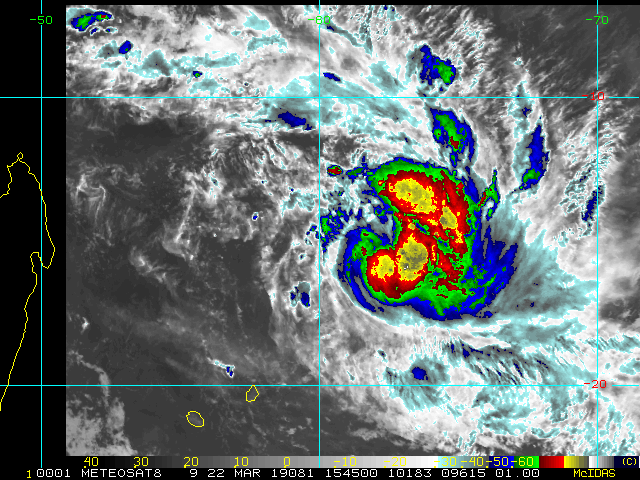 1545UTC: BUILDING CONVECTION NEAR THE CENTER AND OVER EASTERN QUADRANT